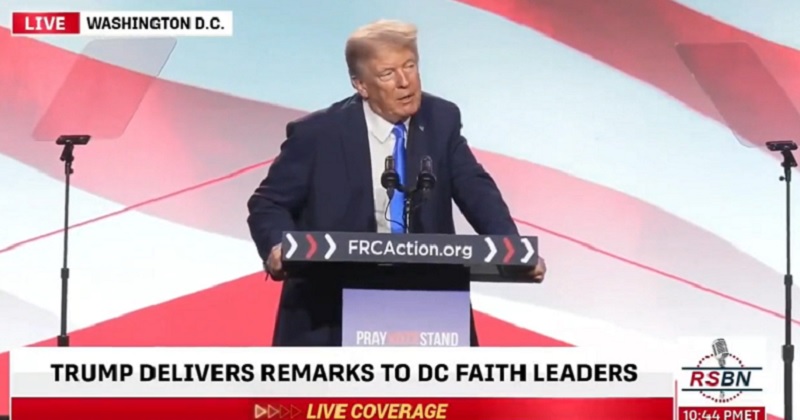 Trump is worried that Biden's 'cognitive impairment' will take the US into World War Two – 15 resounding facepalms
Donald Trump's appearance at the Pray Vote Stand summit in Washington wasn't his finest hour. In fairness, it wasn't his worst either, but it's a very low bar.
Inmate P01135809 seemed to think, albeit briefly, that he'd beaten Barack Obama in an election and was currently beating him again in the polls.
Trump: As you know, crooked Joe Biden and the radical left thugs who have weaponized law enforcement to arrest their leading political opponent that leading by a lot, including Obama pic.twitter.com/T5mx6LhH5D

— Acyn (@Acyn) September 16, 2023
Sharp as a tack, this one https://t.co/Qqd729cpEe

— Jon Favreau (@jonfavs) September 16, 2023
He also aired his concerns regarding the repercussions of Joe Biden's cognitive state.
Trump says Joe Biden is "cognitively impaired" and then accuses him of getting us into World War TWO.

No, he really did. pic.twitter.com/03KKUm24XT

— Jim Stewartson, Anti-disinfo activist (@jimstewartson) September 16, 2023
"We would be in World War II very quickly, if we're going to be relying on this man."
Political analyst Larry Sabato had this inarguable observation.
"Yeah it was a terrible war, and we wouldn't want to restart it."

— Larry Sabato on Trump warning about a "cognitively impaired" President Biden getting us into "World War II" https://t.co/YGwteqX2As pic.twitter.com/zV0ZnBVTqD

— The Recount (@therecount) September 17, 2023
Tweeters were less gentle about it.
1.
Ask Trump again, and he'll clarify that Joe Biden didn't get us into World War II – he got us into the French Revolution. https://t.co/H94Uu9GuUu

— Hil.i.am (@hilaryluros) September 16, 2023
2.
If you think America could be on the verge of entering World War Two, you probably shouldn't concern yourself with anyone else's cognitive impairment.
pic.twitter.com/NkEyD0hXYp

— Preston Shipp Believes Rehabilitation is Biblical (@preston_shipp) September 16, 2023
3.
Trump says he is worried about World War 2. Speech slurred. Imagine the furor if Biden (only 3 years older) had said this. pic.twitter.com/UABVSq4nh9

— Mia Farrow ️‍ (@MiaFarrow) September 16, 2023
4.
TRUMP: Joe Biden is cognitively finished. He is gonna get us into a war in Mesopotamia between the Sumer and Elam. If I was still your favorite President, I would get Enembaragesi, the King of Kish, in the room with the Elamites, and end that horrible war.

— Mr. Newberger (@jeremynewberger) September 16, 2023
5.
Xanax kicked in and he is warning us about WW2. 83 years too late but hey it's a start. pic.twitter.com/eCelOTyuSM

— nina gold (@ninagol15) September 16, 2023
6.
Donald Trump is warning America that "Cognitively impaired" Biden will lead us into "World War Two" if re-elected.

You can't make this shit up. pic.twitter.com/zbRKNj5u6h

— Republicans against Trump (@RpsAgainstTrump) September 16, 2023
7.
Putin would be halfway across Poland if this guy was still squatting in the White House.

— Jack E. Smith ⚖️ (@7Veritas4) September 17, 2023
8.
I mean, Biden is old, we get it, but not THAT old.

— Dylan C (@dylanc78) September 16, 2023
9.
So much to take away here, let's give it a shot. 1st love the background music it really sets the mood. 2nd is he on valium or just finished hitting a joint? 3rd, it must be both, otherwise why would he suggest we could be starting WW2. We don't see a hot tub or any phone booths

— The Daily Scrum News – TDS News Inc. (@ScrumNews) September 16, 2023
10.
I hope you'll vote for me, but President Trump makes a great point. Can we really afford a second world war? The last one was bad enough. So many brave me died in the Meuse-Argonne offensive alone and weapons have improve a lot since 1914 https://t.co/UzqiLxUOp3

— Jack Kimble (@RepJackKimble) September 16, 2023
11.
Granted, Trump sounds confused and incoherent now, but his insane ramblings will unlock clues that eventually lead to Indy finding the Crystal Skull. https://t.co/LE4RRtEksr

— Frank Conniff (@FrankConniff) September 16, 2023
12.
Trump just accused his opponent of trying to start World War Two.

The closer Trump gets to trial, the more he's being seen as a defendant not a candidate. So his handlers are having to let him go out there more. But that's only allowing the public to see that he's now senile.

— Palmer Report (@PalmerReport) September 16, 2023
13.
The music is cringe
The message is lies
The man is a moron#LockHimUp #Traitor https://t.co/QWWpNQA2FQ

— J Rance (@RanceWilla) September 16, 2023
14.
Wonder the reason for it….
Is it because….

— Marako Marcus Ⓜ️ • The Anjo Project • m'arako (@marakomtap) September 16, 2023
15.
Trump seemed high as hell during this speech.

I don't want to hear anything else about Biden being cognitively impaired. Trump doesn't even know who he beat in 2016. https://t.co/b5EDALTmMM

— Angry Staffer (@Angry_Staffer) September 17, 2023
Dane Curley provided some mitigation.
In his defense, after 1 the numbers start getting tricky.

— Dane Curley (@DaneCurley) September 16, 2023
READ MORE
Donald Trump treated everyone to another excerpt from his cognitive test – the 12 funniest comments
Image Screengrab