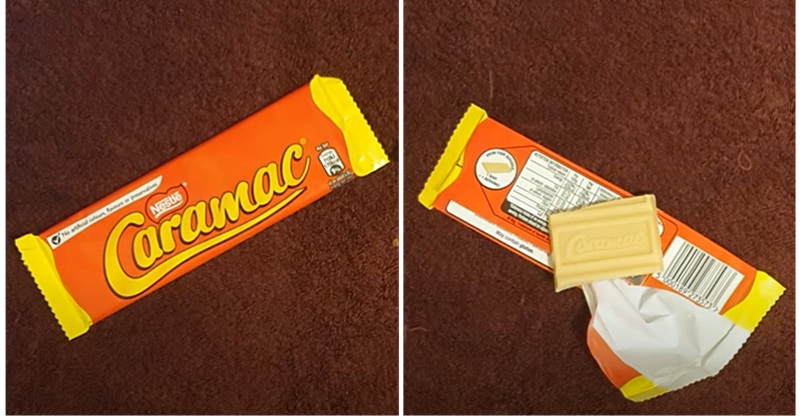 Caramac bars are being confined to the confectionery scrapheap – 15 sweet (over)reactions
The humble Caramac bar will soon be consigned to the scrapheap of confectionery history, along with Spangles, Toffos and Mingles. Other much-missed sweets are unavailable.
The BBC broke the bad news.
Nestle axes Caramac bar after 64 years https://t.co/rJcUdC4slC

— BBC News (World) (@BBCWorld) November 8, 2023
The caramel-flavoured bar, which was created by Mackintosh 64 years ago (Caramel Mackintosh – Caramac) hasn't been easy to come by for many years, with some people assuming that it had already been discontinued.
Others, however, were devastated.
1.
Thanks, four people in our office are in tears

— Specsavers (@Specsavers) November 8, 2023
2.
I know a lot is made about how the Brits don't get upset about anything, but the ire being levelled at @NestleUKI for getting rid of #Caramac shows there's fight in the old dog yet.

— Ben Bruce (@TheRealBenBruce) November 8, 2023
3.
I know it's wrong but I'm going to blame the Tories for this as well… #SaveCaramac https://t.co/lPltY132gA

— Hal Cruttenden (@Halcruttenden) November 8, 2023
4.
RIP #Caramac gone but not forgotten pic.twitter.com/14nenzm3EQ

— Alice Lia Maro (@slimelia) November 8, 2023
5.
RIP CARAMAC U R IN HEVEN WIV DA SPANGLES N PRICNESS DI pic.twitter.com/kfOloBZxbT

— Angry People in Local Newspapers (@angrypiln) November 8, 2023
6.
324,459 people have signed the petition to reverse the decision to stop making Caramac bars.

Only 74 Caramac bars have been sold in the past month.

You couldn't make it up.

— rab livingstone (@rablivingstone) November 8, 2023
7.
In primary school my mum gave me a caramac easter egg to give to my teacher. Egg made of caramac and a caramac bar. I ate all of it on the walk in and was violently sick when I got to school. Goodbye old friend.

— Christina Martin (@christinamartin) November 8, 2023
8.
No one has ever bought a Caramac. It's the Basingstoke of chocolate. It almost doesn't exist. https://t.co/4GyaAixUWL

— fourfoot (@fourfoot) November 8, 2023
9.
Without wishing to overreact or indulge in hyperbole, Nestlé scrapping Caramac is worse than Stalin.

— Jason (@NickMotown) November 8, 2023
10.
A time-traveller walking into a corner shop in 2025, asking for a Caramac bar and a can of Lilt. pic.twitter.com/kVBl1T87Ro

— Kevin (@caoimhinof) November 8, 2023
11.
This is terrible. Next thing you know they'll get rid of Marathon and Topic. https://t.co/hl7xphHhGD

— Ivor Baddiel (@Ivorbaddiel) November 8, 2023
12.
Everyone having a go at Nestlé for cancelling Caramac, but when are we rioting to get them to bring these back?! pic.twitter.com/btBOtZf5cV

— Joe (@JoeyL14) November 8, 2023
13.
https://t.co/jHEgZDbR0o pic.twitter.com/ShflsUupk0

— Gwdihŵ (@youwouldknow) November 8, 2023
14.
https://t.co/JXMFv0UaHX pic.twitter.com/w6ICATjAqV

— Perfectly Cromulent (@DiscoWeapon) November 8, 2023
15.
RIP to a real one (Caramac) pic.twitter.com/ZDySY8WCtq

— MegaSlippers (@MegaSlippers) November 8, 2023
Take a trip down memory lane with this classic Caramac advert.
Oh no! Does this mean we'll never see another advert for Caramac again? pic.twitter.com/A61xRGDBVN

— UKADS (@ukads3) November 8, 2023
READ MORE
Celebrations' Bounty-free tubs have split the internet – 19 sweet reactions
Source BBC Image Screengrab