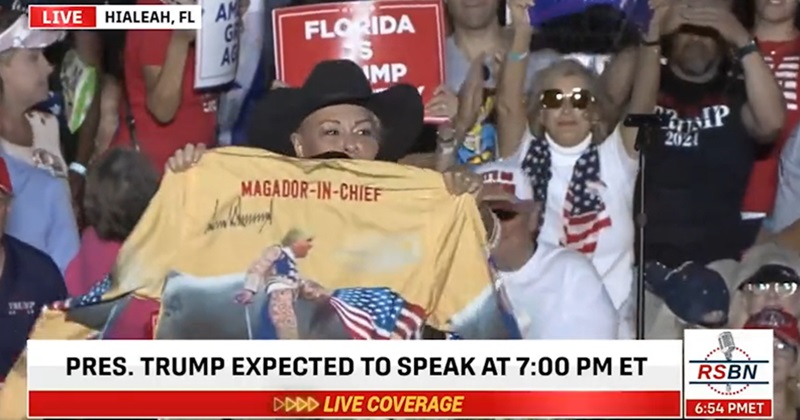 Roseanne Barr's NSFW introduction for 'magador' Donald Trump was the most surreal 2024 campaign moment so far
Despite Donald Trump's increasingly incoherent rants, the most unhinged moment of his 2024 presidential campaign so far took place at Hialeah in Florida, where former darling of family-friendly comedy Roseanne Barr introduced him with some colourful language and a cringeworthy new word.
Time to check in on Roseanne at the Trump rally… pic.twitter.com/rkfu8kTN8W

— MeidasTouch (@MeidasTouch) November 9, 2023
"End the bullshit. We want Trump, the magador, to kill that goddamn bull."
That's 'drain the swamp' for when you don't want people to remember that you already said you'd drain the swamp but actually made it swampier.
We regret to inform you that there was also a T-shirt.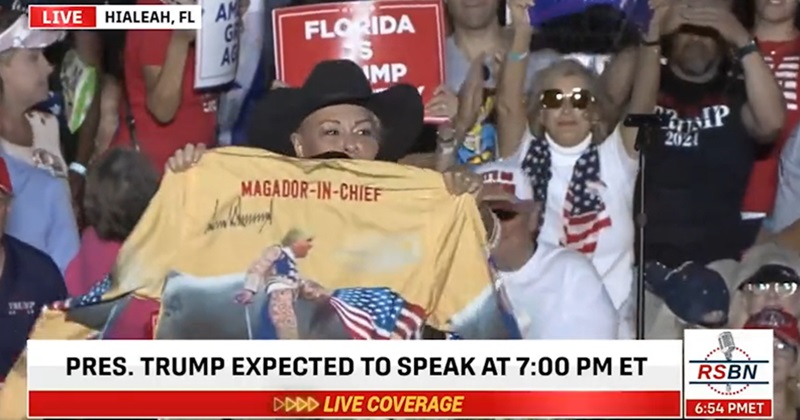 Almost certainly heading to his merchandise list soon.
The crowd may have loved her, but those outside the cult weren't impressed.
1.
As a comedian, I wouldn't open with it roseanne pic.twitter.com/w8H2PVeLTk

— Janey Godley (@JaneyGodley) November 9, 2023
2.
Truly tragic. https://t.co/l1RlSUE165

— Isobel Oakeshitt (@isobeloakeshitt) November 9, 2023
3.
If you want to define MAGA in a clip rather than words, this is quintessential MAGA. https://t.co/S4WvRWlwFG

— Ron Filipkowski (@RonFilipkowski) November 9, 2023
4.
Roseanne seems nice. pic.twitter.com/DFmwG46Px6

— KevinlyFather (@KevinlyFather) November 8, 2023
5.
I just don't understand how anyone with a working brain cell watches stuff like this and thinks, "yeah, these are the people who should be leading the country." https://t.co/2c0TCDcjlm

— Josh Moon (@Josh_Moon) November 9, 2023
6.
Maga "christians" cheering blasphemy. Remember this when you see them tout trump as the chosen one. https://t.co/e0LkWVJA8i

— A.M.W. ⚖️ (@AmieMcWayne) November 9, 2023
7.
Sometimes you have to stop and remind yourself that the stochastic terrorists that might destroy democracy are the Apprentice Guy and Roseanne fucking Barr. I mean. America is just ridiculously stupid. https://t.co/v9SFtGQLHe

— Scathed (@stayscathed) November 9, 2023
8.
Scott Baio must have been replaced?

— Jodi Andrea ₿ (@Jodiannoyed) November 9, 2023
9.
Watching and listening to Roseanne Barr is like watching a car wreak. You slow down, horrified, then quickly put it in your rear view mirror.

— Molly *Apparently I Have an Attitude* Bloom (@MollyBloom10) November 9, 2023
10.
Magas having a normal one… https://t.co/nK5QNRYT5z

— John Niven HQ (@estellecostanza) November 9, 2023
11.
Nothing like using a burnt out actress for your cause

— BRT (@BioRecTech) November 9, 2023
12.
Well, this was different. https://t.co/DJYVGaOYYE

— Michael Steele (@MichaelSteele) November 9, 2023
13.
Roseanne is full on Qanon and is helping to radicalize Trump's base

"We want Trump, the Magador, to kill that god damn bull!" pic.twitter.com/lJxRFOsW3e

— Change (@ChangeTheSyst14) November 9, 2023
14.
Trumpists are so damn weird. https://t.co/zqTsD5jPzP

— Sir Humphrey (@bdquinn) November 9, 2023
15.
Racist grandma is drunk again
pic.twitter.com/BnGcigoyWY

— AF XXX (@FrancisWegner) November 9, 2023
Let's play 'Dystopian What If …'
Watch Roseanne Barr be Trump's VP.

Nothing would surprise me in the radicalized MAGA Republican Party. pic.twitter.com/Zq4gwSHb2Y

— Shelly R Kirchoff (@ShellyRKirchoff) November 9, 2023
If she's going to be appearing at more rallies, for the sake of her neck, we'd advise a lower microphone or a judiciously placed box.
READ MORE
Donald Trump claims he's a genius because he's just spotted that U.S. spells 'us' – 16 funniest takedowns
Source Meidas Touch Image Screengrab