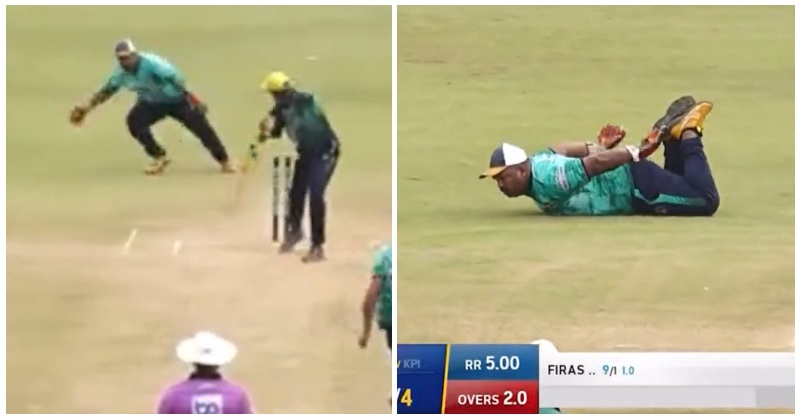 Howzat for an all-time incredible cricket catch?
A KCSA Calicut versus KPA 123 cricket match in in the Kerala Premier League was the setting for the Catch of the Year. KCSA batsman K. Abhilash came unstuck courtesy of a one-in-a-million catch by wicket-keeper Muhammad Mammu.
Watch what happened.
We have a winner.

This is the greatest wicket-keeper catch of all-time!

[h/t @kreedajagat] pic.twitter.com/b9EIKH34JV

— That's So Village (@ThatsSoVillage) November 9, 2023
Is he a wicket-keeper or is he a backstop? Either way, if it hadn't been caught on camera, we'd have had a hard time believing it.
The clip, originally shared by @kreedajagat, has had viewers completely stumped.
1.
One of the best things I've seen https://t.co/IYjNyL3h6D

— Erika Morris (@ErikaMorris79) November 9, 2023
2.
Having followed cricket over the past 25-30 years never seen a catch like this https://t.co/TV91KqsuL0

— S.Badrinath (@s_badrinath) November 10, 2023
3.
Absolute scenes. This guy is getting bought so many drinks post-match https://t.co/OggKXRTyDB

— Jon Gracey (@JonGracey) November 10, 2023
4.
Unbelievable scenes! https://t.co/fisUSFLoKp

— ️‍ Dazza (@DarronDiesel) November 10, 2023
5.
He really got underneath the ball… https://t.co/Cu7HFl01Jt

— Ankita Tandon (@AnkiTandon) November 11, 2023
6.
Batters have innovative shots.

Bowlers have innovative balls.

Now catching has new ways too! https://t.co/5Qxe76Qw7A

— Cricketologist (@AMP86793444) November 9, 2023
7.
It's the kind of agility and athleticism that I aspire to https://t.co/QmQQrIbqKn

— Chris Renwick (@ChrisRenwick) November 9, 2023
8.
Who needs Dwayne Leverock? Pure unadulterated genius here by the keeper. https://t.co/uQijl0huhA

— Iceland Cricket (@icelandcricket) November 9, 2023
9.
He is quite a unit, no chance of that ball falling off

— Nqaba N@M (@ProfessorRugby) November 10, 2023
10.
Woah. Accidental skills! https://t.co/WwZjBn4DhL

— Elaine Francis ️ (@LaineyFrancis_) November 9, 2023
11.
Also some of the greatest commentary of all time. https://t.co/lWOUu5grXo

— Ryan Coetzee (@RyanCoetzee) November 10, 2023
It even entertained Sam Billings, who knows a thing or two about wicket-keeping.
— Sam Billings (@sambillings) November 9, 2023
While we're all oohing and aahing over the catch, let's spare a thought for Abhilash.
The unluckiest batsman

— kamal kumar (@kamalkumarBJD) November 10, 2023
READ MORE
Watch this fielder accidentally and flamboyantly invent slapstick cricket
Source @ThatsSoVillage Image Screengrab