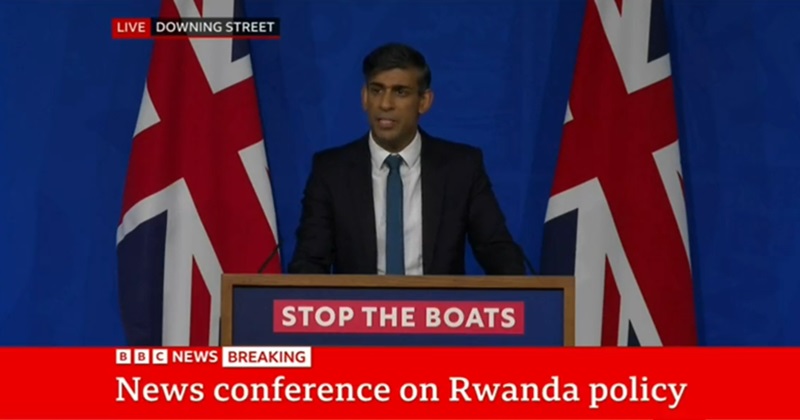 Rishi Sunak's plan to sidestep the Supreme Court's judgment with a law declaring Rwanda safe was deservedly panned
On Wednesday, the Supreme Court ruled that the Government's Rwanda asylum plan is unlawful and Rwanda an unsafe country for such a scheme.
BREAKING: Supreme Court rules that it would be *unlawful* to send asylum seekers to Rwanda in a major blow to the government.

— Pippa Crerar (@PippaCrerar) November 15, 2023
The Rwanda Plan would see the Government send 200 asylum seekers to have their applications processed in Rwanda, at a cost of around £169,000 per person – £63,000 more than processing them in the UK.
So far, the UK has paid £140 million to Rwanda and spent at least £1.3 million in legal costs (as of June 2023), plus the cost of chartering several planes, without a single person having gone to Rwanda for processing and with no proof that the policy has the deterrent effect claimed by its supporters.
It's quite impressive that the twice fired Home Secretary, a KC, barrister and Attorney General, came up with a policy that was unlawful. https://t.co/TmgD6ImYlo

— Dr Adam Rutherford (@AdamRutherford) November 15, 2023
Remind me how the rest of your five pledges are going, Rishi? https://t.co/g0NueE0RNI

— Adam Kay (@amateuradam) November 15, 2023
How much did it all cost? The cost of negotiating the deal with Rwanda? The infrastructure? The visits? The legal costs of the litigation? All of it?

And if they'd just sensibly spent that money hiring decision makers to clear the asylum backlog – how much would we have saved?

— Joanna Hardy-Susskind (@Joanna__Hardy) November 15, 2023
SNP MP John Nicolson hoped it would draw a line under the policy.
Excellent news. But how many millions wasted so far? Time to stop this long running, money wasting, and cruel Tory farce. #Rwanda https://t.co/J3U5HGAKxd

— JOHN NICOLSON M.P. (@MrJohnNicolson) November 15, 2023
Rishi Sunak had other ideas.
Following today's ruling, I'm taking the extraordinary step of introducing emergency legislation to confirm Rwanda is safe.

I will not allow a foreign court, like the European Court of Human Rights, to block these flights.

Here's the plan in full ⬇️
1/5 pic.twitter.com/6MVqYWS65O

— Rishi Sunak (@RishiSunak) November 15, 2023
There was an explanatory thread, but he also explained plan B in this address.
Rishi Sunak: "We will take the extraordinary step of announcing emergency legislation. This will enable Parliament to confirm that with our new treaty Rwanda is safe. I will not allow a foreign court to block these flights to Rwanda." pic.twitter.com/rbzRWFgWJd

— Haggis_UK (@Haggis_UK) November 15, 2023
To sum up – the Supreme Court declared Rwanda unsafe and said that the UK couldn't unilaterally declare a country safe, so the UK will unilaterally declare Rwanda safe and plough ahead with a policy declared unlawful by the UK's highest court of appeal.
People were horrified, but not surprised.
1.
The supreme court has found Rwanda to be an unsafe country, therefore I will be passing legislation to declare that it is in fact safe. Welcome to the UK through the looking glass. pic.twitter.com/WqDiwFo9GV

— Parody Rishi Sunak (@Parody_PM) November 15, 2023
2.
You're a desperate unelected cosplayer with slogans you don't believe about things you can't do for people who don't want them anyway. You're a code club boy trying to impress the rugby club bores. You're a footnote trying to be a headline. You should go now and let us crack on. https://t.co/3Pj0fKUb8a

— Danny Wallace (@dannywallace) November 15, 2023
3.
If they can make Brexit a 'good idea' by insisting it is, ignoring reality, silencing the truth & passing legislation with a Parliamentary majority of jingoistic morons, then it's not hard to see how they plan to make Rwanda a 'safe country'.

— James O'Brien (@mrjamesob) November 15, 2023
4.
What nonsense is this? It was a British court that blocked Rwanda today. He is losing me here.. https://t.co/jmqQe0jFDi

— Annette Dittert  (@annettedittert) November 15, 2023
5.
'We'll change the law to say the water is safe' pic.twitter.com/FxVQ2vzhNp

— Toby Earle Threads tobyontv (@TobyonTV) November 15, 2023
6.
Er who elected you @RishiSunak https://t.co/vPWaVVcvkl

— Otto English (@Otto_English) November 15, 2023
7.
"Because maybe…
You're gonna be the one that saves me*
And after all…
You're my Rwanda law"

*NB it won't save him https://t.co/881PnGVgMC

— David KC (@DavidMuttering) November 15, 2023
8.
So Rishi said he'd lead with integrity, professionalism and accountability at every level. What did Rishi say, Roy?

He said "fuck the rule of law" pic.twitter.com/RVclqAuvyL

— Robin Flavell (@RobinFlavell) November 15, 2023
9.
"We sent Suella there for a couple of days and she said it was safe so there's no need to listen to the United Nations or the ECHR"

— David (@Zero_4) November 15, 2023
10.
https://t.co/ZH8l0svuSJ pic.twitter.com/RnVPOD32l5

— christhebarker (@christhebarker) November 15, 2023