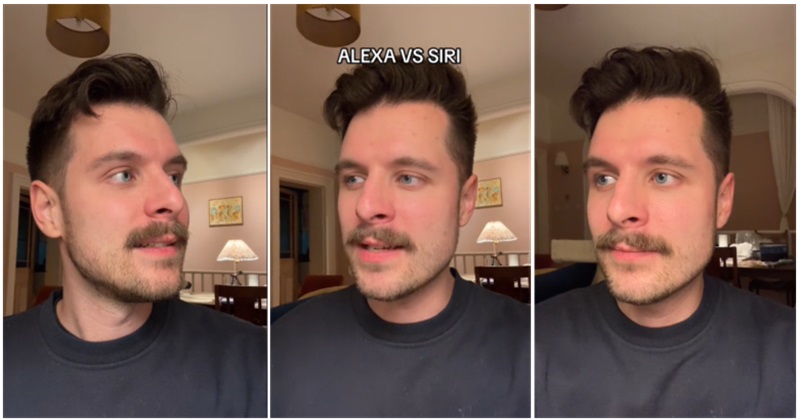 This hilarious comparison between Alexa and Siri is funny because it's true
If you're familiar with comedian Benedict Townsend, who presents PopBuzz's comedy news channel Scroll Deep and conducts celebrity interviews for the pop culture site, you may have already spotted that there's no love lost between him and Siri.
In a recent sketch, he hilariously and unfavourably compared the results of trying to get any kind of sense out of Apple's digital assistant and asking the same question of Google's Alexa. iOS users, prepare to relate hard.
Nailed it.
TikTok users knew exactly what he was talking about.
I have both Siri and Alexa in my room. Your TikTok triggered my Alexa, but Siri's still asleep. Point proved.
leehamiltoncoopersmith
I didn't find "what day is it" in your contacts.
Daniela
Even the capital of Estonia is incorrect.
ImDan4ik
Siri has an attitude these days and it's not cool.
Kara Lois Cowley Synnestvedt
"Siri, turn on mobile data" "You will need mobile data turned on to do this"…
Caitlin Padgett- Para Rider
Recently whenever I use siri she'll go 'HM?' midway thru me speaking.
babyyteeth
Siri is like that angsty teenager that is always zoning out of conversation and is super awkward.
kryspucu
Was on the train to Truro and this lady screamed into her phone HEY SIRI WHATS THE WEATHER LIKE IN TRURO? no less than 25 consecutive times.
Wilf
As a solid Apple user I can confirm this is accurate.
Becoming Me
As a bonus, here's Benedict demonstrating what it's like asking Siri to make a phone call.
And there you have it. At least she isn't Bixby.
If you want to see more of Benedict's funny content, you can catch up with the news on Scroll Deep or find out what he's up to via his website.
READ MORE
This chap asked Siri to change the name it calls him and it took a while but it was well, well worth it
Source Benedict Townsend Image Screengrab