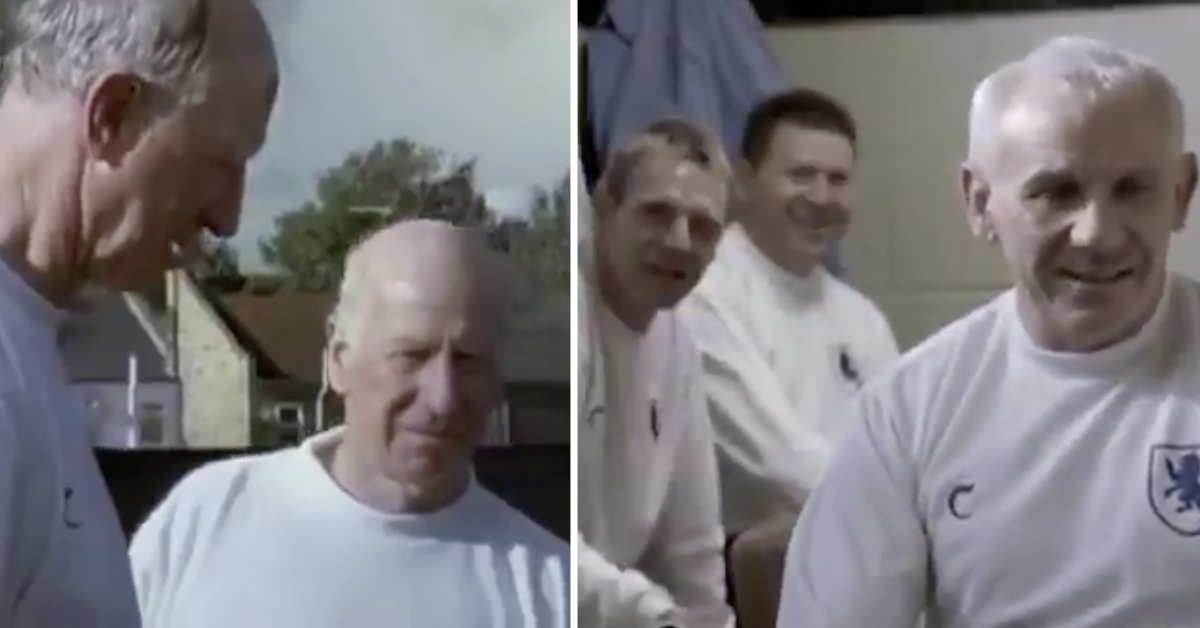 Sir Bobby Charlton's death sent this old Carlsberg 'pub team' ad viral and it's a wonderfully nostalgic watch
Sad news at the weekend that Sir Bobby Charlton, England World Cup winner and one of the all-time football greats, has died aged 86.
Here's how the football world paid tribute to the Manchester United legend.
Deeply saddened to hear that Sir Bobby Charlton has died. A truly wonderful footballer and genuinely lovely man. A World Cup winner, @ManUtd great and, for me, England's greatest ever player. He may no longer be with us but he'll have footballing immortality. RIP Sir Bobby.

— Gary Lineker (@GaryLineker) October 21, 2023
And a footnote – a small footnote – to all the memories people were sharing on Twitter was this Carlsberg ad which you might have forgotten about.
It's the 'best put team in the world' ad from back in 2006 which many people reckoned was also the best ad in the world. See how many of the former England players you can spot (you can have Bobby Charlton for free, obviously …)
Bobby and Jack Charlton in the Pub Team Carlsberg ad pic.twitter.com/tUiMuZ7jcu

— Irish Football Pics (@irish_pics) October 22, 2023
Fabulous. And this – if it's true – makes it even better.
The opposition genuinely had no idea who was turning up for the recording of this ad. Their reactions are authentic. We will never see an ad of this brilliance again.

— Irish Football Pics (@irish_pics) October 22, 2023
Just in case you were wondering …
What was the team?

1. Peter Shilton; 2. Des Walker, 5. Jack Charlton, 6. Terry Butcher, 3. Stuart Pearce; 8. Alan Ball, 4. Peter Reid, 7. Bryan Robson, 11. Chris Waddle; 10. Peter Beardsley; 9. Bobby Charlton

Manager: Bobby Robson

— Alex Sullivan (@alexjsullivan) October 22, 2023
Wonderful stuff.
so good https://t.co/6sZP61cPkO

— Max Rushden (@maxrushden) October 23, 2023
One of the great TV ads featuring some of the greatest England players. Loved it .

— Jeff Stelling (@JeffStelling) October 22, 2023
Just a wonderful advert.

Wonderful.

RIP Bobby Charlton (and Jack, Bobby Robson, Alan Ball in this video too) https://t.co/jZZt6cOBoJ

— Ian Danter (@talkdants) October 23, 2023
One: that is an incredible advert
Two: I miss proper football
That made me misty eyed for the football of my youth. Amazing.

— cedar room (@WeAreCedarRoom) October 22, 2023
Forgotten about this. Absolutely ace. https://t.co/z8WkzcLaeH

— Andy Burley Banksy (@pantsdanny) October 22, 2023
Here's someone who worked on it …
Amazing memories working on this TV ad for our Carlsberg client at the time. A brilliant script & final ad by the Saatchi team who played a blinder getting all the talent together inc the wonderful Bobby Charlton. The behind the scenes footage we filmed was even better too. https://t.co/ZilvnwGg8n

— Steve Martin (@MCSaatchiSteveM) October 22, 2023
And you can read all about it over here.
— An Coileáin (@CiderLawyer) October 22, 2023
RIP Sir Bobby Charlton.
Source @irish_pics