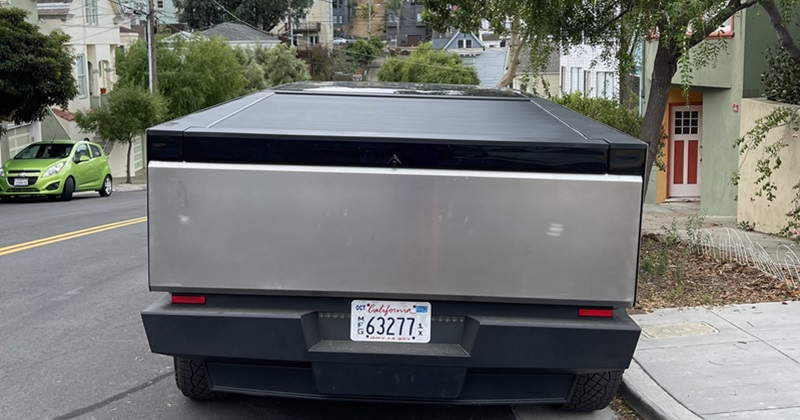 24 hilarious direct hits on the Cybertruck's ugly rear end
Elon Musk's Tesla Cybertruck has trended on Twitter a couple of times. The first time was when the unbreakable window – well, broke.
The second time was when Musk asked his friend Joe Rogan to fire an arrow at it – as you do.
Well, it looks like the Cybertruck has got its hat trick …by being incredibly ugly.
It's no secret that the vehicle isn't the most aesthetically pleasing, but this set of images really showed it off in all its 'glory'.
We're getting closer to November 30!

I happened to catch this Cybertruck right as the engineer was parking it. He was very nice and graciously agreed to let me check it out when I politely asked.

No RC label on this one, and it was neat to see the Aero wheel caps up close. pic.twitter.com/Pxcog38qba

— Ryan McCaffrey (@DMC_Ryan) November 5, 2023
One particular aspect caught the eye of miss gender – and not in a good way.
just saw what the cybertruck looks like from behind and buddy I am both hootin and hollerin pic.twitter.com/v8NUeHWevl

— miss gender (@girldrawsghosts) November 7, 2023
She wasn't the only one laughing. These comments and comparisons had us 'hootin and hollerin'.
1.
"Yeah sorry I'm stuck in traffic behind a chest freezer" https://t.co/RUpTPQ5DS9

— Michael Fry (@BigDirtyFry) November 7, 2023
2.
What even is this aesthetic? Badly fitted CD-rom drive? https://t.co/2TF83cNfNd

— Rob Manuel (@robmanuel) November 8, 2023
3.
Buying an 8GB hard drive in 1998. https://t.co/rRDJCCLpFH

— alexander miles ✌️ (@_AlexanderMiles) November 8, 2023
4.
That's a casket https://t.co/aALbBz1kV3

— Vinny Thomas (@vinn_ayy) November 7, 2023
5.
Does it print in color, or just black and white? https://t.co/6zNFPYmw75

— Andrea Pitzer (@andreapitzer) November 8, 2023
6.
Looks like a toaster that every setting burns your toast, and then itself. https://t.co/ozXWFh1XEj

— Slothmom (@CaseyExplosion) November 7, 2023
7.
There's an episode of 30 Rock where they're trying to design a microwave and accidentally create a Pontiac Aztec and I'm glad to see that the exact reverse can also happen. https://t.co/SfQMQmIDgi pic.twitter.com/Dkceofr6Ra

— Diem (@DiemTF) November 8, 2023
8.
looks like a VHS tape rewinder you find at a garage sale https://t.co/hE1hEGo2K0

— Mike Drucker (@MikeDrucker) November 7, 2023
9.
You know what this thing needs is some Truck Nuts https://t.co/94FctZHlJr

— Jennifer Lee Rossman #SAVEDStarTrekProdigy (@JenLRossman) November 8, 2023
10.
Love a hideous truck with zero clearance that looks like a fridge drawer and is made by the company of exploding cars. https://t.co/uYDhTxMqBc

— Tales from the Crypti-Calli (@Iwillleavenow) November 8, 2023
11.
This is one of those Domino's pizza heater cars if it was all oven https://t.co/ciL9iFhB4U

— Mark Agee (@MarkAgee) November 8, 2023
12.
Big Fisher Price energy https://t.co/Uv3wGxrLZL pic.twitter.com/GWpmo8viPc

— Esyllt Sears (@EsylltMair) November 8, 2023