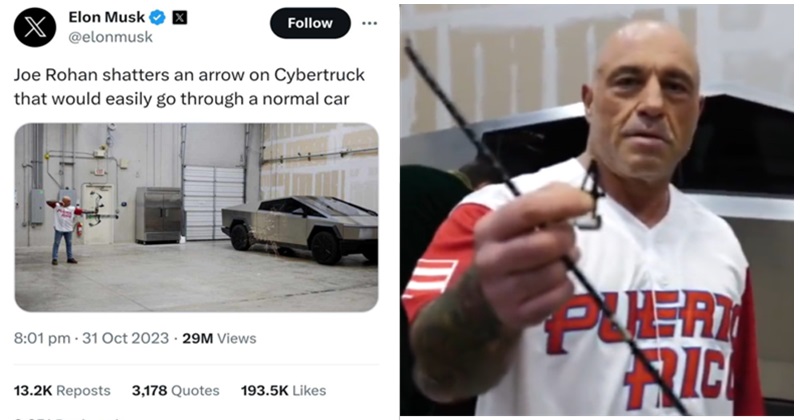 Elon Musk got Joe Rogan to fire an arrow at the Tesla Cybertruck and these 16 takedowns hit the bullseye
If you were wondering how Elon Musk has been spending his time as the value of his companies plummets, wonder no more. He's been getting his Brains Trust colleague Joe Rogan to fire arrows at the Tesla Cybertruck. Obviously.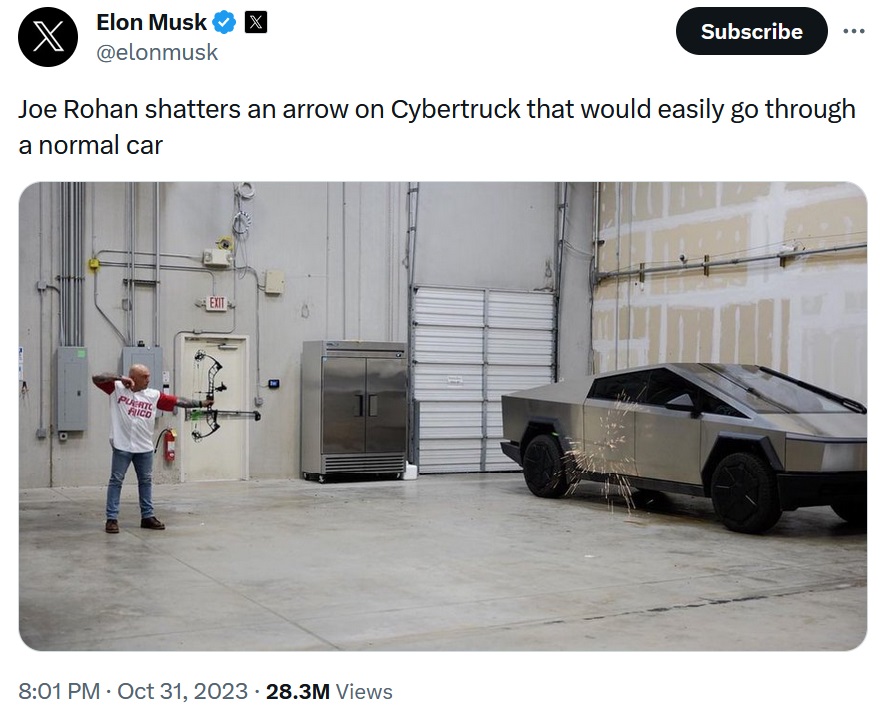 Here's what that moment was actually like.
Joe Tries to Shoot an Arrow Into the CyberTruck.#Cybertruck #TeslaCybertruck #ElonMusk pic.twitter.com/Qt5yMoPOnz

— Tesla Motors Community (@CommunityTesla) October 31, 2023
So …the head broke off.
The bizarre tweet was an easy target.
1.
The chances of odd podcaster Joe Rogan attacking my Volvo with an arrow are minimal; I hereby refuse to buy your aluminium wheelbarrow. https://t.co/q8SAViGSo5

— Danny Wallace (@dannywallace) October 31, 2023
2.
finally we have an answer to the immortal question: who would win between Legolas and a really, really, really terrible car pic.twitter.com/QA23BvmOuD

— Dan Hett ➡️ #AdvX23 (@danhett) October 31, 2023
3.
Not today Xerxes pic.twitter.com/tzwwpOI1pF

— Protoman ⭕️✨ (@DrLightsSon) October 31, 2023
4.
[guy trying to sell a car] "This arrow would easily go through a normal car." https://t.co/9jK2esK5gR

— Cody Johnston (@drmistercody) October 31, 2023
5.
I wonder how often this comes up in market research of user needs. https://t.co/zWVHNOc5RI

— James Ball (@jamesrbuk) October 31, 2023
6.
Yeah, but I'm saying that TruCoat. You don't get it, you get arrow problems. https://t.co/HkxPsBhrmH pic.twitter.com/BU3oOcvzrL

— Dave Itzkoff (@ditzkoff) October 31, 2023
7.
the only attack i care about is from a 2007 join date poster on a niche hobbyist forum who's going to break down why i wasted $100k on a car with a dollywop air chamber that will eventually combust because of my collywobbles flibbertigibbet diphthong https://t.co/hKclXk2YgK

— derek guy (@dieworkwear) October 31, 2023
8.
Okay but how many charging stations are there in Gondor? https://t.co/k4UwkvLXNz

— southpaw (@nycsouthpaw) October 31, 2023
9.
Smugly driving through a volley of arrows from the king's most valiant archers before getting into a fender bender at 25 MPH that turns me into a pink mist https://t.co/IAujHrKAPn

— James (@smokeismedicine) October 31, 2023
10.
i hate it when arrows are always piercing my normal car https://t.co/Z2k2aZJrPA

— jenny_tightpants (@halomancer1) October 31, 2023
11.
Finally, a car that the Sheriff of Nottingham can safely drive through Sherwood Forest https://t.co/YBCxuYhYKV

— Ben Jacobs (@Bencjacobs) October 31, 2023
12.
Perfect for those drivers who might suddenly need to defend Agincourt against some stout English longbowmen. https://t.co/wz8FlwveHN

— HENRY MORRIS (@mrhenrymorris) October 31, 2023
13.
this is huge for me as someone who travails the Mystical Forest of Black Shadows in my daily commute https://t.co/71IBQCbDDV

— Andrew Lawrence (@ndrew_lawrence) October 31, 2023
14.
Them: What does a Product Manager even do!?

Me: Prioritises and defines features so teams work on the right things and the customer gets what they need.

Them: Why would you even need that?

— Adrian with a W (@AdrianwithaW) October 31, 2023
15.
this is great news for me and the thousands of americans who live in constant fear of joe rogan shooting them with a bow and arrow https://t.co/gyfVXtHcaY

— soul nate (@MNateShyamalan) November 1, 2023
16.
that's great. cant fucking stand when people shoot at my car with a bow and arrow. my son was killed this way in 1521 when we drove past a castle https://t.co/0J3qESvx76

— cory (@coolmathgame_) October 31, 2023
We notice he didn't shoot the window.
READ MORE
19 favourite scathing reactions to Rishi Sunak's planned AI summit with Elon Musk
Image Screengrab