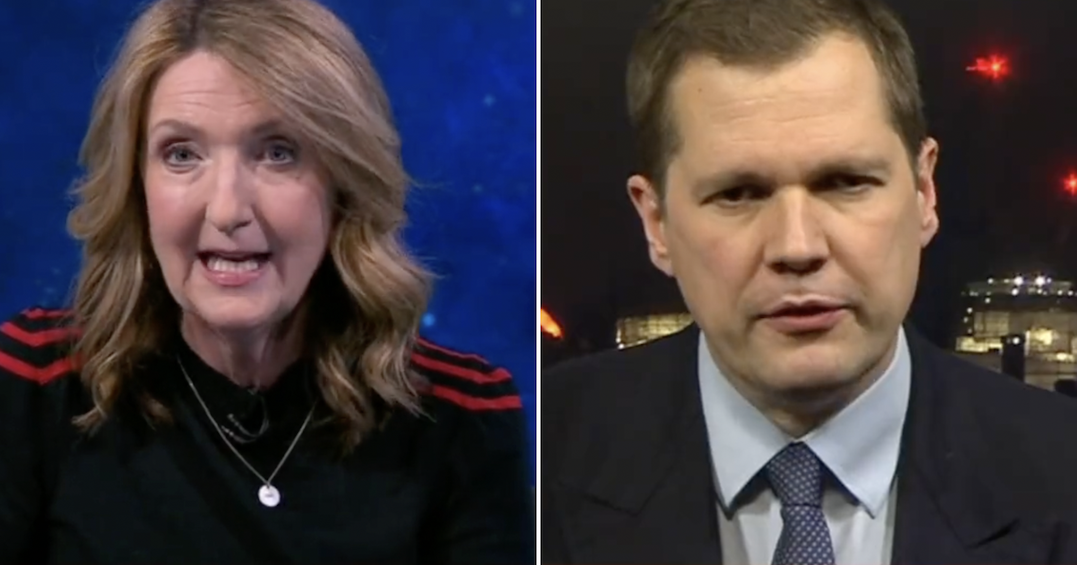 Victoria Derbyshire's smackdown of Robert Jenrick's Rwanda 'win' is a fabulous watch
It wasn't just another bad day at the office for Rishi Sunak, it was one of his worst after the Supreme Court ruled that the Government's Rwanda asylum plan is unlawful and Rwanda an unsafe country for such a scheme.
It was widely seen as a major blow to Sunak and his Rwanda plan, which has already cost a fortune and delivered … nothing (not that Sunak is giving up on it just yet).
And we mention it again because immigration minister Robert Jenrick was on BBC2's Newsnight and attempted to portray it as a 'win' to Victoria Derbyshire.
And it's fair to say the presenter wasn't having it, she really wasn't having it at all.
Robert Jenrick, "We have won on the most important question of all"

Victoria Derbyshire, "That is incredible spin. You have not won. You lost, all five justices ruled it was unlawful because it was not safe to send asylum seekers to Rwanda. That is a demolition of your Rwanda… pic.twitter.com/lo6ohX7Cwg

— Farrukh (@implausibleblog) November 15, 2023
Oof.
And it's not the first time Derbyshire has magnificently held Jenrick to account.
The brilliant Victoria Derbyshire holding @RobertJenrick to account on #Newsnight was a really enjoyable watch.#PoliticsLive #Sunackered #GeneralElectionN0W#bbcqt pic.twitter.com/wepehtvKVn

— Mike H (@mikoh123) September 21, 2023
And here's just a flavour of what people were saying this time round.
No shame whatsoever from Jenrick. Nothing at all. https://t.co/kgOncvYeVU

— Alexis Conran (@alexisconran) November 15, 2023
Omg she Is formidable ❤️❤️❤️❤️❤️❤️

— gangsta granny ‍☠️‍☠️‍☠️‍☠️ (@arno_sandi) November 15, 2023
It is refreshing to have @vicderbyshire interview politicians, she holds them to account. She really called out the incredible spin. Many journalists should follow her example. https://t.co/pCqcr79Kg6

— Teresa Crawford #FBPE (@TeresaC123) November 15, 2023
We need a half-dozen more Victoria Derbyshire's covering politics. Takes no shit and calls them out. More of this !

— Paul Martin (@PWMartin_Leith) November 15, 2023
1984 anyone?

— ben | medley (@benmedley_) November 15, 2023
"The Party told you to reject the evidence of your eyes and ears. It was their final and most essential command".
Orwell accurately predicting today's Conservative politicians…. https://t.co/vOlgnxQJKl

— Debbie Eade (@EadeDebbie) November 16, 2023
It has to be said… Victoria is an absolute tour de force when she's in front of these charlatans

— Bazil Pennells (@Bazilnova10) November 15, 2023
this is why we need her on the flagship sunday political show, cant ever LK challenging the regimes lies https://t.co/BwLV2BwwzX

— Mark Stacey (@VintiquesMark) November 16, 2023
And if you'd like too see a longer clip for more context …
"We have won on the most important question of all… "

"That is incredible spin, you have not won on the main principle"

Victoria pushes back on Immigration Minister Robert Jenrick, as he claims the government won the Supreme Court case on some level #newsnight pic.twitter.com/CheM75GpbR

— BBC Newsnight (@BBCNewsnight) November 15, 2023
READ MORE
Rishi Sunak's plan to sidestep the Supreme Court's judgment with a law declaring Rwanda safe was deservedly panned
Source @implausibleblog