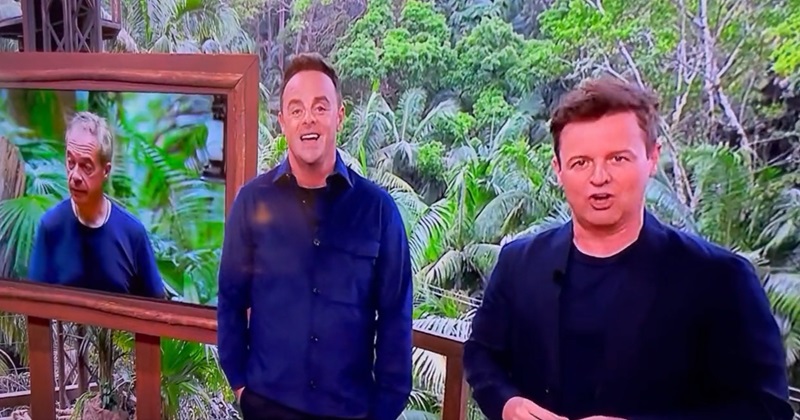 The outcry about Farage being on I'm a Celebrity was only slightly tempered by Ant and Dec's opening dig at GB News
Seven times general election failure and architect of Brexit, Nigel Farage, has joined this year's cast of I'm A Celebrity Get Me Out Of Here for a reported fee of £1.5 million – an I'm a Celebrity record.
NEW: Nigel Farage has just landed in Australia after signing a £1.5 MILLION deal to appear on I'm A Celeb – the highest fee ever paid pic.twitter.com/6a5Y01AWxc

— Politics UK (@PolitlcsUK) November 12, 2023
While his fans and GB News colleagues are thrilled at his presumed ability to connect with a younger demographic, many people are horrified that ITV has given him the platform.
#BoycottImACeleb if they're going to put a figure as dangerous and divisive as Farage on and reputable businesses should pull their advertising from the show.

— Tim Walker (@ThatTimWalker) November 19, 2023
I'm not watching #ImACeleb, but I don't think it'll explain why Nigel Farage has turned up dressed like Patrick Star. pic.twitter.com/wAEXybQmAc

— Mark Grimshaw (@MarkGComedyUK) November 19, 2023
Nigel Farage is believed to be taking part in 'I'm A Celebrity' – if you're not familiar with the show, the crocodile's penis is the one on the right pic.twitter.com/UNrB1Vf5M8

— Have I Got News For You (@haveigotnews) November 14, 2023
The face on this grifter – that jaunty walk is from bringing Brexit, stealing thousands from your pocket, the walk of a man happy he's stolen opportunities from your kids, the skip of a guy ITV now wants to reinvent for profit.
Welcome to the end. https://t.co/V0O0YBNmdE

— Danny Wallace (@dannywallace) November 12, 2023
It's fine that Farage goes to Australia for I'm a Celebrity. If his first task is to travel there in a dinghy, and when he arrives, Ant and Dec shout at him on the beach through a megaphone 'here's another one, swarming here just to make easy money', then he's sent to Rwanda.

— Mark Steel (@mrmarksteel) November 14, 2023
What's that in Rubles? I'm glad I turned this series down – I hadn't realised the creatures would be quite so poisonous. https://t.co/6sh1xbBE1Y

— Adam Kay (@amateuradam) November 12, 2023
It's at times like this I wish we had Harold Shipman. He'd have been marvellous in the Jungle. Why end there? Enoch Powell on Strictly. Vlad the Impaler on Bake Off. Marvellous telly.

— Myra DuBois (@myradubois) November 19, 2023
One of his campmates, Josie Gibson, got a Brexit reference in pretty quickly.

Josie Gibson reassuring Nigel Farage on #ImACeleb that "it can't be worse than Brexit" pic.twitter.com/jFbotjyy2p

— dave ❄️ (@mrdavemacleod) November 19, 2023
And he's already had to stick his face into a container of snakes.
Is these trials on #ImACeleb this year are horrendous…for the animals. Can you imagine some poor bloody snake coming face to face with Nigel Farage forcing his head into their enclosure? Call the RSPCA now! pic.twitter.com/d4B5WIN0NH

— Weasel (@KatieWeasel) November 20, 2023
A lot of anger and disappointment has been directed at Ant and Dec for not refusing to host the right-wing politician, but there's no doubt that they managed to get in a good dig at his employers.
Brilliant this

How long until Nigel Farage pulls out on medical grounds?

Only a matter of time, he's a grifting, money grabbing snake #ImACeleb pic.twitter.com/e9jEqbVrBE

— Dean ️‍ #GTTO #FBPE (@deanbegley1) November 19, 2023
The gag got mixed reactions. Some loved it.
1.
"Sorry Keith, sorry Linda." #ImACeleb pic.twitter.com/rNjuSPUpHz

— J (@Jordiboy_96) November 19, 2023
2.
Won't be watching but I'm glad they're taking the piss out of him and the weirdos that follow him. https://t.co/SMPVPcMpb6

— Ben Poulton (@PoultonBen) November 20, 2023
3.
Ant n Dec nail it as usual https://t.co/nfhRwWt8J2

— Ash (@Ashfromenfield) November 20, 2023
4.
Keith & Linda sitting at home right now #ImACeleb #ImACelebrity pic.twitter.com/Qr2PXmUKII

— Sinéad Farrelly (@sinead_farrelly) November 19, 2023
5.
Was planning on avoiding #IACGMOOH as I didn't want to validate the grifter… but these kind of gags might draw me back in… https://t.co/2I5gpD09NG

— Vealey (@vealey722) November 19, 2023
6.
Didn't watch it
But GBNers will have hated this bit https://t.co/AReiPii9K8

— T (@bigdutch7) November 20, 2023
7.
Ant and Dec instantly making everything alright with that opening duologue. "Jamie Lynn Spears is best known, of course, as the sister of Brian Spears". "We'd like to apologise to GB News viewers. Sorry Keith, sorry Linda" #ImACeleb

— Michael Hogan (@michaelhogan) November 19, 2023
The quip wasn't enough to let Ant and Dec off the hook in everyone's eyes.
8.
Ant and Dec think they're being oh so smart ridiculing Farage but this is exactly how Johnson entered the public consciousness: appearing on popular entertainment shows, getting the oxygen of publicity & detoxifying their image. The joke's on Ant & Dec

— Paul Davis (@pjd2404) November 20, 2023
9.
There no way I will watch a program that fun-washes a racist. You've got it totally wrong this year. I will not be watching. #BoycottImACelebrity

— Dame Shazzie Anne of nowhere (@AnneShazzie) November 19, 2023
10.
Look, it's the bloke who demonised talking foreign languages in public so now my fiancée's afraid to take calls from her parents whilst we're out. Hahaha. Isn't it hilarious!

Fuck this. https://t.co/OObsxPt85S

— Retrocanary (@Retrocanary) November 20, 2023
11.
This is all I need to see of this series

— Mnrrntt (@mnrrntt) November 20, 2023
We'll leave the last word to the brilliant Rosie Holt.
I think this is reprehensibly awful to be honest. Giving a platform to soften and humanise someone on the far right who has caused so much division and hate so we can forgive him cos he eats koala genitalia or whatever. https://t.co/kFyxHU7l7M

— Rosie Holt (@RosieisaHolt) November 12, 2023
READ MORE
Nigel Farage arrived in Australia ahead of his rumoured I'm A Celebrity … gig and these 17 people spoke for many
Source @deanbegley1 Image Screengrab