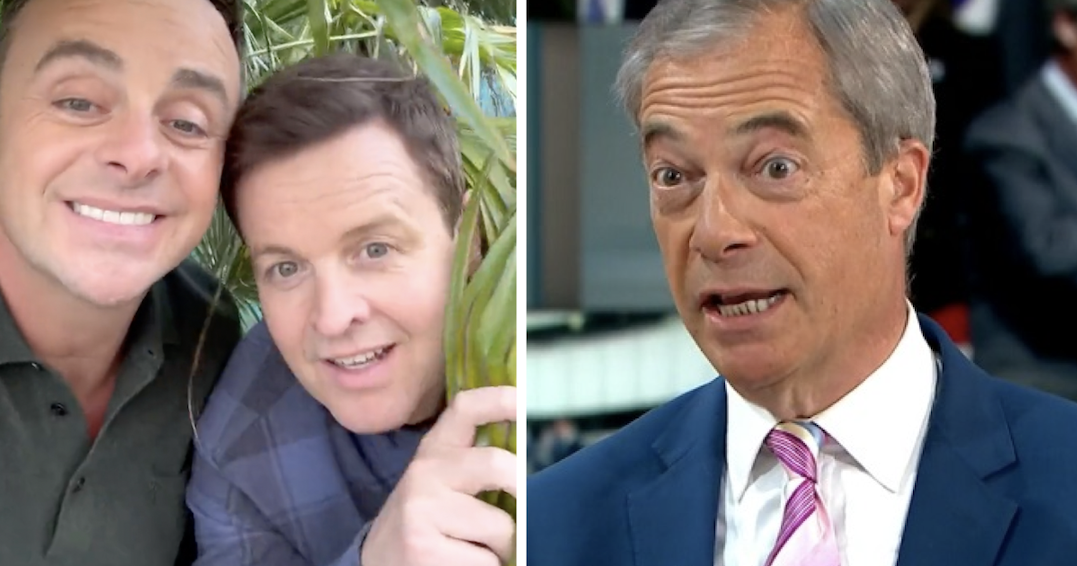 Nigel Farage arrived in Australia ahead of his rumoured I'm A Celebrity … gig and these 17 people spoke for many
Nigel Farage is among those rumoured to be taking part in the new series of I'm A Celebrity … Get Me Out of Here! which returns to ITV on 19 November.
Not quite live from the jungle yet But they will be very soon!

I'm a Celebrity… Get Me Out of Here! Starts Sunday 19th November at 9pm on ITV1 and @ITVX #ImACeleb @imacelebrity @antanddec pic.twitter.com/v0dzru2HFq

— ITV (@ITV) November 6, 2023
Nothing official, you understand, but the fact the former UKIP leader has just arrived in Brisbane didn't exactly quell the speculation, as you might imagine.
NEW: Nigel Farage has just landed in Australia after signing a £1.5 MILLION deal to appear on I'm A Celeb – the highest fee ever paid pic.twitter.com/6a5Y01AWxc

— Politics UK (@PolitlcsUK) November 12, 2023
Farage has previously ruled out taking part in the show, saying it was 'humiliating' – that sort of thing has never stopped him before, surely? – but told a reporter down under that he 'might be going in'.
He wouldn't be the first politician to take part in the show, obviously, having previously featured Matt Hancock (last year) and back in the day, Nadine Dorries. Whatever happened to her?
And while we await confirmation that Farage will be joining the camp – or otherwise – these 17 responses nail what many people were saying ahead of the show's return (word of warning – may contain swear words. Lots of them).
1.
I think this is reprehensibly awful to be honest. Giving a platform to soften and humanise someone on the far right who has caused so much division and hate so we can forgive him cos he eats koala genitalia or whatever. https://t.co/kFyxHU7l7M

— Rosie Holt (@RosieisaHolt) November 12, 2023
2.
Don't watch it, don't send them money in phone votes, don't reward the advertisers, and fuck Ant and Dec for platforming him, no matter how many oh so edgy winks to camera and cutting remarks they make. https://t.co/EeG7NRWWut

— HappyToast★ (@IamHappyToast) November 12, 2023
3.
Economic migrant. Ship him to Rwanda. https://t.co/DOj5ehJEg1

— HENRY MORRIS (@mrhenrymorris) November 12, 2023
4.
Farage will be a good sport, muck in, engage in lots of blokey humour, eat a large portion of kangaroo anus, millions of #ImACeleb viewers will say "I quite like him actually" and that is why we are a completely fucked up country pic.twitter.com/l7QmQEfNkR

— dave ❄️ (@mrdavemacleod) November 13, 2023
5.
THIS is giving hate a voice… not peace marches! pic.twitter.com/PBAzzBGuTv

— Reece Dinsdale (@reece_dinsdale) November 13, 2023
6.
Just so upset by this. Ant, Dec & ITV platforming a xenophobe who revels in whipping up division & poison. What has this country become? https://t.co/RRsB9to8JX

— Rachel Clarke (@doctor_oxford) November 12, 2023
7.
This is fucking grotesque. https://t.co/chuRLXTn3V

— Nooruddean (@BeardedGenius) November 12, 2023
8.
Let's call this what it is. Fucking sickening. It's the normalising and softening of a man who spends his time galvanising the far right with rhetoric. Who goes out on small boats to accuse those most desperate and in need of destroying our country, all for the views. Who wipes… https://t.co/iMZtLoSmpr

— Jolyon Rubinstein (@JolyonRubs) November 12, 2023
9.
If they make Nigel Farage eat an arsehole on I'm A Celebrity it's cannibalism.

— Mr Roger Quimbly (@RogerQuimbly) November 13, 2023