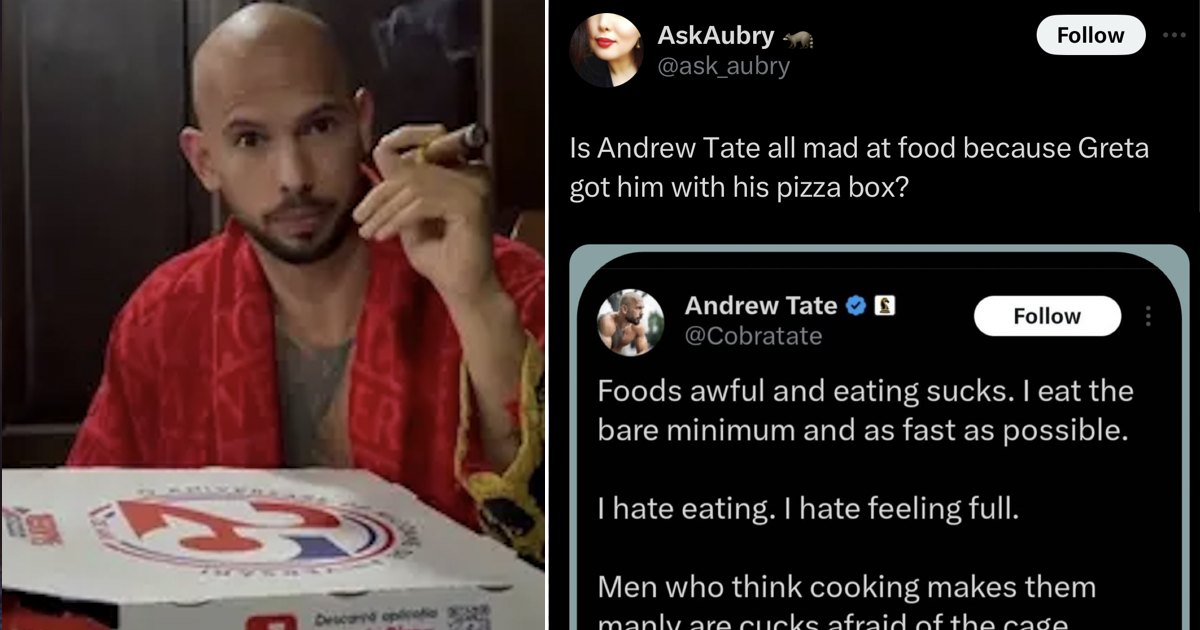 Simply 9 of the most satisfying times that Andrew Tate was owned into next week
One of the good things about Andrew Tate – well, no, there are obviously no good things about Andrew Tate.
But one of – and possibly the only – satisfying thing about him sharing his thoughts (and otherwise) on Twitter is that there are always people ready with the perfect comeback.
Funny, brutal and never less than immensely satisfying, here are 9 Andrew Tate takedowns – Tate-downs? – that did it best.
1. When he said food was for losers
Foods awful and eating sucks. I eat the bare minimum and as fast as possible.

I hate eating. I hate feeling full.

Men who think cooking makes them manly are cucks afraid of the cage desperate to validate a non existent masculinity.

Imagine how stupid you have to be to find…

— Andrew Tate (@Cobratate) November 9, 2023
Is Andrew Tate all mad at food because Greta got him with his pizza box? pic.twitter.com/GK3Qbr3t65

— AskAubry (@ask_aubry) November 14, 2023
2. When he said dating him was a full-time job
Any woman I date does not have a job.

Why would I be working so hard to have hundreds of millions for my woman to waste her life enslaved for pennies?

No.

I will give you a life you could never ever afford, ever.

Private jets.
5 star hotels.
New cars.
Endless spending money…

— Andrew Tate (@Cobratate) November 14, 2023
Any man I date does not have a job.

Why would I have a trust fund for my man to waste his life enslaved for pennies?

No. I will give him a life of ranches, illegal weapons, vintage off-road vehicles, and nominal duties so he doesn't off himself.

He will work out. A lot. https://t.co/svMEsrZWLH

— Eade (@eade_bengard) November 15, 2023
3. When he said there was an opening for a 'third Tate brother'
4. This Sky News presenter's no-nonsense description
I do love it when a presenter calls things by their real name and puts a story in its proper context.

This is a glorious closing sentence by @skysarahjane on Andrew Tate, delivered in just the right tone. ~AA pic.twitter.com/F9VTtmdLkT

— Best for Britain (@BestForBritain) August 2, 2023
5. When he got all philosophical in jail
I met two men in jail

One was called pain

The other was called suffering

We sat and had a coffee together for an hour or so, it was an interesting conversation

But once I walked away

I decided to never speak with them again.

— Andrew Tate (@Cobratate) March 26, 2023
Pain and Suffering breathing a huge sigh of relief here. https://t.co/oqtTiJnxF0

— Dei Bryn 77 (@DeiBryn77) March 26, 2023
6. When Greta Thunberg did this.
Hello @GretaThunberg

I have 33 cars.

My Bugatti has a w16 8.0L quad turbo.

My TWO Ferrari 812 competizione have 6.5L v12s.

This is just the start.

Please provide your email address so I can send a complete list of my car collection and their respective enormous emissions. pic.twitter.com/ehhOBDQyYU

— Andrew Tate (@Cobratate) December 27, 2022
yes, please do enlighten me. email me at [email protected] https://t.co/V8geeVvEvg

— Greta Thunberg (@GretaThunberg) December 28, 2022
7. And his subsequent response
Thank you for confirming via your email address that you have a small penis @GretaThunberg

The world was curious.

And I do agree you should get a life ❤️ https://t.co/mHmiKHjDGH pic.twitter.com/SMisajQRcf

— Andrew Tate (@Cobratate) December 28, 2022
I'll explain the joke to you…it is not her actual email address. It was just a message to you.
Simply writing 'get a life, pencil di*k' wouldn't have been as entertaining.
YOUR tweet was pure spite, SHE deployed intelligence and a sense of fun. Because she is smarter than you.

— Shaparak Khorsandi شاپرک خرسندی (@ShappiKhorsandi) December 28, 2022
8. This reply to his Christmas message (of sorts)
You are poor.
You are unimportant.
Men do not fear you.
Your woman disagrees with you.

Your lives are shit.

If I was forced to endure a year of your life it would be the worst level of depression imaginable.

— Andrew Tate (@Cobratate) December 25, 2022
LMAO imagine sobbing in the wee hours of Christmas morning about how you couldn't endure an existence outside your forever pampered trouble-free life where you've never had to work for anything.

You are so fundamentally pathetic and soft. You are proof meritocracy is a myth.

— Rani Timekey Baker, Noise Channel $400C-$400F (@destroyed4com4t) December 25, 2022
9. And finally, the drugs DO work
Follow Andrew T … no, only kidding.