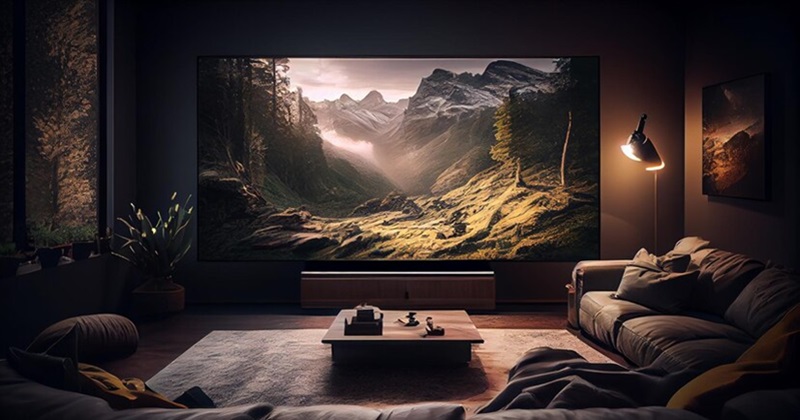 These reviews of a 146-inch $220,000 television might not be taking it totally seriously
Samsung's Wall All-in-One is a hefty 146 inches and costs an even heftier $219,999. We'll take two. Have them wrapped, my good man.
Here's how the company chooses to represent it on its website.
Very futuristic.
In among the reviews are several that aren't exactly taking the concept seriously, and they're all the more entertaining for that.
My son got squished by the TV while watching COCOMELON in 4k It was sad but the graphic is good
Fornite
This TV is pretty nice but it's a bit small for my liking. When characters on my favorite show are reading the news paper in the background, I can only make out the headlines.
MikeSuke
Lost the wife and kids But the quality is the best, and I can cry now knowing that I have a good tv now.
MovieFan329
I didn't know I needed something like this until the day someone at the mall offered it to me. I asked for a loan from the bank and gave my house as collateral, In the end I lost my house, but that doesn't matter! Well, now I have one of the best TVs in the world! I can't watch her right now, that's clear, But what matters is that she's mine!
RJRF
I spent my kids college fund and my savings to pay off my mortgage also including everything in my house to buy this tv and the installation fee. My wife left me and took the kids but im amazingly suprised about the hd quality. It looks great from the folding chair in my living room.
David
This TV is perfect for recreating the dystopian future as depicted in Ray Bradbury's magnum opus Fahrenheit 451, in which entire walls of houses are nothing but TV screens. If complete, totalitarian immersion is your goal, then this TV is the one for you!
Redwolf44
Took out a second mortgage on the house and used 30% of my life savings on this! Super great tv for the price and it barely fit through the door but ya know, you gotta do what you gotta do. Again great tv and fun for just me since I live alone
SuperDuperJim
Here's what I say… Why buy a home or save for retirement when you can have this TV? Just give your entire life's earnings for the next 5 years (and sell your car and home and any other assets) to Samsung because there is nothing in this world that is more beautiful than this TV. You won't regret it and no, I'm not being sarcastic.
Broe K
lordlemming had a question.
Who is buying these? Billionaire super villains?
READ MORE
If there's an award for funny reviews, this TikToker has won it hands down