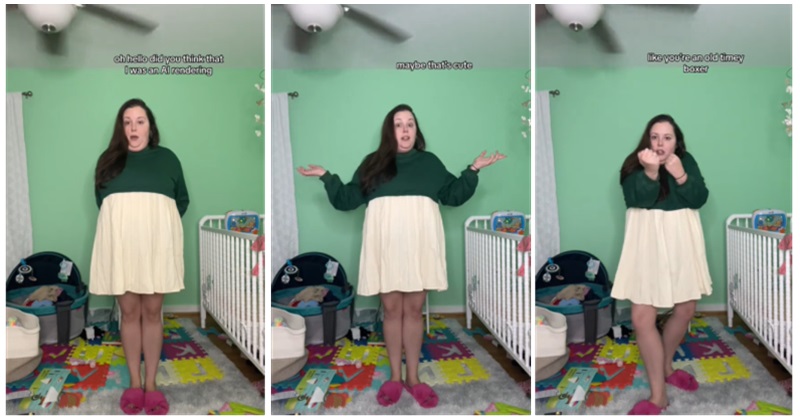 If there's an award for funny reviews, this TikToker has won it hands down
Emily Haswell is a deinfluencer. While many TikTok accounts are putting the hard sell on a variety of clothes, Emily is out there giving her brutally honest and frankly hilarious opinions – complete with some unique modelling moves.
A recent garment to come in for her biting scrutiny is a dress in the style of a combined jumper and skirt. Don't take a mouthful of liquid before you watch this unless you want to spray your phone/laptop.
"Let's talk about the proportions of this absolute monstrosity.

These are where my nipples are – and this is where my skirt starts. Nipples. Skirt. Nipples. Skirt. Does that seem correct to you?

Do you think …you want me to have a skirt high up like you're an old timey boxer?"
Emily already has a strong following, but we suspect this can only boost it – if the reactions are anything to go by.
The old timey boxer reference was SPOT ON. I am cackling.
Laura
I think I *might* be able to pull off that dress, but only because I have a super short torso, but I'd also look like a sickly Victorian child, soo…
Gail
I've been seeing everyone obsessed with this and I felt like I was being punked.
L
Kinda looks like me as a baby ngl.
Alli
The amount of times I just fall for clothes that are just sacks.
Kimberley Dinaro
"I have never looked more like a rectangle" will now be a part of my everyday vernacular. Thank you.
Karla
Do you rehearse these or make it up as you go along? Either way I'm living for it.
Chelsea Brown
This had me wheezing laughing – you're such a delight!
madecorista
I wore a similar thing to my first day of 7th grade and someone started a rumor I was pregnant. IN 7TH GRADE.
Marina
My brain struggled to make the dress make sense. It failed.
Suzan Schlais
Mine hasn't come in yet but I already want to return it.
JanuaryFlowers
You got me struggling to stay quiet in this library.
Taylor
I would absolutely look like SpongeBob SquarePants in that.
LizR-DNP
The only reviews I want from now on are from you!
LilYogiGym
We didn't see this coming.
Wait, Emily, I actually want this now.
Hillary CF

Hilary all due respect but wtf are you talking about?
Emily Haswell
As a special treat, here's one of her earlier reviews.
Do yourself a favour and give her a follow, because there's a lot more where these came from.
READ MORE
This woman's brutal review of a Morrisons breakfast went viral for reasons that will become obvious
Source Emily Haswell Image Screengrab