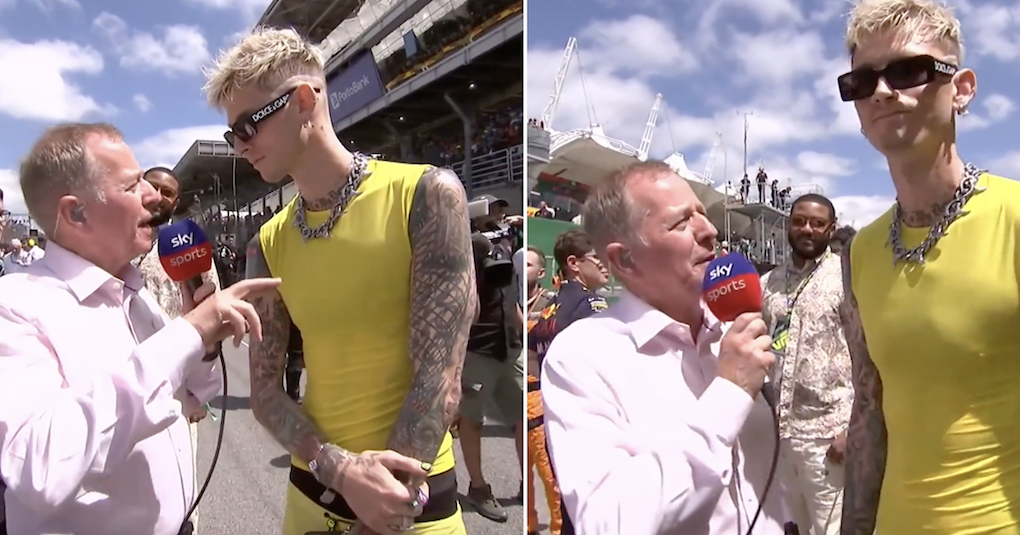 Martin Brundle's F1 interview with Machine Gun Kelly is the most hilariously awkward thing you'll see this week
Full disclosure – we're more familiar with the work of Martin Brundle than we are with Machine Gun Kelly, about whom we know as much as, well, Martin Brundle by the looks of it.
The former F1 driver turned Sky Sports pundit was doing his grid walk before the – Google, Google – Brazilian Grand Prix at the weekend when he happened across the American rapper.
And the pair's exchange is surely the most hilariously awkward – or awkwardly hilarious – thing you'll see this week.
A classic Martin Brundle gridwalk moment with Machine Gun Kelly pic.twitter.com/EGWssbjin9

— Sky Sports F1 (@SkySportsF1) November 5, 2023
And here are just a few of the things people were saying about it.
This has got to be Martin's best grid walk interview ever

— dystainak (@dystainak) November 5, 2023
THE MOST awkwaaarrd interview EVEEEEERRRRR

— (Ruby) (@ObserveByProxy7) November 5, 2023
Martin trying his best not to laugh pic.twitter.com/7tME8vO0XB

— Ben1881 (@ATG98521198) November 5, 2023
The "good luck with it whatever you do" comment is peak Brundle!

— ScottyDawg (@deputyscottydog) November 5, 2023
When Brundle retires this is gonna be in his "best bits" montage.

— Professer Blue (@Professer_Blue) November 5, 2023
And possibly Machine Gun Kelly's too, depending on whatever it is he actually does.
Talking of Machine – have we got that right? – here's what he had to say about it after people gave him grief about it on Twitter.
my vibe is "the worst" how? because someone put a microphone in my face essentially forcing me to do a random interview when i was just trying to enjoy an event? because car engines were so loud i couldnt hear him? please tell me more about why im the worst.

— blonde don (@machinegunkelly) November 5, 2023
The next Grand Prix is apparently in Las Vegas, surely he won't miss that one? Time to get him and Brundle back together again, surely?
READ MORE
This Mark Watson gig suffered a most unfortunate pre-show fail and his fabulous response went wildly viral
Source @SkySportsF1