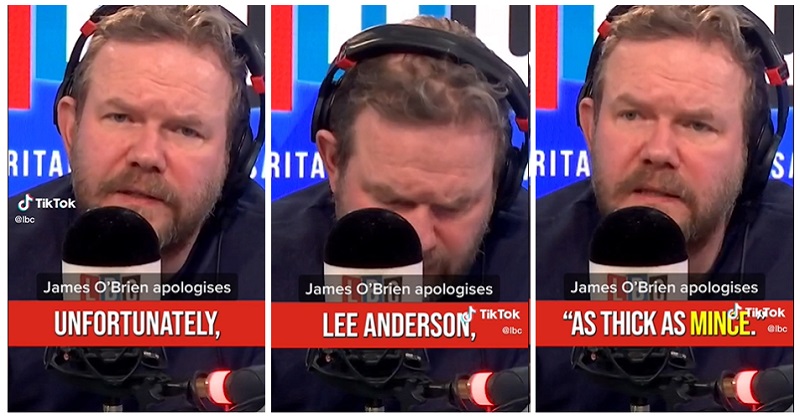 James O'Brien saying sorry for calling 30p Lee 'as thick as mince' is the Apology of the Day
The new Deputy Chairman of the Tory Party, Lee Anderson, hasn't exactly clothed himself in glory, either before or after his appointment.
He's known as 30p Lee due to his insistence that a poor person can live on 30p a day if they plan and cook properly – and he later extended this to insist that nurses have no need for foodbanks if they budget.
"There's not this massive use for food banks in this country. We've got generation after generation who cannot cook properly… they cannot budget"

Conservative Lee Anderson invites MPs to "come to a real food bank" in his constituency of Ashfieldhttps://t.co/kPrVhc52I9 pic.twitter.com/JEnWIJcMhW

— BBC Politics (@BBCPolitics) May 11, 2022
As well as whipping up questions about his support for the return of the death penalty, Anderson's past attempts to get a friend to pose as a neutral voter have been dogging him, causing a cringeworthy outburst on Radio Nottingham.
With so many gaffes and scandals surrounding him, it's no surprise that he's been a frequent topic on the James O'Brien Show – and not in a good way.
After describing the MP as 'thick as mince', James had second thoughts and issued this apology.
He had us for a moment. Here's how TikTok users reacted.
Seriously, man. At least mince serves a purpose.
SoupHands
That's the funniest thing I've heard all day, and you were very sincere as well. 😂
PhilStorey
Ha Ha – well done, James. Not quite sure whether mince will be able to acknowledge your apology. I would like to acknowledge the apology on behalf of mince.
PeterAnthony330
OMG….what a brilliant burn.
🤣🤣🤣
Winnie
There were similar responses when LBC posted the clip on Twitter.
Sitting in my living room listening. I think my neighbors 5 houses down heard me screaming with laughter when he said this. Great timing and delivery.

— natnewscot (now on 🐳) (@natnewscot21) February 9, 2023
That's just mincist https://t.co/wy0SIEoeES

— kevin bennett ❄❄ (@kvnbnt) February 10, 2023
Give this man the best wine in the house. https://t.co/vmTqQhXJo4

— Shola Adenekan (@akada) February 9, 2023
As someone who has been morbidly following anderson for a while now, he's not 'thick as mince'.

He's a quite boring cynical reactionary that larps as an offensive caricature, an act that tories (and parts of labour) think a working class person sounds like. https://t.co/HEBd0jlbrk

— KPMG dad (@jenuflexion) February 9, 2023
Whoever does no 10 media training is going to have a fun few weeks

— SK Tedeschi (@SasminLeBon) February 9, 2023
Of course, mince might not accept the apology.
It's too late, mince has consulted its lawyers and is demanding substantial damages

— George_T_Truth2 (@George_T_Truth2) February 9, 2023
READ MORE
James O'Brien asked a Brexiteer for evidence – any evidence – and it's this week's funniest, most infuriating radio
Source LBC Image Screengrab