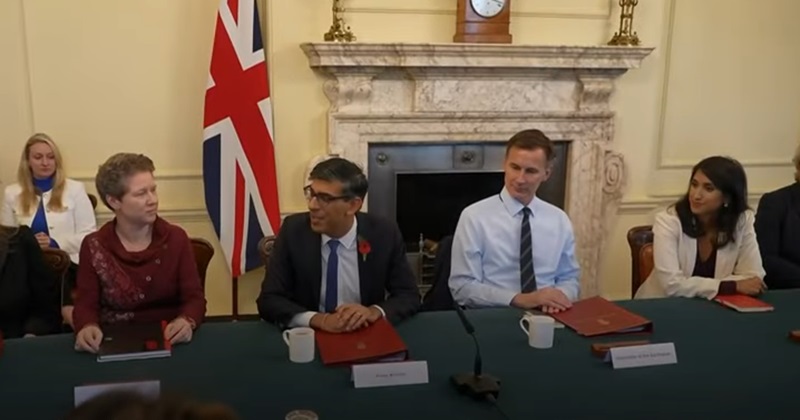 Our 23 favourite funny reactions to the ins and outs at Downing Street
The resignation letters have been written, the welcome mat has been laid out for the newcomers, and the first cabinet meeting of the new personnel is under way.
Here's how Rishi Sunak described them.
Today we have built a united team ready to deliver the changes this country needs for the long term.

Professionalism, integrity and experience – this is a team that will be bold in making the right decisions for our great country, not the easy ones. pic.twitter.com/5smHSH0sI7

— Rishi Sunak (@RishiSunak) November 13, 2023
If Sunak's reshuffle was designed to create unity, it sort of managed it – as Twitter/X united in taking the piss.
1.
Rishi Sunak is reshuffling his cabinet today. I've just been asked if I'd like to be Home Secretary. #kitileaks

— Larry the Cat (@Number10cat) November 13, 2023
2.
It's like that last episode of the Apprentice, when all the people Lord Sugar sacked come back to fuck up one last task. pic.twitter.com/raEz05r64Q

— Otto English (@Otto_English) November 13, 2023
3.
"I bet you weren't expecting me, were you officer?" pic.twitter.com/sFhXNXqZd2

— Nadine Batchelor-Hunt (@nadinebh_) November 13, 2023
4.
Braverman
Braverman
Does whatever a Braver can
Thirteen months
Gets sacked twice
Must be a
Lifestyle choice
Look out
Here comes the Braverman

— Sanjeev Kohli (@govindajeggy) November 13, 2023
5.
Lee Anderson appointed Minister for Saying "Not Three Bad", "I Beg Your Pudding" and "While You're Down There…" pic.twitter.com/1aeFaxNusP

— Andy (@alreadytaken74) November 13, 2023
6.
Dear @GregHands,

I'm afraid there is no job left.

Kind regards,
Rishi!

— Karl Turner MP (@KarlTurnerMP) November 13, 2023
7.
The #CabinetReshuffle is like taking your car with 4 bald tyres to a garage and rather than replacing them with new ones, they just swap them round the car & send you on your way!

— Jason Manford (@JasonManford) November 13, 2023
8.
BREAKING: Theresa Coffey sacked for not pumping enough turds into the sea pic.twitter.com/Beb9lPlQS9

— dave ❄️ (@mrdavemacleod) November 13, 2023
9.
BREAKING – Suella Braverman to star in "Baywatch" a new GBNews show about monitoring Britain's coast for small boats.

— HappyToast★ (@IamHappyToast) November 13, 2023
10.
Lee Anderson has been appointed Secretary of State for blokes who show you 8 year old Facebook memes in the pub pic.twitter.com/sjKvqACIse

— Eugene (@eugeneh84) November 13, 2023
11.
Do you want to be Transport Minister? pic.twitter.com/fkZWuA8jgp

— Chris Atkins (@scatatkins) November 13, 2023
12.
Huw Merriman on #C4News saying 'the country trusts' David Cameron & sees him as a 'fair & reasonable person' pic.twitter.com/35Kn2JxvFk

— Toby Earle Threads tobyontv (@TobyonTV) November 13, 2023