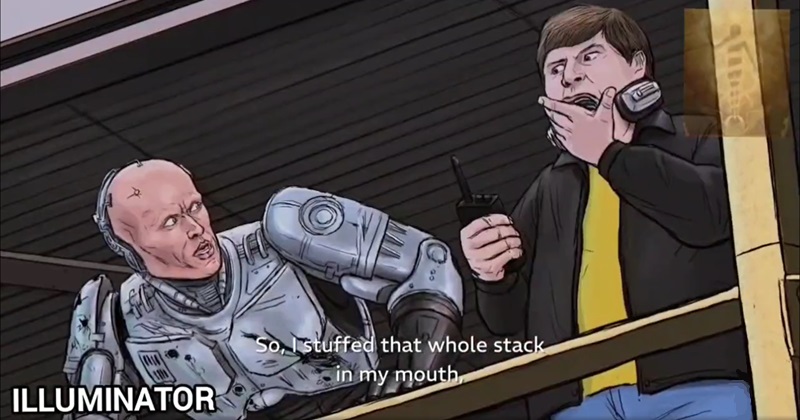 This clip from a documentary about the making of RoboCop needs an Oscars category all of its own
We didn't know there was a documentary about RoboCop, but having seen a clip, we really want to sit down and watch the rest of it.
Feast your eyes on this.
Incredible documentary filmmaking pic.twitter.com/6dJjLsmP1O

— Braaains Bro Ben! (@BasementBros69) November 14, 2023
The clip, from RoboDoc: The Creation of RoboCop, featuring weapons master Randy E. Moore, has been reposted more than 2,000 times in eight hours, picking up reactions like these –
1.
Not sure what I've just seen but I don't think I'm going to be able to get 'Robo wants an Oreo' out of my head anytime soon https://t.co/Epn5ncnv5X

— Tom Reagan's Hat (@RufusTSuperfly) November 14, 2023
2.
Immediately pre-ordered this doc after seeing this clip https://t.co/cJmrSoyx6r

— Bill Bria (@billbria) November 14, 2023
3.
Robocop is one of my favorites and this is just fantastic https://t.co/sh0JcMtZP2

— Bunnii Chanel's Honey Farm (@Bunnii_Chanel) November 14, 2023
4.
This is a "I Think You Should Leave" skit that was somehow displaced in time

— Alex J. Sandoval (@OMGLX) November 14, 2023
5.
Stop whatever it is you're doing and watch this clip….then wait for it. https://t.co/0LexiosDTF

— Courtney Howard (@Lulamaybelle) November 14, 2023
6.
I'm finding it difficult to believe it's real but I'm willing to watch the whole dang documentary to find out. https://t.co/uKwNFc0u8y

— Gamerosays (@GameroSays) November 14, 2023
7.
Ahhh the magic of the movie business. https://t.co/dL9otbBGRk

— Beyond The Boundary Fan Account (@CallOfDutyScoMo) November 14, 2023
8.
What the FUCK did I just watch? https://t.co/3Q6L1lfHXz

— Miranda ~*Randi*~ Doerfler (@docsaico) November 14, 2023
9.
thank you mystery man who appeared in my feed.
I feel like my life has purpose once again.

— Trent the Koalamydia King (@KoalamydiaKing) November 14, 2023
To sum up …
Robostrop… pic.twitter.com/9cFAXtshtD

— Chris Cairns. (@ComedyCairns) November 14, 2023
READ MORE
21 favourite funny tweets about the Beatles documentary
Source BasementBros69 Image Screengrab