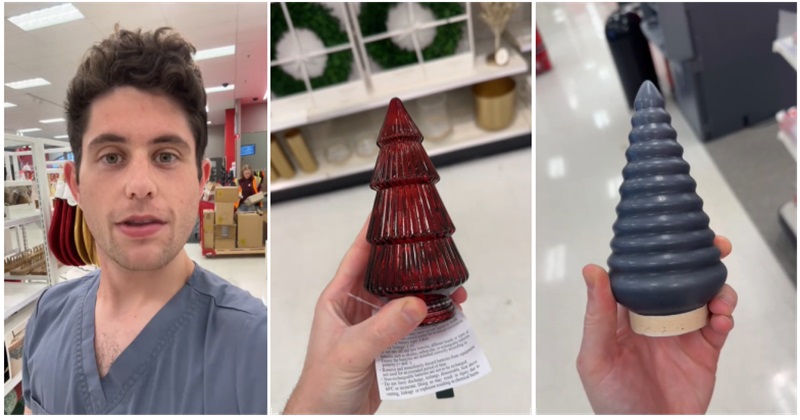 This doctor's NSFW what-not-to-do with Christmas decorations safety advice has gone wildly viral
Over on TikTok, doctor and funny content creator Adam – @adamgaston – spotted the opportunity to offer some sage advice to the public – and, potentially, save his colleagues some work.
We certainly can't argue with this.
We don't doubt for a minute that the accidental sex toy shape of novelty Christmas tree decorations has led to the odd ding dong merrily on high – and a few headaches in the emergency room. It must be a pain in the arse for all concerned.
Adam's TikTok has been viewed almost ten million times, picking up 1.5 million likes and more than 25,000 comments along the way, so hopefully his public safety message is reaching its target audience.
Here are a few things viewers have been saying about it.
The realest TikTok I've seen lmao.
Lily
"I don't care that this is ribbed" sir you did not just say that.
Sumza
I have little kids and thought, yeah you wouldn't want them down low where the kids could break them sir, I was unprepared for the truth.
Michaela Stahl
See cuz I was expecting this to be one of those it's too early for Christmas videos.. did not see this coming lol.
Norma.tries
I DID NOT expect this.
MalachiMouning

That's what they say after putting those things where they don't belong.
Adam
The gasp I just gave lol.
Brandon Plumeau
It took me to the 3rd one to realize what he was talking about.
NyOhMy
As a CT tech, I guarantee I'll see one of those by the end of the year along with "I tripped and fell onto something".
user5035983802090
t day826 had some very bad advice.
The nut cracker has a flared base. It'll be fine.

Hard nope. Just follow doctor's orders.
We'd say that the PSA got the thumbs up from this paramedic TikToker, but it might not be quite the right expression – under the circumstances.
You can also follow Adam on Twitter, where he's @adamgreattweet, or Instagram, where he's @adam.great.tweet. And let's be careful out there.
READ MORE
Doctors have been sharing tales of patients so lacking in common sense it's a miracle they're alive – 17 jaw-droppers
Source @adamgaston Image Screengrab