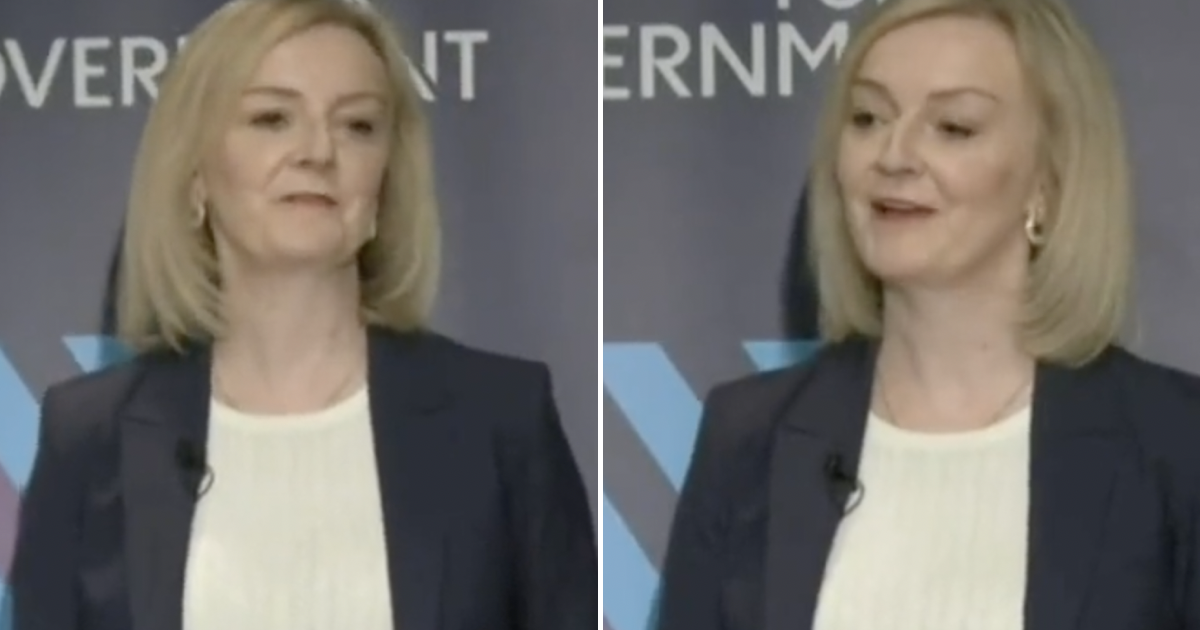 Liz Truss joked about her premiership and there's no greater example of failing to read the room
Liz Truss has been out and about again, a year after her blink and you'll miss it tenure in 10 Downing Street.
And we were doing a bit more blinking today after she made a joke about her time as PM and if there's a greater example of someone failing to read the room, then we'd like to see it.
Liz Truss – "I'm having a rather more relaxing September than I did last year."

I'm sure mortgage payers aren't having a more relaxing September. pic.twitter.com/5pGXMy8PRA

— Haggis_UK (@Haggis_UK) September 18, 2023
Liz Truss, there, discovering the difference between 'laughing' and 'laughing stock'.
And here are just a few of the things people said in response to what Truss had to say today.
1.
Mate, you blew a £50 billion hole in the UK's finances in just 50 days, burning public money with criminal negligence. As a more respected politician than you, I believe I have a mandate from the British people when I say, FUCK OFF LIZ TRUSS. pic.twitter.com/zXcf5Wa6ko

— Count Binface (@CountBinface) September 18, 2023
2.
Here's Liz "Pork Markets" Truss having a good laugh at the misery she inflicted on millions of ordinary people in the UK. What a nerve she's got. Clueless. Tin-eared. Tone deaf. And the delivery of a warped piano. pic.twitter.com/COKgd1xJNL

— Nick O'Donnell (@gnickodonnell) September 18, 2023
3.
I hope she's getting paid well by Labour for this, because she's worth every penny. https://t.co/TS9NqzaYVX

— Ian Dunt (@IanDunt) September 18, 2023
4.
I am paying £278 extra a month because of truss

— Sardar #FBPE (@KabulBoy70s) September 18, 2023
5.
Oh, God.

It's so unbearably painful to watch.

Isn't there some sort of vaccine I could take to not feel the pain?

— B.E.Andre #3Point5️‍ (@B_E_Andre) September 18, 2023
6.
As somebody in the process of selling my house and buying a house abroad relying on the GBP/USD exchange rate, I have to say I find all this slightly less funny than Liz does. https://t.co/gxB3uH7152

— Nick Pettigrew (@Nick_Pettigrew) September 18, 2023
7.
Utterly shameless

— Ageing Cherry (@AtMyAgeTV) September 18, 2023
8.
This is a genuine tweet from the previous Tory Prime Minister, a year from a general election, when her party is 25 points down in the polls. The Conservatives are simply not a serious political party any more. https://t.co/ADD6Hn2ir8

— (((Dan Hodges))) (@DPJHodges) September 18, 2023
9.
Someone should tell Liz Truss that these speeches aren't helping. If someone drove a truck into my house, I wouldn't really want that person on the news giving a speech on how the truck was to blame.

— Michael Spicer (@MrMichaelSpicer) September 18, 2023
10.
It's very easy to laugh at Liz Truss

— Tom Peck (@tompeck) September 18, 2023
11.
Liz Truss giving advice on how to run the economy is like the ghost of the captain of the Titanic returning to give advice on iceberg avoidance

— Larry the Cat (@Number10cat) September 18, 2023
12.
What I said. https://t.co/OZsdIGnSbY

— Count Binface (@CountBinface) September 18, 2023
13.
Asking Liz Truss for her economic vision to enable faster economic growth is like asking Fred West for advice on how to raise a stable and secure family.

This is absolutely fucking insane.

— Supertanskiii (@supertanskiii) September 18, 2023
And finally …
Liz Truss is back pic.twitter.com/BNOMNwpjTJ

— Will Sebag-Montefiore (@wsebag) September 18, 2023
Source @Haggis_UK