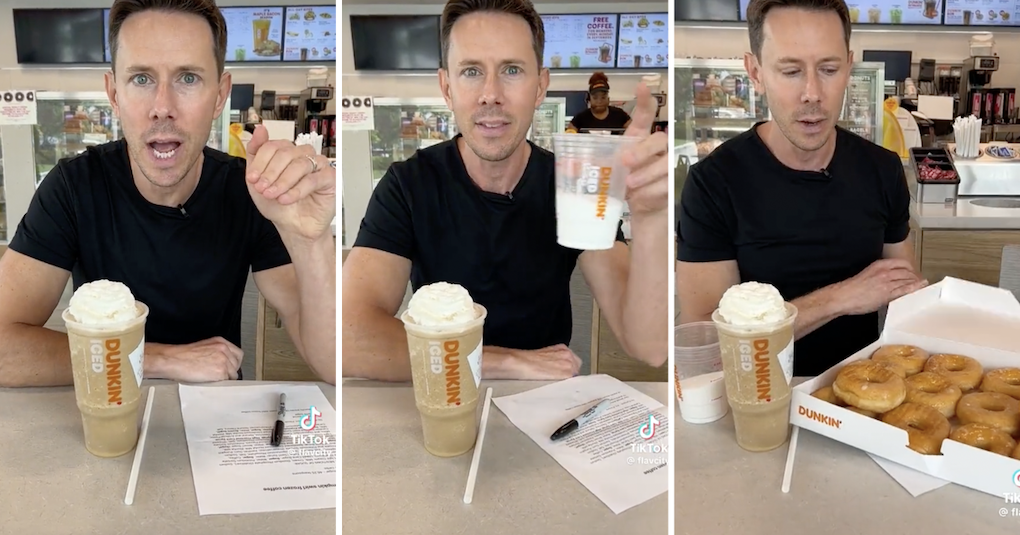 This jaw-dropping deep dive into a pumpkin swirl frozen coffee didn't quite get the responses it intended
Here's a salutary lesson next time you go to the coffee shop and think about ordering, say, a pumpkin swirl frozen coffee.
Specifically, a pumpkin swirl frozen coffee in Dunkin' Donuts.
Because TikToker @FlavCity – who describes himself as 'The Grocery Store Guy. Helping you put the best stuff in your body' – took a deep dive into what exactly makes up one of these drinks.
And it's quite the watch.
And yet it's fair to say it probably didn't get the response he was presumably hoping for.
Here are a few of the many things people were saying about it over on TikTok.
'This made me realize donuts are so healthy.'
sarahkneebs

'Girl math means if I don't drink this I can eat 14 donuts '
user1292662349232

'Doing it inside the Dunkin is legendary.'
Alexandra

'Challenge accepted 14 donuts + pumpkin swirl coffee.'
timparsons767

'Honestly I'd rather eat all 14 donuts.'
Caitlyn

'Wow! that's a lot of sugar!so, are u gonna drink that? can I have it?.'
ALEIA FOODIE

'just get a small lmao.'
Florida941

' so…. Eat 14 donuts got it.'
Barby
Just don't have too many of the holes.
Lots more @flavcity on TikTok here!
Source TikTok @flavcity H/T Twitter @davidbelle_