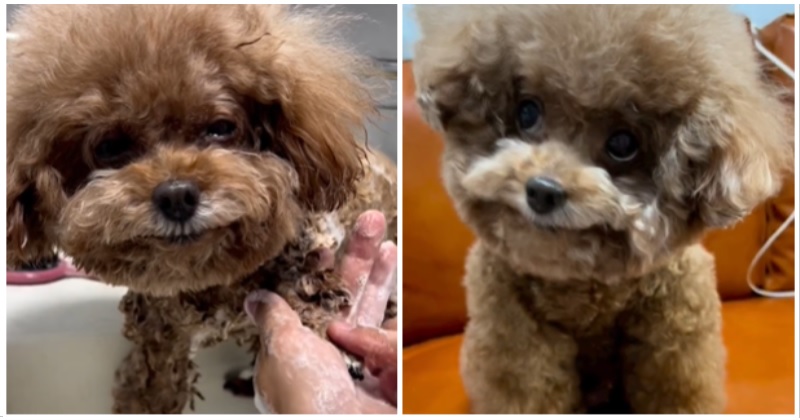 People are trying to wipe the smile off the face of the world's happiest dog
Abbie Qu's Instagram account is dedicated to her five pampered toy poodles, Angel, Fengfeng, Kongkong, Kaka, and Bobo, who live the life of Reilly and appear to be smiling permanently.
The dogs' relentless happiness has led to quite a lot of comedy resentment, with comments sharing the reasons why the dogs need to pack in the damn cheeriness – and a lot of fake irritation.
At least, we think it's fake.
This clip of a pamper session drew quite a lot of poodle-bullying comments.
Here are some of the best – or worst – reactions.
He thinks life is peaches and cream.
dava_krasny
He thinks everything's a fucking game.
bag.shh
He always smiling like there something to smile about.
ntinosl
Don't let me catch you anywhere near Atlanta.
Bowden_Spears
He thinks everything is a fuckin jolly good show.
off.icialzayy
How bout you share with the group what's so fucking funny.
Levistrauk
Lil bro yet to learn about taxes.
abirtg.999
Bro thinks there's light at the end of the tunnel.
23Alex06
Does he not know of global warming?
Camden4261
Wait till he find out Santa ain't real.
envynando
Wait until he finds out about bills.
houwenmou
All we can say about that is that it's a good job dogs can't read. 190ellis said this.
Somewhere this dog is sleeping happily enjoying life and he has no idea he's getting violated on a social media platform.
Plot twist – we're pretty sure that dog's female.
READ MORE
Let sleeping dogs lie or face sandy vengeance