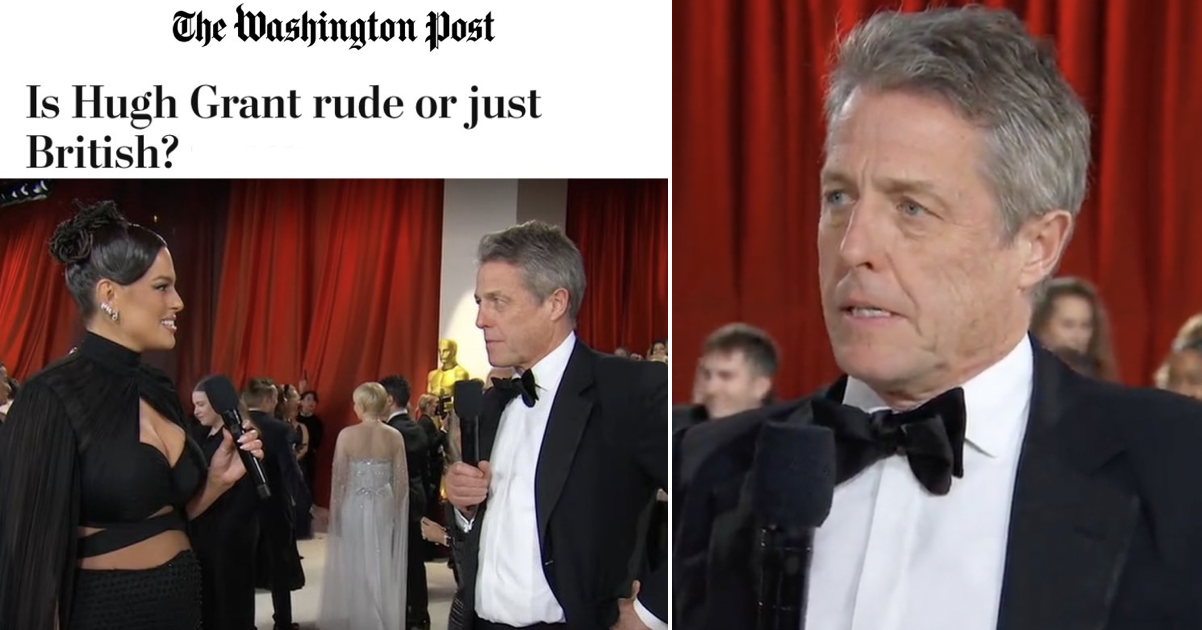 Americans are asking if Hugh Grant was 'rude or just British' – 17 straight-talking responses
Spare a thought for Everything Everywhere All At Once which swept the board on an Oscars night which is now only being remembered for Hugh Grant's hilariously deadpan red carpet interview.
Well, we exaggerate only a little (a lot) but here's that Grant interview one more time just in case you missed it (or want to watch it again).
hugh grant wants no part of this dumb shit pic.twitter.com/uBQ70QcZGf

— Timothy Burke (@bubbaprog) March 12, 2023
We mention it again – again! – because it prompted the Washington Post to ask this, a headline which has just gone wildly viral on Twitter.
— No Context Brits (@NoContextBrits) March 14, 2023
Here's the story, just in case you wanted a read …
Is Hugh Grant rude or just British? Oscars interview may be lost in translation.

The actor's awkward interview with model Ashley Graham at the Academy Awards sparked debate on both sides of the Atlantic. https://t.co/Bcn5PKsbWI

— The Washington Post (@washingtonpost) March 14, 2023
… and it prompted quite the debate. Here are our 17 favourite things people said about the whole thing.
1.
the way whole swathes of america think this is hugh grant being rude, but it's actually just one of the rare situations of an older british man who is in a good mood and nobody is getting his humour https://t.co/9zZMz3Gbwz

— Patrick Lenton (@PatrickLenton) March 13, 2023
2.
Just felt like he's fresh out of shits to give. I can relate.

— Scott Johnson (@scottjohnson) March 14, 2023
3.
I won't bash Ashley Graham, but there was quite a cultural and intellectual divide at play. At one point, Hugh Grant was referring to the 19th century novel "Vanity Fair" & she thought he was talking about the American magazine, so… the whole interview was kind of like that 🤦‍♀️

— Nulli_Secunda3 ✡️ -Married- (@Isaestl11) March 14, 2023
4.
https://twitter.com/_NatashaDevon/status/1635215548446543873?s=20
5.
Hugh Grant doesn't mean to be rude here, but this is how it feels like to be British and confronted by absurdly enthusiastic American extroverts pic.twitter.com/5wQFKPQsDJ

— Sid Verma (@_SidVerma) March 13, 2023
6.
The two concepts aren't mutually exclusive. At first he was just being honest but by the midway point he willingly let the interview crash and burn, probably because he couldn't be bothered.

— Will Thompson (@willwearswhat) March 14, 2023
7.
Hugh Grant, talking to Ashley Graham, delivers an masterclass here in apathy. He refers to the literary classic Vanity Fair, a novel about the vacuous, shallow nature of society. Graham, thinks he's referring to the 'magazine.' Grant exposes the utter banality of today's society. pic.twitter.com/Xn70keGdZP

— Sherlock Holmes (@Baskerville448) March 13, 2023
8.
Those on here having a go at Hugh Grant for being rude on the Oscars red carpet have perhaps mixed up the word rude with the word real.

— David Baddiel (@Baddiel) March 13, 2023
9.
This is not the first time Hugh Grant has behaved inappropriately at a press conference. A few years ago he was caught repeatedly asking ignorant and inappropriate questions while working for Horse & Hound.

— James Colley (@JamColley) March 14, 2023