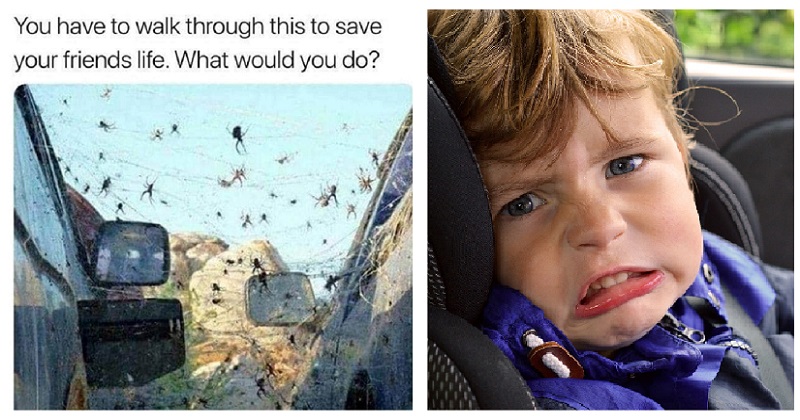 There's not enough nope in the world for this web-based test of friendship
When u/heartneed chose to post this image to Reddit's r/nope forum, it was absolutely the most apt place to share it – because, well, look …
There was not enough nope in the world for some people.
I already have nightmares like this, I can't imagine the psychological impact of having it occur in real life!!
CaptainWigglez
Let them die.
buckao
I wouldn't walk through that if it was my mom.
wolfkittentigerpuppy
Start writing a Eulogy.
JohnTheGreatAndSad
In this moment.. I would learn how to fly
Fantastic_Valuable47
Classify them as enemies so I don't feel so bad noping out of there.
ExistentialBeing
RIP bud
Notserpssor
I probably wouldn't walk through this even to save my own life.
pm0me0yiff
Pirates code: you fall behind, you're left behind.
xenophononthelawn
Find new friends.
sunshineburn
As terrible as this answer will be, I just couldn't. I'm sorry to my friend and I'm sorry to god for being so worthless.
thatssoshandy
Got one less friend and a million less nightmares.
qweefz
Poor fella, gonna miss him.
SnooRabbits1588
Not everybody would abandon their friend to avoid the arachnids. Some even seemed quite keen to have a go.
I have 4 people in my life that I'd do this for. I won't like it, but I'd do it.
dreaming_kitsune
I would do it but that bastard better pay for my therapy after.
AChaoticStorm
Rescue my friend. Like your average walk in the dark in night-time Australia.
Affentitten
While it does look kinda bad, I'd do it for 50 bucks, let alone something important.
Divasa
You didn't specify no tools or weapons just walk through, so I have flame thrower therefore I have success
KlutzySpeed5503
If it was one of my kids I'd run through and grab them. In my experience even black widows won't bite you just for walking through their web although they may walk up and down your arm a bit.
ellyschoolmarm
Gundunkukan seemed pretty blasé about it all.
Bro, it's just some spiders. I'd walk through it for a $5 bet

Probably Australian.
READ MORE
7 easy ways to keep spiders out of your house
Source r/nope Image r/nope, Explore_More_UK on Pixabay