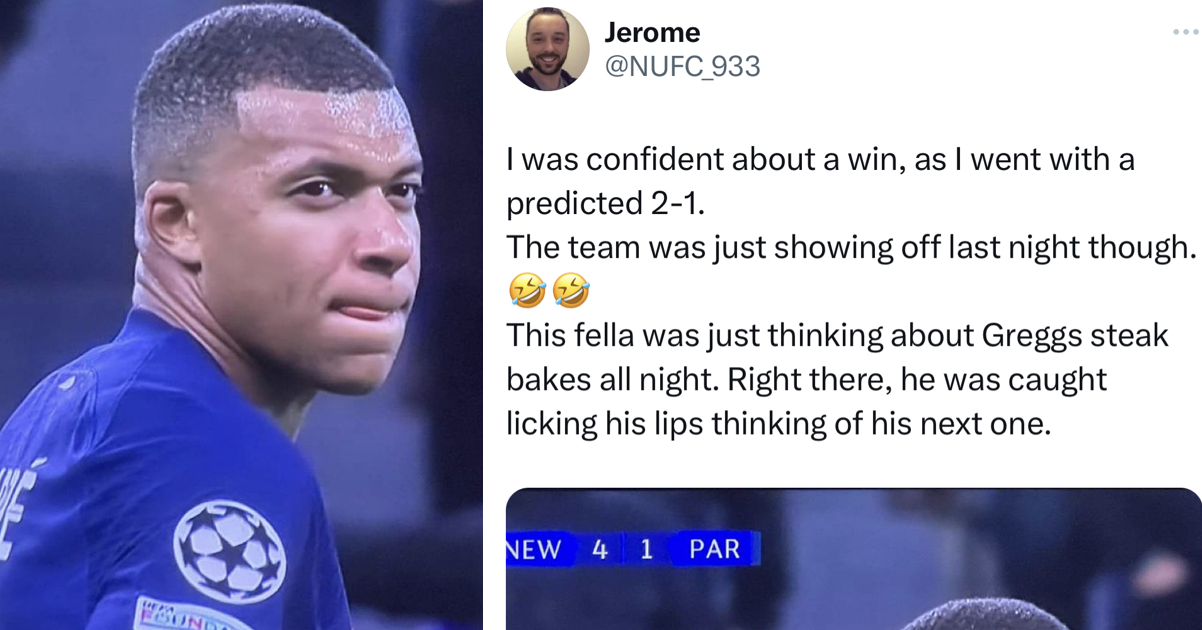 People enjoyed Greggs' trolling of Kylian Mbappé after a Geordie fan said this about Newcastle's Champions League win over PSG
Football now – not a phrase we use too often – and Newcastle's spectacular 4-1 win over Paris Saint-Germain at an epic Champions League night at St James' Park.
We mention it after one Geordie fan channelled the spirit of their favourite sausage roll retailer when taking aim at PSG's Kylian Mbappé on Twitter.
I was confident about a win, as I went with a predicted 2-1.
The team was just showing off last night though.
This fella was just thinking about Greggs steak bakes all night. Right there, he was caught licking his lips thinking of his next one. pic.twitter.com/g4ZhfcnhlO

— Jerome (@NUFC_933) October 5, 2023
The reference didn't go unnoticed by the high street bakery, and their response deserved maximum points.
He's welcome to come 4-1 this morning… https://t.co/0QPzZ2ussd

— Greggs (@GreggsOfficial) October 5, 2023
Boom.
Greggs you savage

— Steph Durkin (@stephgdurkin) October 5, 2023
— Greggs (@GreggsOfficial) October 5, 2023
https://t.co/rxfiRtsCyb pic.twitter.com/zoKOP7RhGK

— Martin (@megamarvatron) October 5, 2023
Good old Greggs. Reminded us of when they responded to this …
the european mind cannot comprehend this pic.twitter.com/2R7eTw17dc

— sucks (@powerbottomdad1) September 3, 2023
… with this.
the American mind cannot comprehend this pic.twitter.com/u0XHT4hraA https://t.co/nBlolgBChW

— Greggs (@GreggsOfficial) September 7, 2023
Source @GreggsOfficial