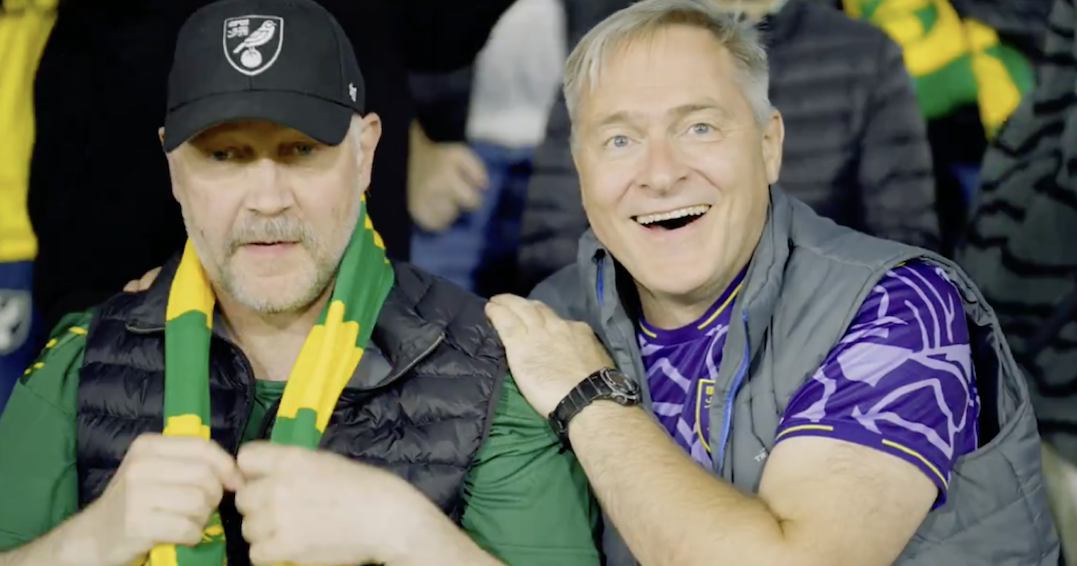 Norwich City's video about mental health went wildly viral and it's an important and hugely affecting watch
It's World Mental Health Day on Tuesday, just in case you didn't know.
It's a day to 'talk about mental health and show everyone that mental health matters [and] let people know that it's okay to ask for help, no matter what you're going through.'
And we mention it not only because it's a such an important day, but because of this particular contribution by the good people of Norwich City Football Club which has just gone viral and it's a hugely affecting watch.
, , .

Check in on those around you.#WorldMentalHealthDay | #YouAreNotAlone | @samaritans pic.twitter.com/ZC50AH5thl

— Norwich City FC (@NorwichCityFC) October 10, 2023
It was highlighted by radio presenter Roman Kemp, who also made the acclaimed BBC documentary about mental health, Roman Kemp: Our Silent Emergency, which you can watch here.
This video from @NorwichCityFC is the best bit of Mental Health Awareness I've ever seen… watch until the end. pic.twitter.com/4pXetZcMye

— roman kemp (@romankemp) October 10, 2023
Totally floored us.
This is so fantastic guys, honestly you've conveyed the truth so beautifully. Genuinely, thank you. https://t.co/zpSYmWHoRB

— roman kemp (@romankemp) October 10, 2023
Wow. Norwich City FC have created one of the most powerful adverts around mental health I think I've ever seen.

Watch this until the end. Hits like a tonne of bricks.

Talk to someone. https://t.co/SRaBGwttzv

— Jaack (@Jaack) October 10, 2023
This made me cry. Well done @NorwichCityFC for doing this powerful video. Let's all check on our pals around us. It can be tough to see who is struggling. Let's be there for each other. Bosh❤️ https://t.co/fujLpaFq32

— Thomas Skinner ⚒ (@iamtomskinner) October 10, 2023
This is incredible from Norwich. It's one of my biggest fears losing a friend when I could've been there.

Check in on your mates today blues. https://t.co/oXFq1MQmik

— Forever Everton // Rob (@F0reverEvert0n) October 10, 2023
Very powerful message this. Remember the ones who look the happiest are hiding behind it. Amazing what watching 11 players kicking around on Saturday afternoon can really do for people. Keep talking and keep checking in on people #WorldMentalHealthDay https://t.co/MCScJ1QcBH

— BARNEY (@BarneyLUFC21) October 10, 2023
Well played Norwich City. Certainly 'On The Ball' here with this VERY powerful ad. Check in folks and speak up. https://t.co/fn5kyf3Wka

— Graeme Bandeira (@GraemeBandeira) October 10, 2023
Fucking hell in tears in here .. Was going to say the guy showed the exact same facial expressions I used to go through ..and then that ending..fuck me…Talk to people ..Theres always someone who will listen https://t.co/CeLN60Sra4

— Lovelystuff (@lovelystuff1878) October 10, 2023
Good work this from Norwich's social media team https://t.co/jyAgb5whyj

— Jay Motty (@JayMotty) October 10, 2023
Last word to @NorwichCityFC.
☎️ @samaritans are always here to listen, 24 hours a day, 365 days a year.

If you're going through a tough time, we encourage you to visit their website below or call their helpline.

https://t.co/RVX2OCaMx6 pic.twitter.com/q5gnvW1Mwk

— Norwich City FC (@NorwichCityFC) October 10, 2023
Source @NorwichCityFC @romankemp