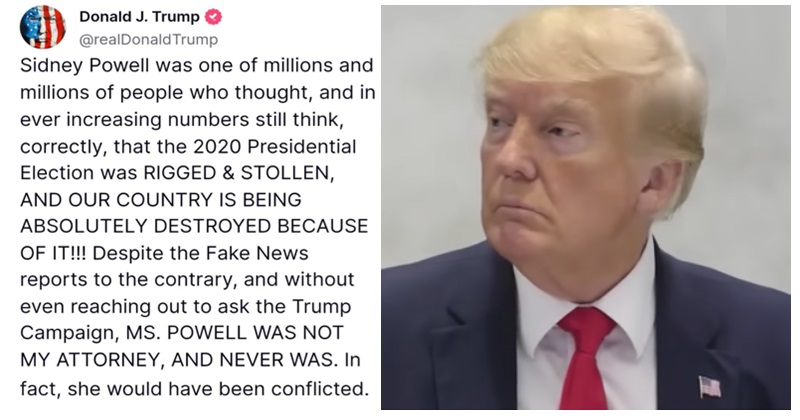 Trump's co-defendant former lawyer cut a plea deal and he's denying she was ever on his team – 17 favourite reactions
Donald Trump's former lawyer Sidney Powell, one of his co-defendants in the racketeering case in Georgia, has done a deal with the prosecutors which will see her receive a very lenient sentence in exchange for providing more evidence and testimony.
MAGA lawyer Sidney Powell pleads guilty in Georgia election interference racketeering case, agrees to testify against former President Donald Trump and 18 co-defendants

Powell flipped on Trump just days before she was expected to go on trial.https://t.co/TxlkaITgVP

— New York Daily News (@NYDailyNews) October 19, 2023
Despite once saying she was going to 'release the Kraken' to prove that the 2020 election was stolen, her plea deal could form a crucial part of the case against the former President.
Over on Truth Social, he reacted with some spectacular rewriting of history.
Trump 2020: Sidney Powell has joined my legal team!

Trump after Powell flipped: Sidney Powell was not on my legal team. pic.twitter.com/cyrRCiHjGE

— Aaron Blake (@AaronBlake) October 22, 2023
There's always a tweet, but sometimes there's a video clip, too.
Trump is now lying and saying Sidney Powell was never his attorney. Here is Rudy Giuliani in November 2020 introducing Sidney Powell as a lawyer for both Donald Trump and the Trump campaign. pic.twitter.com/mPOQxyEH8f

— MeidasTouch (@MeidasTouch) October 22, 2023
It's straight from the first page of the Trump Denial Playbook – and even that probably has a ghostwriter.
His rant came in for some pretty brutal mockery, and we've collected some of the best comments.
1.
Sidney Powell: Not even the coffee boy. SAD! https://t.co/7l9AzjXxlJ

— Hil.i.am (@hilaryluros) October 22, 2023
2.
Donald Trump said today that Sidney Powell was 'never his lawyer & never represented him.'
So who are you going to believe, Donald Trump or Donald Trump? pic.twitter.com/96ksOFVrBc

— Jo (@JoJoFromJerz) October 22, 2023
3.
Soon, he'll claim Don Jr and Eric aren't his sons. https://t.co/rgC0SLWU9G

— DeeBunker ️‍ (@23SkidooSt) October 22, 2023
4.
Oh, so NOW Trump says that Sidney Powell was NEVER his attorney? Funny how he called her that when she was busy spreading election lies, and when he wanted to make her SPECIAL COUNSEL to investigate non-existent election fraud. But now that she's pleaded guilty? "I BARELY KNEW…

— George Takei (@GeorgeTakei) October 22, 2023
5.
How can you fire someone who never worked for you? pic.twitter.com/SK02VeQGRc

— _ (@SundaeDivine) October 22, 2023
6.
Looks like somebody is Kraken up pic.twitter.com/MJUBsONT4c

— Lauren Windsor (@lawindsor) October 22, 2023
7.
No one is better at using the Chico Marx defense than Donald Trump: "who are you gonna believe, me, or your own eyes " https://t.co/O27YbnADQp

— Norman Ornstein (@NormOrnstein) October 22, 2023
8.
TRUMP: Kraken? I never even saw Clash of the Titans! https://t.co/ZuJZsms6lR

— Mr. Newberger (@jeremynewberger) October 22, 2023
9.
Well, she was camouflaged, so… https://t.co/oyJVzuIGCf pic.twitter.com/hdqLATK9ur

— Bad Fox Graphics (@BadFoxGraphics) October 22, 2023