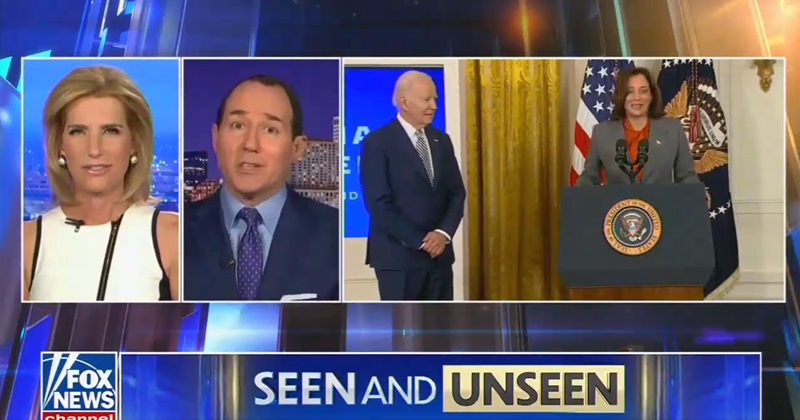 Fox News mocked Joe Biden for getting the name of the Hubble Telescope wrong – then discovered he hadn't
Just when you think Fox News have scraped the barrel of cringe, they pull out a spade and really go for it.
This clip of Joe Biden talking about AI and technological advances handed them that spade.
Biden on the Webb Telescope pic.twitter.com/NQ6Y0bwBmS

— Tom Elliott (@tomselliott) October 30, 2023
They could have made fun of him for stumbling over his words, which – despite the President having talked extensively about his stammer – they usually do. Instead, however, they had themselves a great time laughing at him for getting the name of the telescope 'wrong'.
Except …he hadn't.
when youre on national tv and make fun of joe biden for calling the hubble telescope the web telescope and are doubled over with how funny it is without realizing theres a very famous james webb telescope pic.twitter.com/Ucijcx7Ijd

— Andrew Lawrence (@ndrew_lawrence) October 31, 2023
Although Laura Ingraham later issued a correction after being informed that there really is a Webb Telescope, the damage was done – and Twitter showed no mercy.
1.
Joe Biden referred to the Webb Telescope—deployed almost two years ago—in his comments on AI today.

Fox News dedicated a segment to attacking him, thinking he meant the Hubble telescope, because Fox News DOES NOT KNOW THE WEBB TELESCOPE EXISTS https://t.co/lKwrVYMSJG

— Timothy Burke (@bubbaprog) October 31, 2023
2.
We sent a telescope a million miles from Earth to observe the beginning of time and this is what we get https://t.co/3M7y2GDRsz

— Thor Benson (@thor_benson) October 31, 2023
3.
Fox News In A Single 4-Second Clip

LAURA: I don't understand!
RAYMOND: I — who knows!

@IngrahamAngle @RaymondArroyo https://t.co/YmDLkEontR pic.twitter.com/XITmGaiIYB

— Bad Fox Graphics (@BadFoxGraphics) October 31, 2023
4.
1990 is calling, they want their news back!

— David Rommel (@LivingInArcata) October 31, 2023
5.
Me: hey dad did you see laura making fun of Joe's gaff about the webb telescope

Dad: yeah he has dementia

*sends dad link to nasa's page about the webb telescope*

— Snarky Panda (@TrashPandaFTW) October 31, 2023
6.
The Webb telescope replaced the Hubble telescope in 2021, the same year Biden replaced Trump as President, another event Fox News seems to have missed.

— Rinkytone (@Rinkytone) October 31, 2023
7.
Laura Ingraham on Fox laughs at 80 year old Biden for calling the Webb telescope the Webb telescope . She thinks it's the Hubble telescope . Biden's sharper than her . Fox needs to apologize and the Dems need to run an add how Biden is sharper than her dumb ass . https://t.co/ehsitPJSSo

— BlueinOhio (@bosley_rich) October 31, 2023
8.
Just a reminder that Joe Biden is far more mentally there than 99% of his critics. https://t.co/pnRzJSRpfg

— Just a Random Guy (@What46HasDone) October 31, 2023
9.
The fact that Laura Ingraham is in the "news"
business and has never heard of the James Webb space telescope, means she is a profoundly stupid person.
pic.twitter.com/tdlOGRVG7g

— Tom Joseph (@TomJChicago) October 31, 2023
10.
Look at how giddy there are in their ignorance. The Webb Telescope, which Pres Biden referred to in his comments on AI, EXISTS. Fox News morons tried to own Biden but only managed to demonstrate their own imbecilic stupidity about the the Webb Telescope and the Hubble Telescope. https://t.co/LlHOFxHsyW

— HawaiiDelilah™ #MauiStrong (@HawaiiDelilah) October 31, 2023
11.
Imagine how embarrassing this would be if they were capable of embarrassment. https://t.co/xF6BDqMuNg

— Schooley (@Rschooley) October 31, 2023
12.
It's brutal when you make fun of Biden for a "mistake," find out he was right and then have to issue an on-air correction:

"All right. There is a Webb Telescope," Ingraham later said. "I stand corrected by Joe Biden."

Yes, you do, you Trump-loving muppet.#FauxNews https://t.co/E550Fz1BK6

— Bob Geiger (@GeigerNews) October 31, 2023
13.
Sadly Fox News viewers don't know about either telescope https://t.co/S8LzN8655Q

— Zach Smith (@zacatack26) October 31, 2023
@Curiosityisc001 had a suggestion.
The Webb should look for intelligent life in their studios.

— AD (@Curiosityisc00l) October 31, 2023
READ MORE
Fox News' question about the government controlling the weather with laser beams might be their most outrageous yet
Source Andrew Lawrence Image Screengrab