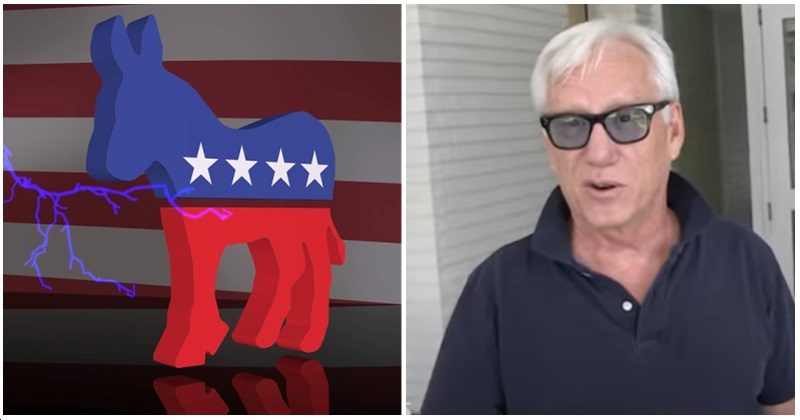 16 fantastic takedowns of James Woods after he announces he's suing the Democratics for 'ruining his career'
For several years, right-wing actor James Woods has been an almost obsessive supporter of Donald Trump, made homophobic and transphobic statements, spread Covid misinformation, aligned himself with the pro-gun lobby and has been described as a 'virulent racist asshole'.
For the record, Woods didn't lose his agent because he's conservative. He didn't lose his agent because he can't make money anymore, or because he isn't a good actor. He lost his agent because no one wants to work with virulent racist assholes.

— Ken Tremendous (@KenTremendous) July 5, 2018
So, it's something of a mystery that the former star has been finding it difficult to get work in his chosen profession. Obviously, it must be due to a conspiracy by *checks notes* the Democratic Party.
BREAKING: James Woods says he's planning to sue DNC for Destroying his acting Career pic.twitter.com/PazxxPc5Xu

— PoliticsVideoChannel (@politvidchannel) November 5, 2023
It was just too good a self-own to ignore – and these comments nailed it.
1.
After suing the DNC for ruining his career, James Woods should sue his parents for raising such an asshole. pic.twitter.com/LF964cuFgz

— Middle Age Riot (@middleageriot) November 6, 2023
2.
James Woods is bringing this lawsuit against the DNC as a class action suit along with Jon Voight, Scott Baio, and Kevin Sorbo. They've hired the firm of Washdup, Hasbin, Luzer, and Dumass. https://t.co/dWqpQ4vPfx

— Scary Larry ✊ (@aintscarylarry) November 6, 2023
3.
James Woods said the DNC destroyed his acting career. First of all, who the hell is James Woods? pic.twitter.com/9ZdArlwuLw

— Emerald Eyes (@EmeraldEyesGA) November 6, 2023
4.
Former actor James Woods wants to blame the DNC for his failed career (and not the fact that his face reminds everybody of a shriveled, old nut sack)

— Liam Nissan™ (@theliamnissan) November 5, 2023
5.
The DNC upon hearing of the lawsuit against them by James Woods pic.twitter.com/s6IWxAQnCz

— Trevor Is A Single-Issue Voter: Securing Democracy (@ObamaClintonDem) November 6, 2023
6.
Like in golf, his career is over because of LOFT issues. Lack of fucking talent. https://t.co/Fp3fS5M1fv

— Kevan Young (@KevanYoung2) November 5, 2023
7.
James Woods suing the DNC because he says they ruined his acting career is like me suing Elon because I don't have 1 million twitter followers.

— The KG (@Kigo123) November 6, 2023
8.
LOL! What a SNOWFLAKE… pic.twitter.com/tgrM3PejXa

— Omar Rivero (@OmarRiverosays) November 5, 2023
9.
BREAKING: James Woods plans to sue DNC for destroying his acting career.

IN OTHER NEWS: Boebert is suing DNC for playing Beetlejuice while she was performing on her boyfriend. pic.twitter.com/x7QxQlbZhH

— Zero Dark Twenty-Nine ️ (@herotimeszero) November 6, 2023
10.
MAYBE SUPPORTING AN INSURRECTIONIST DOES THAT TO YOUR CAREER?!? pic.twitter.com/jge461MyZE

— Chiefs Mama ❤️❤️ (@bling_momma) November 5, 2023
11.
James Woods is going to sue the DNC for ruining his acting career.

Which roles did the DNC prevent James Woods from getting?

Ken in "Barbie"?

He's been washed up for a long time.

And he wasn't exactly acting in "Ghosts of Mississippi"@RealJamesWoods

— Evan (@daviddunn177) November 6, 2023
12.
The Republican Way, blame others for your inadequacies. https://t.co/Ua8hph5ss6

— Dan ❤️ (@djlane) November 5, 2023
13.
Shitty acting, dating children, and being an outspoken bigot ruined James Woods' career, not the DNC.

— christy morris ‍♂️ (@polarsprite) November 6, 2023
14.
folks in long pants take the heat or get out the kitchen https://t.co/h5fl8EenwS

— Bryon Mac, sailor policy wonk ethical boomer (@bryonworks) November 5, 2023
15.
Can I get a "Fuck James Woods"? pic.twitter.com/mcDCE9xlYw

— Agolf Twitler Slayer (@slayer_agolf) November 5, 2023
16.
Is it possible for someone to sue their own horrible personality? Asking for James Woods.

— Spaaaace Ghoooost (@ThomasJay) November 6, 2023
Max Le Blond shared this NSFW review..
This is James Woods the actor, who often plays a cunt on film.
Never was typecasting based on real life more successful pic.twitter.com/E3Mojf8r0X

— Max Le Blond (@Balgowallah) November 1, 2023
READ MORE
Kevin Sorbo's entitled comparison of Covid rules and voting got absolutely bodied – 12 favourite takedowns
Image chayka1270 on Pixabay, Screengrab