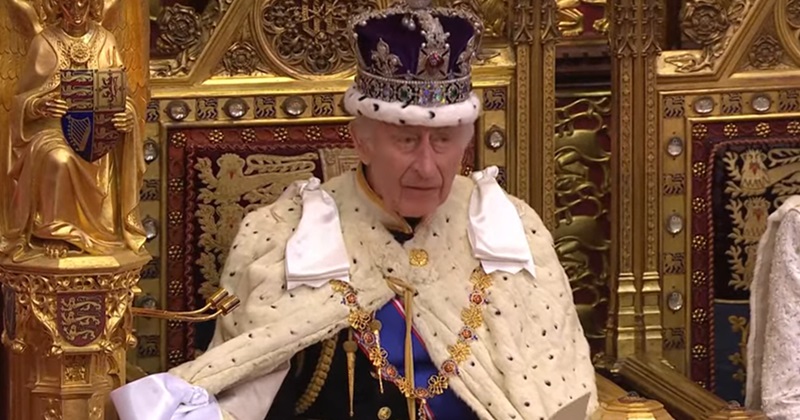 Our 19 favourite reactions to the first King's speech in over 70 years
For the first time in 72 years, the State Opening of Parliament was marked by a King's Speech.
The Government's intended policies for the next year – if it lasts that long – had been expected to include new provisions for mental health care, a ban on LGBTQ+ conversion therapy and legislation to prevent the spoils of trophy hunting entering the country.
Instead, it trumpeted new gas and oil licences, tougher prison sentences, and a war on London's pedicabs.
The most pointless King's Speech in history. A series of random, incoherent measures, already announced, packaged as 'long term measures' designed, badly, to mitigate an impending existential defeat. An indignity to the man who had to deliver it and anyone else forced to hear it.

— Jonathan Lis (@jonlis1) November 7, 2023
The King's delivery matched the enthusiasm of those listening.
"Government will in all respects seek to make long-term decisions in the interests of future generations"

King Charles III outlines his government's priorities for the next parliamentary year

Follow our King's Speech coverage and analysis https://t.co/CxXp94G4OB pic.twitter.com/3vqLspD8MJ

— BBC Politics (@BBCPolitics) November 7, 2023
The reactions were more entertaining – and, in some cases, informative – than the actual speech. These were our favourites.
1.
I'm delighted to announce our exciting legislative programme for the year ahead.#KingsSpeech #StateOpeningofParliament pic.twitter.com/Vt4MykchgC

— Parody Rishi Sunak (@Parody_PM) November 7, 2023
2.
Government really got this guy to sit there and talk about easing the cost of living crisis while wearing a hat worth more than Kent pic.twitter.com/ZpyQV2pvfK

— James Felton (@JimMFelton) November 7, 2023
3.
Where's his fucking poppy? pic.twitter.com/8raM3dLOZz

— Robbie Hawkins (@robbiehawkins__) November 7, 2023
4.
How people over 40 read menus pic.twitter.com/BTM0Annog5

— (@agirlcalledlina) November 7, 2023
5.
It was at this precise moment that King Charles regretted not checking beforehand what his government had asked him to read out#KingsSpeech pic.twitter.com/XKoaTn3lQ4

— Larry the Cat (@Number10cat) November 7, 2023
6.
#KingsSpeech
-Nicky Campbell was awful can we let Ken Bruce commentate next time?
-MORE pomp & ceremony please! Not enough men in wigs & tights for Bunty & me.
-Why wasn't anti tent legislation mentioned?
-Why was Penny Mordaunt & her sword not there?
All very disappointing.
pic.twitter.com/YBlNsNeiZM

— Sir Michael Take CBE (@MichaelTakeMP) November 7, 2023
7.
As he delivers his first King's Speech, just months after his coronation, a disappointed Charles is beginning to find these occasions 'all a bit samey' pic.twitter.com/4I9tN33tfy

— Have I Got News For You (@haveigotnews) November 7, 2023
8.
all those years spent championing green causes when, in the end, he gives a royal thumbs up to more fossil fuel extraction pic.twitter.com/F7ipdhN55r

— Toby Earle Threads tobyontv (@TobyonTV) November 7, 2023
9.
Britain is a completely normal country. For instance today a man sat on a gold chair wearing enough jewels to bludgeon a swan to death is telling us all that we should all stop moaning about everything being too expensive. pic.twitter.com/aRr0wkAyQu

— TechnicallyRon (On all the platforms) (@TechnicallyRon) November 7, 2023
10.
Oddly there was no seven bins ban law in the King's Speech

— John Crace (@JohnJCrace) November 7, 2023