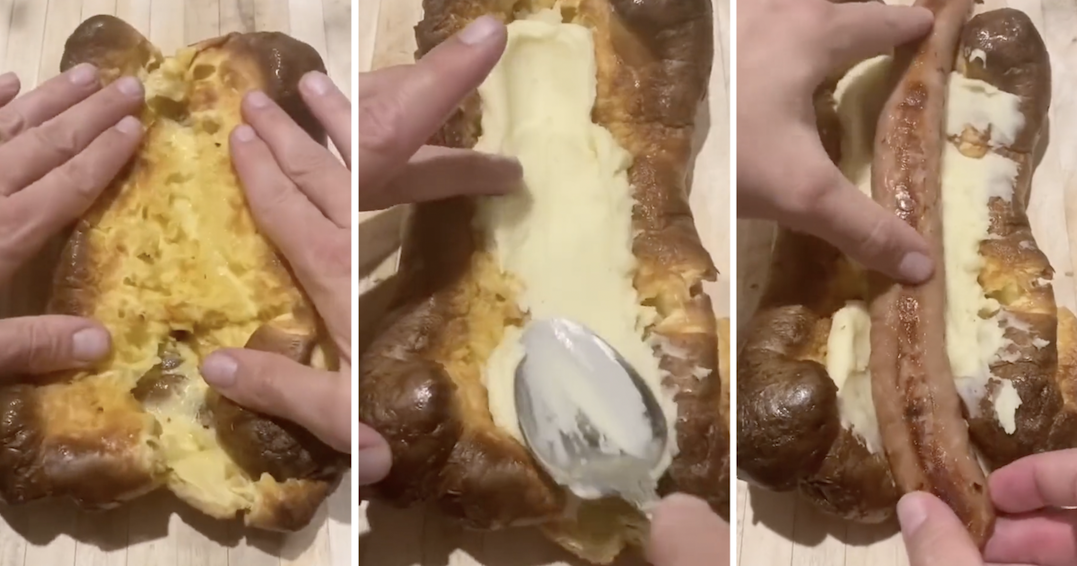 Americans were horrified at this 'British' recipe for 'Yorkshire Hotdogs' and there was beef – lots of it
Yorkshire puddings are a fantastic invention, as are hotdogs. And now someone has posted a recipe for a 'Yorkshire hotdog' which brings them both together in delicious, sweet harmony (kind of).
Twitter account Messed Up Foods, who we gather are based in the USA, have posted the video to its 1.1 million followers with the rather cheeky caption 'the British are at it again'.
A furiously entertaining debate ensued.
Here's the recipe…
the british are at it again (yorkshire hotdogs) pic.twitter.com/IOITl1QzjZ

— messed up foods (@messedupfoods) November 6, 2023
We'll immediately go on record to say that looks absolutely delicious. It's basically a portable toad-in-the-hole.
Others were less convinced, and its fair to say that it was the Americans who were most sceptical.
I'm so glad we had the Revolutionary War.

— Louie (@LouieBandanaa) November 6, 2023
prison food vibe

— Mahachai (@EthereumThaila1) November 6, 2023
No salt and pepper I'm guessing (too spicy)

— Shane Perreault — e/acc (@shane_perreault) November 6, 2023
No way people are eating this

— Ramesh Saxena (@Docktus_) November 6, 2023
This actually looks good but even their "looks good" food looks like the blandest food on the planet.

— Captain Teit (@captaintexit2) November 6, 2023
Why is everything they eat brown lol

— Ron Grady (@bru254) November 6, 2023
once again proving that british food is various types of slop and gruel that will give you scurvy

— jack (@rhinoceraptor) November 6, 2023
However, some Americans were rather intrigued…
This might look rough, but I bet it's tasty. I've never had it in this form, but I have had toad in the hole and it is very good. This is probably surprisingly good.

— Nick Gromel (@odinwondering) November 6, 2023
I'm on the fence, this feels like a crime but also like a crime potentially worth committing once just to try it

— Theunknownyoutuber (@Gokubla32516294) November 6, 2023
that doesn't LOOK the most appealing, but I guarantee you that that tastes delicious and I would try it for sure

— Beta (@betaproto.bsky.social) (@Beta_Protogen) November 7, 2023
At 2 in the morning after a string of bad decisions, I wouldn't rule this out.

— Edward Ludvigsen (@edwardludvigsen) November 6, 2023
And the Brits needed no persuading…
Would wolf that down

— Waz (@bobbydazzlermke) November 7, 2023
I'd smash this into the middle of next week https://t.co/UpSqNnUT8i

— Count Mysterioso (@MysteriosoX) November 6, 2023
Father forgive the yanks, for they not know the delights of yorkies https://t.co/6ymW0p7vgO

— (@CavalierMarty) November 7, 2023
Take away toad in the hole. Not gonna lie, that looks delicious. https://t.co/y8hTt3TLw7

— Lee Burrows (@deminimismusic) November 6, 2023
Right, we're off to try and recreate this…
Source @messedupfoods