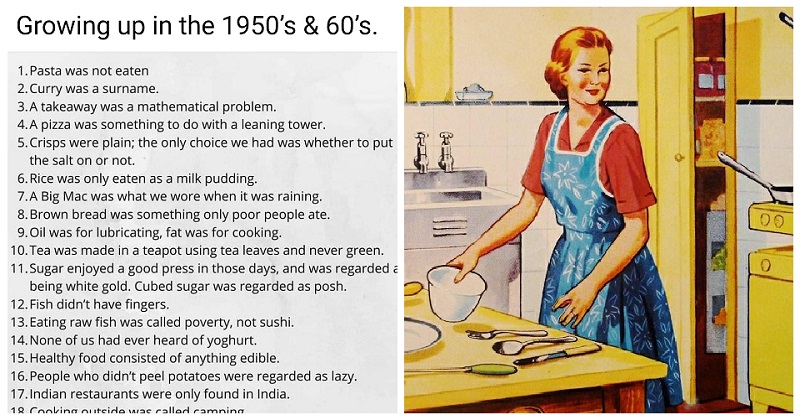 Facebook nostalgia isn't what it used to be – 17 takedowns of its rose-tinted bilge
If you spend any time on Facebook, you've probably seen this image – or something very like it – shared by your grandad or your racist Aunt Barbara.

Via
A lot of Facebook users seem to lap up the bizarre list, leaving comments like these:
'Love it, reminded me of the wee blue bag of salt in the crisps.'

'Brilliant😄A million miles away from today. Happy Days.'

'We were poor, but happy. 😄 😀'
Tweeters, however, took it very differently.
Just seen this on Facebook. "Nobody had ever heard of yoghurt" what a flex. Unreal generation. pic.twitter.com/esHooqsIpn

— Jamie Hutchinson (@JamieHComedy) August 19, 2023
Some tweeters added to it, others blasted it, but all these reactions are well worth a read. The language gets a little NSFW in parts.
1.
I love shite like this.

25. Rapping is what we did to presents.
26. Internet is where Dixie Dean kicked the ball.
27. Five Guys was me, Dave, Bill, Ted and Bill.
28. Kids still loved and respected their father and didn't decide to live with their mother and her new boyfriend https://t.co/ayIK3Gy8z8

— Nooruddean (@BeardedGenius) August 19, 2023
2.
25. Bisto was mined
26. "Gluten" was how we greeted a German
27. Curly Wurlys were climbing frames for gerbils
28. If we wanted a Chinese we went to the docks and asked to speak to "Rice Terry" https://t.co/oQkhCKYW3Q

— Sarah Dempster (@Dempster2000) August 20, 2023
3.
Love how the 'never did ME any harm' types relish rewriting history for the sake of nostalgia smuggery.

The first Indian restaurant in the UK opened before these cunts were born, in 1810.

Silly. https://t.co/gkKrKHtCjm

— Mitten d'Amour (@MittenDAmour) August 20, 2023
4.
We had curry at Chinese chippy in 1960s and our West Indian neighbours cooked curries and my mam used to put curry powder in her stews sometimes . Rest is pretty spot on

— terry christian (@terrychristian) August 21, 2023
5.
Curry was a surname? Rice was only eaten as a milk pudding? If you're white just say that! https://t.co/QPYFaDShuo

— 🇧🇧🏳️‍🌈 m a r c u s (@marcusxdusty) August 21, 2023
6.
Love the paradox of these boomer memes that romanticise the past by showing how shit it was https://t.co/voYxFoM53X

— katie (@pipterino) August 20, 2023
7.
It is absolutely vital that lessons on the British Empire are introduced in British schools, because the stupidity on display in these things is *hurting* me. https://t.co/kvs5gZxto4

— Pete Fraser (@petefrasermusic) August 22, 2023
8.
Birdseye launched fish fingers in 1955. The nostalgic idea that the *1950s and 1960s* was an era without frozen and convenience food is absolutely wild. https://t.co/8RddobeGQz

— Dr Charlotte Lydia Riley (@lottelydia) August 21, 2023
9.
There were recipes for "Indian curries" in English cook books as far back as 1747. The Hindoostane Cafe – the first authentic "curry house" opened in 1810.

By 1960 there were 300+ South Asian restaurants in the UK and don't even get me started on pasta.

Fake Facebook nonsense https://t.co/SiorQ14G6u

— Otto English (@Otto_English) August 21, 2023