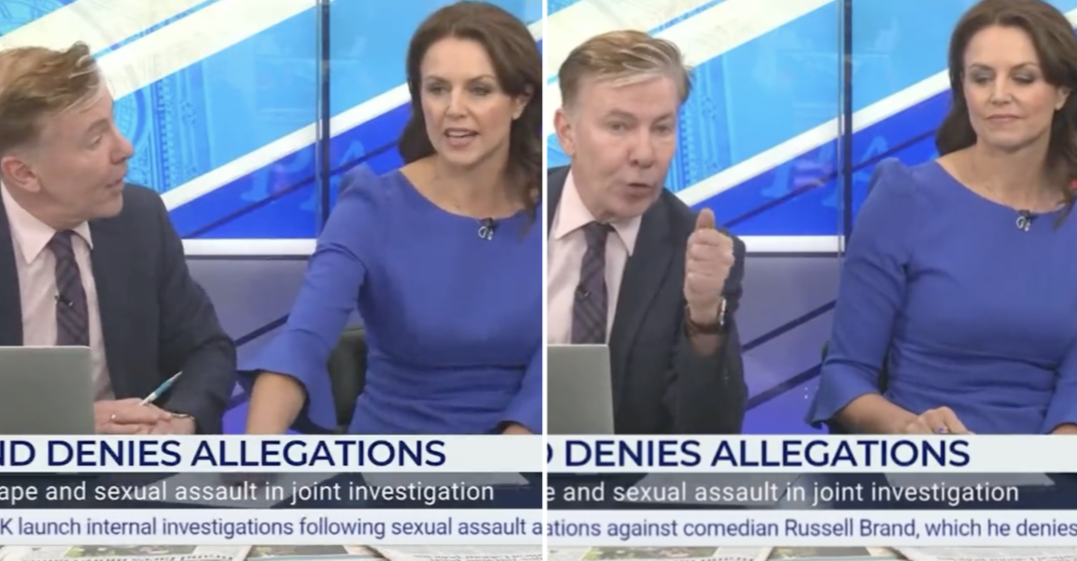 Andrew Pierce took fellow GB News presenter Bev Turner to task for calling Russell Brand her hero and it's an extraordinary watch
The shocking allegations levelled at Russell Brand over the weekend have prompted what you might politely call the 'usual suspects' to leap to his defence.
Unfortunately we have no room for any of those here, but we mention it after GB News presenter Beverley Turner tweeted this.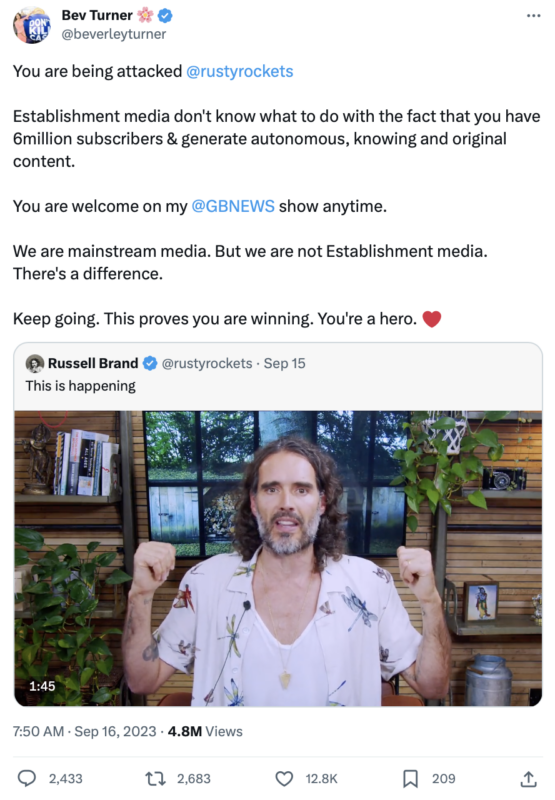 And it didn't go unnoticed by lots of people. Specifically, it didn't go unnoticed by Turner's GB News co-presenter, Andrew Pierce.
And while Daily Mail columnist Pierce isn't to everybody's liking, in this one instance he appeared to have everyone cheering, in one of the more astonishing exchanges you'll see on a TV news channel (or whatever the hell GB News is).
"This is not about Covid

"This is about serious allegations about a public figure who has been accused by four women.

"And you're banging on about Covid"

Andrew Pierce takes on Beverley Turner's "hero" Russell Brand. pic.twitter.com/ZMDToPKvPQ

— PoliticsJOE (@PoliticsJOE_UK) September 18, 2023
Hurray for Andrew Pierce? Now there's not a phrase we use every day.
Just in case you want to watch a bit more of it (yet another phrase we don't use every day).
On GB News we put free speech first – even when we disagree with each other. @toryboypierce furiously clashes with @beverleyturner over a tweet in which she called Russell Brand a 'hero' after an investigation uncovered accusations of rape and sexual assault. pic.twitter.com/TlCY0gGc7a

— GB News (@GBNEWS) September 18, 2023
And here are just a few of the many, many things people were saying about it today.
Andrew Pierce confronts Beverley Turner over her shameful tweet in defence of Brand.

Well, to paraphrase an old saying, even a stopped cock is right twice a day pic.twitter.com/wlFXVcW3xE

— Supertanskiii (@supertanskiii) September 18, 2023
Andrew Pierce holding co-host Bev Turner firmly to account over her defence of Russell Brand – even gets her to admit that she hadn't watched Dispatches before defending him

"Shame on you for attacking these women."
"She can't get through an hour without talking about Covid." https://t.co/RMfJ8jYUuJ

— Otto English (@Otto_English) September 18, 2023
it's stopped clock time but Tory Boy Andrew Pierce finally does a good thing by taking down GB News dementor Beverley Turnerpic.twitter.com/FrCM90J2ur

— dave ❄️ (@mrdavemacleod) September 18, 2023
Christ.

Even Andrew fucking Pierce thinks Bev Turner is a twat. https://t.co/AaTXgHgL1G

— Sarcastictvat (@sarcastictvat) September 18, 2023
This is delicious. Two hard-right trash tabloid tosspots, Andrew Pierce and Beverley Turner, fighting like rats in a sack.

— Miffy aka Baroness Heidi Hole of Bonque. (@miffythegamer) September 18, 2023
I don't think I've ever said this before but fair play to @toryboypierce. He's called out the disgraceful Bev Turner live on TV about her support for Brand on their jointly hosted show. And I'm sure I've never said this before either but fair play to @GBNEWS for broadcasting it. https://t.co/BKZfGQ1ZCw

— Mark Thompson (@MarkReckons) September 18, 2023
What is happening here, this is madness https://t.co/qmI0KBv5oj

— Luke McGee (@lukemcgee) September 18, 2023
In a fast-changing news story, Brand has denied the allegations against him.
And just in case you're interested, Turner is apparently working on a more considered response to the whole thing.
I have taken a lot of time today to write a long-form piece about the @rustyrockets situation which explains my response. There is too much nuance to get across on a tweet.
It will be posted shortly.
Cheers.#RussellBrand

— Bev Turner (@beverleyturner) September 17, 2023
Source @PoliticsJOE_UK