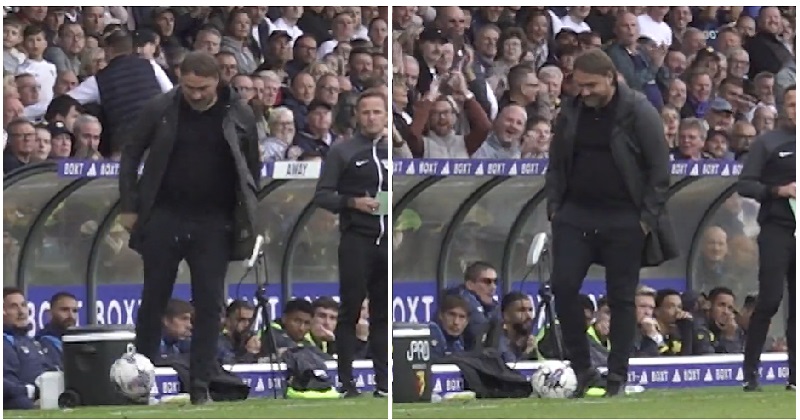 The Leeds United manager impressed the crowd – and himself – with his silky touchline skills
Leeds manager Daniel Farke's playing career in his native Germany wasn't the most impressive, though for anyone to make a living in professional sports is impressive enough, right?
He described himself as 'the slowest striker in the whole of Western Europe', but on the touchline at the club's 3-0 defeat of Watford, he showed he still has something in his locker.
Watch what happened.
Light work pic.twitter.com/kMh013B5BX

— Leeds United (@LUFC) September 23, 2023
His neat control earned that round of applause from the fans, and a virtual one from Twitter.
1.
Love that he can't hide how pleased he is with himself pic.twitter.com/1QTI9TZG8n

— Nooruddean (@BeardedGenius) September 24, 2023
2.
If I hadn't seen this with my own eyes I would think it was fake.

Tekkers. https://t.co/tCJKok23aN

— Jonathan Buchan (@jonathanbuchan) September 23, 2023
3.
This is the best control you'll see on this platform! pic.twitter.com/ntyU2PWjmG

— TheSecretScout (@TheSecretScout_) September 23, 2023
4.
Gotta respect the control. Even if he is wearing Matalan trackie bottoms. https://t.co/vymNIuJEXz

— Tony Jameson (@tonyjameson) September 23, 2023
5.
The little shrug is the reaction of an absolute BALLER https://t.co/3uillc1R1L

— Ballbag (@JohnWickObertan) September 23, 2023
6.
One of the oddity enjoyments I get from watching a game; when managers get the rare opportunity to show off their touch and absolutely nail it https://t.co/pPkpezfUMp

— Kleven (@KievGuy) September 23, 2023
7.
— Victoria Valentine (@VValentineNews) September 24, 2023
8.
The living embodiment of the humble brag. Love it!

— Si (@SiFutch) September 24, 2023
9.
Take a bow son.

— Jules the Baptist (@julio_baps) September 24, 2023
10.
My word, it's a good job it's past 9pm because that is filthy! https://t.co/IKPWGXzcvT

— Mark Carruthers (@MarkCarruthers_) September 23, 2023
11.
Chelsea could well be lining up an 8 year deal on the strength of this alone. https://t.co/hUYeEUwQru

— HLTCO (@HLTCO) September 26, 2023
This was almost inevitable.
Farke me that's silky https://t.co/yiEt2J1lxr

— jim (@JimboKixx2) September 23, 2023
Just a reminder that it doesn't always work out like that.
Boss is better than Mancini pic.twitter.com/D7JGxmBrYa

— FASHION STYLE PRO (@DieuvuPro) September 24, 2023
READ MORE
Nobody can work out what was going on with Jürgen Klopp's goal celebration
Source Leeds United Image Screengrab