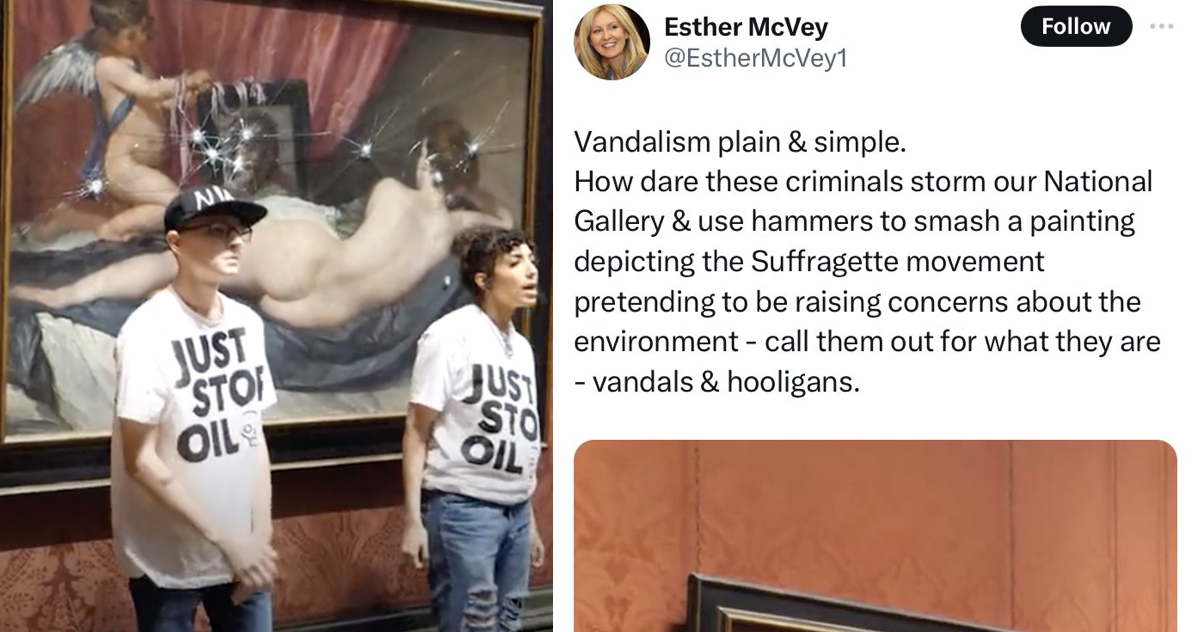 Esther McVey made an unfortunate schoolboy error condemning Just Stop Oil and it's a proper work of art
Those Just Stop Oil folk have been at it again, this time using safety hammers to smash the glass cover of a painting at the National Gallery in London.
'Women did not get the vote by voting. It is time for deeds and not words. It is time to just stop oil,' said one of protesters.
Just Stop Oil protestors have smashed the glass on the Rokeby Venus in the National Gallery.

"Women did not get the vote by voting," they say.

A century ago, the painting was slashed by a suffragette. pic.twitter.com/S0j4Xc1KXI

— PoliticsJOE (@PoliticsJOE_UK) November 6, 2023
We're not here to debate the relative importance of a piece of glass versus the future of the planet, but because the protest caught the attention of Conservative MP and GB News presenter (which of them aren't GB News presenters?) Esther McVey.
Here's what Disgusted of Westminster had to say.
And it went viral for reasons she probably wouldn't have been hoping for. Have you spotted the schoolboy effort yet?
Lots of people did, and these 13 surely said it best.
1.
You think that's a painting of suffragettes? https://t.co/LssJFMOyPw

— Otto English (@Otto_English) November 7, 2023
2.
Ah yes the suffragette movement (17th century history expert here, it was mainly run by tiny little angels and a woman with her bum out) https://t.co/DOXHR1wgvE

— James Felton (@JimMFelton) November 7, 2023
3.
Two masterpieces on display here, only one of them intentional.

Rokeby Venus: completed 1651
Suffragette movement: formed 1903 https://t.co/h1rvrUa3ij

— James O'Brien (@mrjamesob) November 7, 2023
4.
"Hello? Is that you Aeneas? It's me, Mum. Listen, you'll have to get your own tea tonight I'm busy doing some suffragetting" pic.twitter.com/mrMIVCCYSt

— Dr Johnny Bananas (@barbedquill) November 7, 2023
5.
Incredible how the artist captured Emmeline Pankhurst in such an unguarded moment. https://t.co/LsCPnRcRek

— Alan White (@aljwhite) November 7, 2023
6.
"A painting depicting the Suffragette movement" – no, Esther. The painting depicts the goddess Venus and her son Cupid. The painting was slashed by suffragette Mary Richardson in 1914. I mean, they're just minor details. Not important. https://t.co/ll9U158Zzh

— Moog (@a_toots) November 7, 2023
7.
My teachers must have totally lied to me about the Suffragette movement. https://t.co/2RRqtcGKAZ

— Marc Morris (@Longshanks1307) November 7, 2023