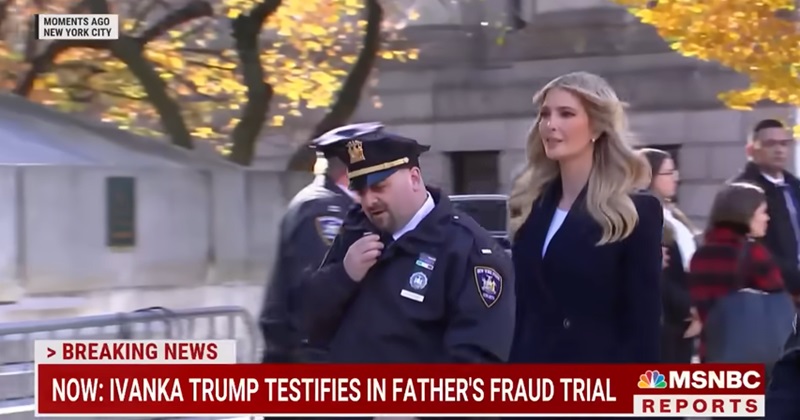 Ivanka Trump gave evidence in her dad's fraud case – these 17 objections were sustained
After doing just about everything she could to avoid it – short of fleeing to Cancun – Ivanka Trump has finally given evidence in her father's $250 million civil fraud case.
Today, Ivanka Trump will testify in our case against Donald Trump and the Trump Organization.

Ivanka was a senior executive at the organization who secured more favorable loans by using Trump's fraudulent statements of financial condition.

You cannot cheat for personal gain.

— NY AG James (@NewYorkStateAG) November 8, 2023
She had been widely mocked for claiming that taking the stand on a school night would cause her 'undue hardship', because she needed to be at home with the children.
There was no undue hardship last week when Ivanka attended Kim Kardashians birthday in Beverly Hills. pic.twitter.com/gjbH9tlkkN

— Hoodlum (@NotHoodlum) November 3, 2023
We're guessing she passed the hat around to fork out for a babysitter.
The crowd outside the court in New York gave her a rousing welcome – sort of.
Oh this is HILARIOUS:

The crowd in New York City serenading Ivanka Trump heading into court with chants of "fraud family!" pic.twitter.com/iNHKW7RX41

— Really American (@ReallyAmerican1) November 8, 2023
Things weren't any better once she got inside, where she was informed that her attempt to block emails between herself and her husband, Jared Kushner, being entered into evidence had failed.
NEW: We're back in session and before Ivanka returns to the stand, Judge Engoron clarified that the email between Jared and Ivanka is admissible under NY case law. Why? Because they emailed each other through work accounts.

— Lisa Rubin (@lawofruby) November 8, 2023
That whole 'but, her emails' thing is going to be a bit awkward from now on.
These comments nailed it.
1.
Ivanka's not going to be pleased with her courtroom sketch. pic.twitter.com/kaWy5Xs93P

— Mrs. Betty Bowers (@BettyBowers) November 8, 2023
2.
Ivanka Trump on the witness stand: "I don't know my father. I may have met him once or twice, or posed for a picture with him, but that's it."

— Mike Sington (@MikeSington) November 8, 2023
3.
Like Mary Macdaline and the brides of Christ, Ivanka Trump will clear the name of our country's leader just as they did after the resurrection. pic.twitter.com/4WkJ4zGjl6

— Gary Peterson (@GaryPetersonUSA) November 8, 2023
4.
Ivanka swears in on the Bible, while the FDNY is on standby. pic.twitter.com/NA1zvqHwjq

— Hoodlum (@NotHoodlum) November 8, 2023
5.
has Ivanka tried taking the 'Person, Woman, Man, Camera, TV' test https://t.co/M9I78kGaOp

— Toby Earle Threads tobyontv (@TobyonTV) November 8, 2023
6.
Hey Ivanka, it's time to spill the beans. pic.twitter.com/IlMOdzfmju

— ️Dannie D️ (@DannieD01) November 8, 2023
7.
Ivanka Trump is a lot younger than President Biden & she can't recall anything.

— Evan (@daviddunn177) November 8, 2023
8.
With regard to Don Jr, Eric and Ivanka, Trump lawyer Alina Habba says, "These children were brought in away from their families for doing nothing wrong," These "children" are 45, 39 and 43. Which are also their IQs

— Paul Rudnick (@PaulRudnickNY) November 4, 2023
9.
So Donny wasn't involved, Eric wasn't involved, Donald wasn't involved, and now Ivanka wasn't involved. Who actually ran this company?

— Madmama (@madmamavotes) November 8, 2023