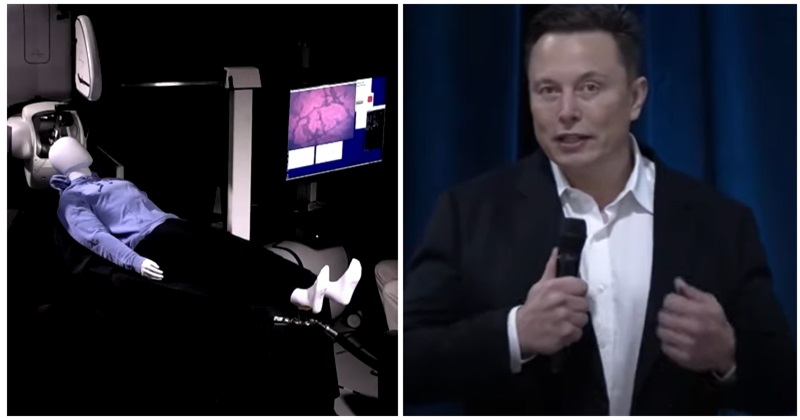 Fancy being the first volunteer to get one of Musk's brain implants? Neither do these 14 people
Back in 2016, Elon Musk and a team of experts in fields such as neuroscience and robotics, began working on the brain implant that would eventually become Neuralink.
Effectively a Fitbit hardwired in the head, the device has been tested on pigs and monkeys, with allegations of horrible suffering in the animals, but now might be tried on humans, if Musk can get volunteers.
Elon Musk's chip implant company Neuralink is looking for its first volunteer.

They are looking for someone willing to have a piece of their skull removed so that a robotic surgeon can insert thin wires and electrodes into their brain. pic.twitter.com/xs7N63fx6s

— Pop Crave (@PopCrave) November 8, 2023
If the thought of living on the Island of Dr. Moreau appeals to you, this might be your big break. Otherwise …not so much.
1.
A month in he'll announce a feature where you pay him $7 a month to access your medulla oblongata https://t.co/9z7NPwUD3Y

— James Felton (@JimMFelton) November 8, 2023
2.
imagine letting the genius behind X dot com wire electrodes into your brain https://t.co/0Ywure9xZB

— Natalie Wynn (@ContraPoints) November 8, 2023
3.
Imagine the adverts and blueticker comments he'll project directly in to your head. https://t.co/P9k3MJfl06

— HappyToast★ (@IamHappyToast) November 8, 2023
4.
Anyone dumb enough to let Musk graft a Fitbit in their brain has no need of it anyway. https://t.co/jNtlCYT14F

— Ian Dunt (@IanDunt) November 8, 2023
5.
Are you happy with the changes we made to Twitter?

Why not let us, the people who brought you self-crashing cars and exploding spaceships, rewire your brain? https://t.co/1avVa8Z86J

— Trumpton (@Trump_ton) November 8, 2023
6.
Dude whose products explode or burst into flames on the regular wants whatnow? https://t.co/JLluKHkNAy

— Lloyd Lewis (@LloydGeorge57) November 8, 2023
7.
What are the odds the person who volunteers for this isn't vaccinated. https://t.co/AyiQDe7toy

— Grace Robertson ️‍⚧️ (@GraceOnFootball) November 8, 2023
8.
first volunteer getting videos of oiled up men twerking beamed directly into their head 24/7 after being hacked https://t.co/IqKGRMm6nq pic.twitter.com/isSIsmTC7W

— mad (@lllMaddy) November 8, 2023
9.
I nominate the guy on the left https://t.co/7qdmenn6jR

— clownf1st (@clownf1st) November 8, 2023
10.
We are about to discover who the dumbest person on the entire planet is. https://t.co/9Ck4q92U4X

— Lazzyrats – working on something new (@lazzyrats) November 8, 2023
11.
Can we reverse psychology him into being the first one? Like tell him it would be super hilarious and women would wanna stay married to him if he did it? pic.twitter.com/qK5YpHKzy8

— JAM the CEO (@JAMnit_JAM) November 8, 2023
12.
for the low price of 3 billion dollars i'll do it

— Paul⁴ is #SingleSoon | BLM (@selenastan18) November 8, 2023
13.
This sounds like a script from every futuristic sci-fi movie ever made, wild asf pic.twitter.com/GoEOLhJKdY

— 天皇 old skool lapel™ (@Ayo__Lawal) November 8, 2023
14.
me walking home from my neuralink chip implant surgery https://t.co/CJoGiTcuFs pic.twitter.com/CtatrjbrwN

— star ☆ ⚢ (@star0arts) November 8, 2023
Whatever happens, there are going to be conspiracy theories.
Sure, they *say* they're just implanting a microchip into your brain, but actually it secretly vaccinates you against Covid. https://t.co/gugHaL9qIA

— Andrew R (@ExcelPope) November 8, 2023
READ MORE
Elon Musk putting an implant into a pig's brain is peak 2020 – 9 sty-lish reactions
Source Pop Crave Image Screengrab, Screengrab