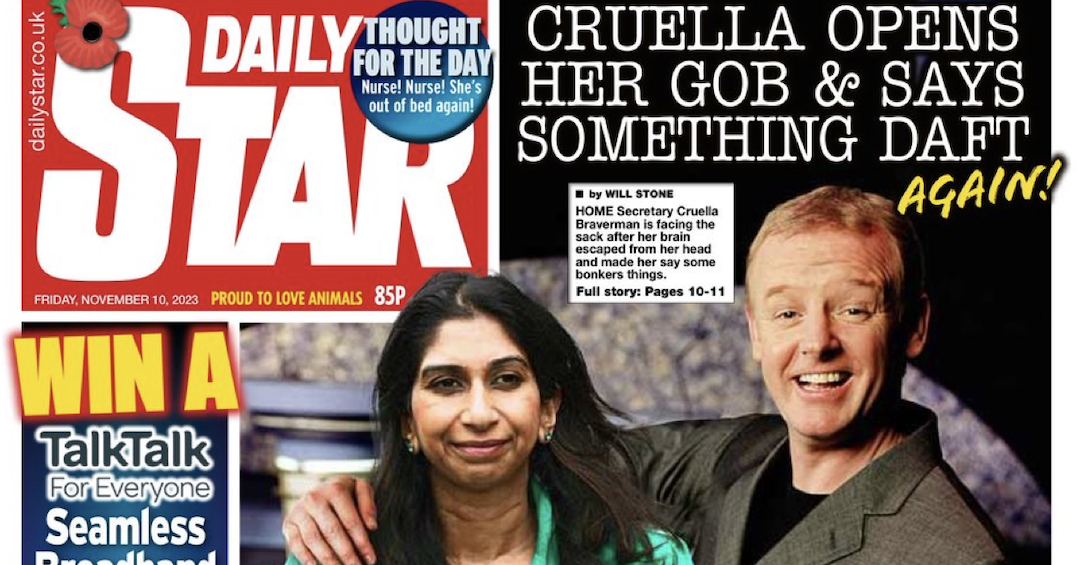 100 people said the Daily Star had today's best front page – and then Les Dennis made it even better
Back in the midst of the pandemic we occasionally expressed surprise that the Daily Star – the Daily Star! – might have the best take on whatever nonsense the government had been getting up to.
But it's been a while now since the Star surprised because its front pages have been so good for so long. And today – as we wait to find out how long it will take for Rishi Sunak to sack Suella Braverman – they've gone and done it again.
DAILY STAR: We asked 100 people who was the most batsh@t crazy, Home Secretary we've ever seen. Our survey said… #TomorrowsPapersToday pic.twitter.com/eX3FnWTgSL

— Neil Henderson (@hendopolis) November 9, 2023
And just in case that's tricky to see in full …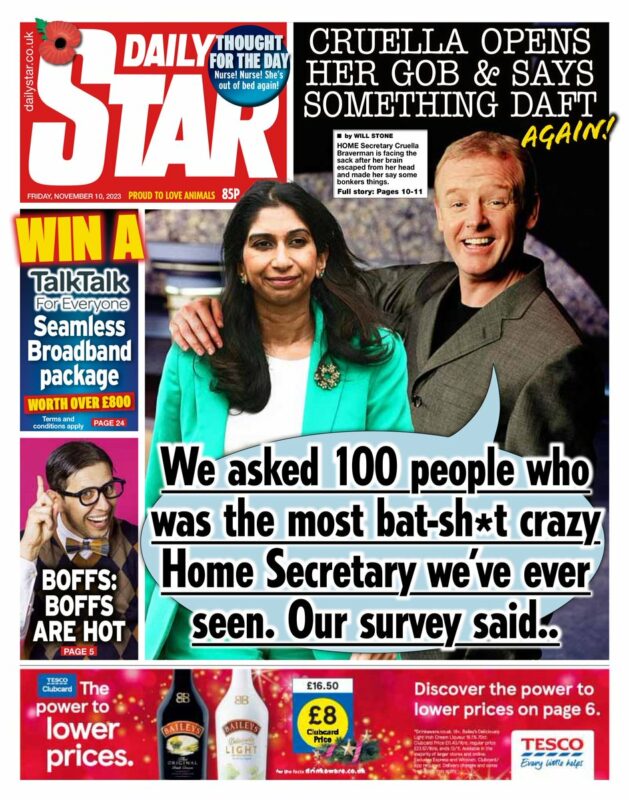 And then it got even better when this happened.
Didn't see that coming!! pic.twitter.com/zd0soizdvw

— Les Dennis (@LesDennis) November 10, 2023
Nothing has made me laugh more this year than this Les Dennis story about him and Amanda Holden pic.twitter.com/eSbS1BLZZ6

— EAMO (@EamoV1) June 18, 2019
Anyway, back to the Daily Star and their A++ front page.
Among the rubble of what used to be half reasonable country – how have we got to the point where the Daily Star has by far the best take on current political events pic.twitter.com/0oRG1kgBlF

— Dave Bradshaw (@djbradshaw64) November 9, 2023
How has the Daily Star become my go-to for the best takes pic.twitter.com/EeEz167UIZ

— Sid (@HertsSid) November 10, 2023
The Daily Star is a bit underrated in its political influence. Yes, it's mostly dogs who call time travel or aliens. But this is the paper of the lettuce. When they decide to get involved it's worth paying attention. https://t.co/ZeA3gAho6Z

— Emma Burnell (@EmmaBurnell_) November 9, 2023
It took us back to this one from a few days back.
the Daily Star doing the best commentary on the #CovidInquiryUK as you'd expect pic.twitter.com/KrBEAo0ZPO

— dave ❄️ (@mrdavemacleod) November 2, 2023
And all these from back in the day.
Source @dailystar