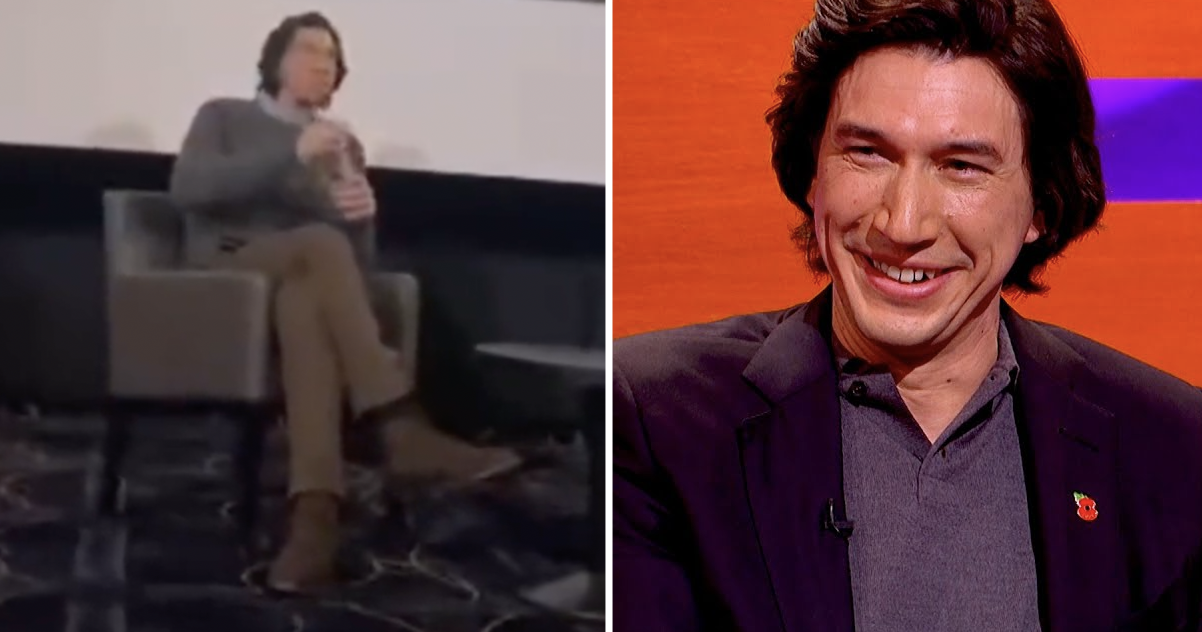 People loved Adam Driver's NSFW response to this no-filter question and every Hollywood star should do this
We're big fans of Adam Driver in films such as Marriage Story and While We're Young. Even Star Wars. Well, maybe not Star Wars.
We mention the actor because he's got a new movie coming up, Ferrari, in which he plays – no spoilers here – Italian racing driver and motoring pioneer, Enzo Ferrari.
He was at a film festival in Poland when one particularly no-filter question/downright rude comment (delete according to taste) came up and his response was as brief as it was NSFW.
And it went wildly viral because, well, watch.
When someone in the audience says the crash scenes in Ferrari "looked pretty harsh, drastic and I must say cheesy for me" and asked Adam what he thought pic.twitter.com/mXaF1LlTuf

— Adam Driver Central (@adamdrivercentl) November 12, 2023
If only every Hollywood Q&A was this entertaining.
And here are our some of our favourite things people said about it.
1.
Oh I love this so much. https://t.co/EEZKVXyVIN

— Joe List (@JoeListComedy) November 14, 2023
2.
I've seen thousands of Q&As in my life and the world would be a better place if the stars wouldn't play nice with dumb questions like this… at least the mean-spirited ones. https://t.co/Aeprs9OSEc

— Eric Vespe (@EricVespe) November 12, 2023
3.
what 3 days no strike does to a mf https://t.co/2IIgG8nIEO

— Sylvian (#1 Skinner of the Flower Moon) (@TheAlexSylvian) November 12, 2023
4.
Normalize yelling at questioners https://t.co/AoyppgQQRb

— Tommy Vietor (@TVietor08) November 12, 2023
5.
GOD-LEVEL RESPONSE! https://t.co/ReVCV2m007

— Ali Arikan (@aliarikan) November 12, 2023
6.
if I don't like a movie and there's an audience q&a afterwards I just leave. actually if I LIKE a movie and there's an audience q&a afterwards I also just leave. there are no winners at an audience q&a https://t.co/o4PaAZbyGm

— John DiLillo (@JohnDiLillo) November 12, 2023
7.
Audiences, if you are given the chance to ask a question at a Q&A:
1. Be respectful.
2. Be concise—no one is there to listen to you talk and talk. And time is limited.
3. For the love of god, ask a question. It's called a Q&A, not "More a Comment Than Question."
4. Be respectful. https://t.co/mP8iTn91wp

— Tomris Laffly (@TomiLaffly) November 12, 2023
8.
we should all be so lucky to have Adam Driver say fuck you at us when we don't like his movie https://t.co/D0NvISzL9r

— Nando (@NandovMovies) November 12, 2023
9.
John Carpenter broke the fuck you barrier to answering bad audience questions, all doing so now are forever in his debt https://t.co/kY9L7RntN8

— John Frankensteiner (@JFrankensteiner) November 12, 2023
Talking of which …
need actors and directors to always have this energy for dumb Q & A questions https://t.co/5uO9XOsViC pic.twitter.com/AvjRKDhBzm

— Francis Dolarhyde Insights (@Douggernaut_2) November 12, 2023
Source @adamdrivercentl