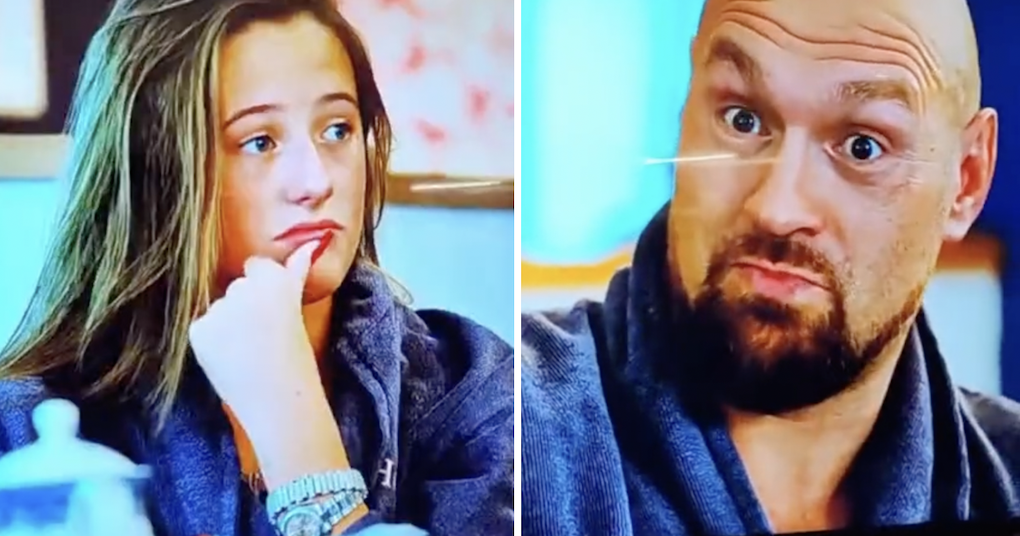 The fabulous payoff to this 16-second clip of the Tyson Fury documentary is knockout stuff
World heavyweight boxing champion Tyson Fury has become the latest celebrity to have their very own fly-on-the-wall TV show.
Like us, you might not have seen much (or any) of At Home With The Furys on Netflix, but on the basis of this 16 seconds which has just gone viral on Twitter, we're tempted to give it a go.
The exchange between Tyson and his – Google, Google – 13-year-old daughter Venezuela was shared by The Office podcast @WernhamBlogg for reasons which will become obvious.
Ahh embarrassing. That's backfired.

Good. Wouldn't want em to. Next! pic.twitter.com/TTMjEjg3np

— Wernham Blogg – The Office Podcast (@WernhamBlogg) November 15, 2023
Boom!
That is such a Brentism

— RogueWave73 (@RogueWave73) November 15, 2023
Friend first, then Dad, Then Gypsy King probably

— Nick Guiry (@NickGuiry) November 15, 2023
And people say he's just a big pair of fists!

— james (@jleslie1903) November 15, 2023
— Adam Tucker (@tucktuck85) November 15, 2023
To conclude …
Beautiful attempt at styling it out #SocialAmmo https://t.co/XoZIvfi96b

— Matt Dyson (@RealDysonator) November 16, 2023
Here's what the man himself – Tyson Fury not David Brent – had to say about his new TV show.
And follow @WernhamBlogg here!
Source @WernhamBlogg