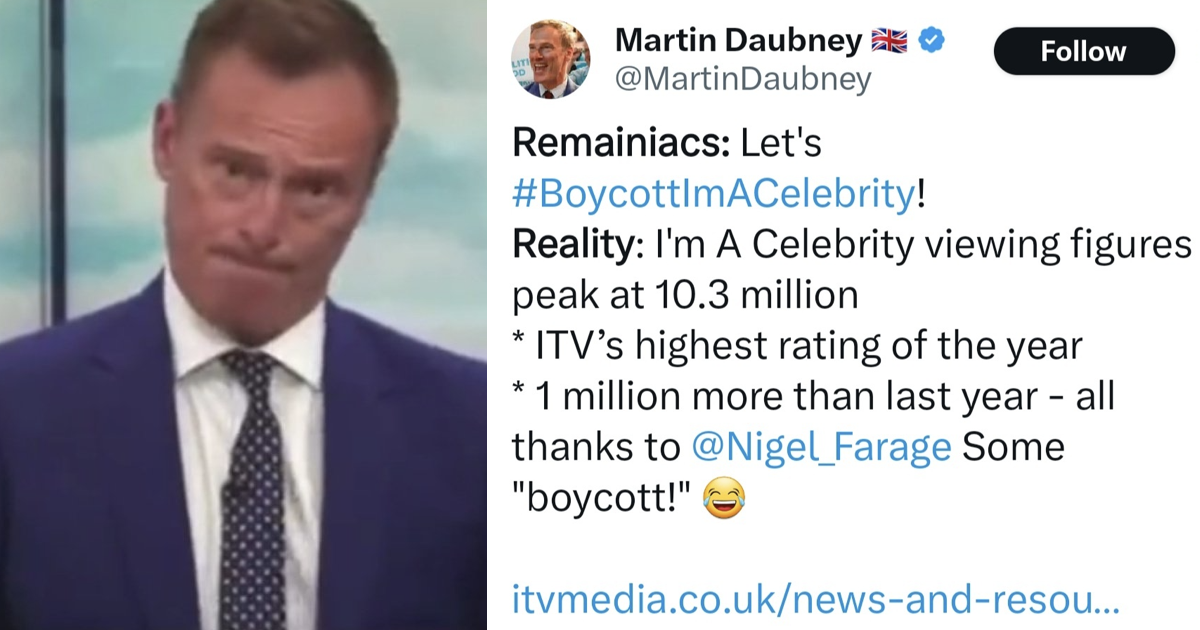 GB News's Martin Daubney claimed Nigel Farage's I'm a Celeb debut was a triumph and was owned into next year
Nigel Farage, as nobody anywhere needs reminding, has proved something of a controversial choice for ITV's I'm A Celebrity, Get Me Out of Here! for reasons which will presumably be obvious.
So much so that the former UKIP leader's appearance on the show – AKA home for disgraced politicians keen to show they're just an ordinary person like you and me, guv – has led to calls for people to boycott it altogether
Dear @ITV & @antanddec

The man you're paying £1.5m was happy to repeatedly appear on a far-right US show hosted by a conspiracy theorist who claims 7/7 terror attack & US school shootings were faked

And you think he's suitable for family entertainment

Well done, bellends.

— Marina Purkiss (@MarinaPurkiss) November 20, 2023
And lots of people got the hump with Ant and Dec as well, although they are trying to do their bit by introducing the GB News presenter like this.
Brilliant this

How long until Nigel Farage pulls out on medical grounds?

Only a matter of time, he's a grifting, money grabbing snake #ImACeleb pic.twitter.com/e9jEqbVrBE

— Dean ️‍ #GTTO #FBPE (@deanbegley1) November 19, 2023
We mention it because Farage's GB News collegeue, breakfast presenter Martin Daubney, took to Twitter to mock people who had called for a boycott, telling everyone that his buddy's debut on the show was in fact a ratings triumph!
LOL! Yes, you tell 'em, Martin. Those 'Remainiacs' have really got egg on their faces now, right?
Except there was only one problem with this, as flagged by the great @Otto_English.
Started Going Gone pic.twitter.com/SzyhQSKIpy

— Otto English (@Otto_English) November 20, 2023
And just in case that's tricky to read, it turned out Daubney's numbers were just a little bit out of date. Specifically, a year out of date.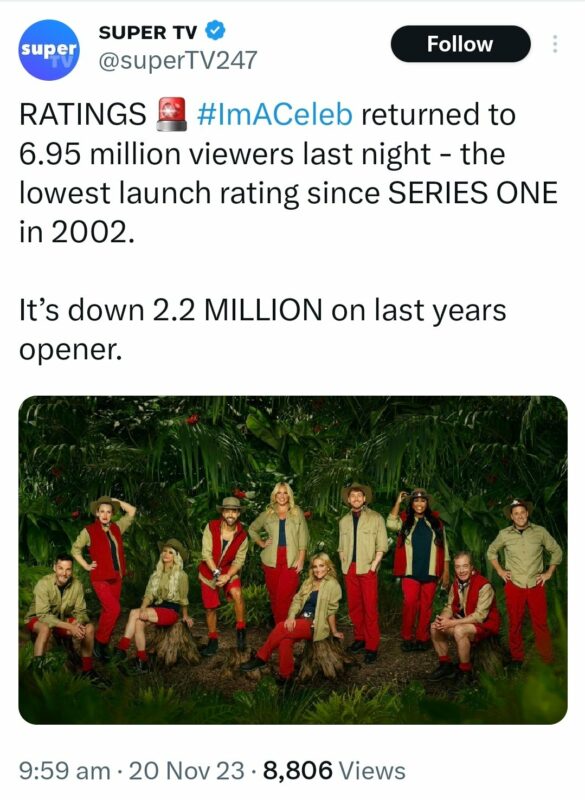 Mega oof. No wonder Daubney deleted it.
Permission to laugh heartily.

— Otto English (@Otto_English) November 20, 2023
We love to see it!

— GB News Spin Room (@GBNewsSpin) November 20, 2023
The word "journalist" in his bio is doing an awful lot of heavy lifting.

— Sam Thomson (@bowfinarse) November 20, 2023
— Michael Manoel Chaves (parody) (@qandamazon) November 20, 2023
Still, it could have been worse, eh Martin? It could have been this …
Daniel Khalife had been found in Chiswick and apprehended by police. Martin Daubney here on GB News #GBNews making an absolute horlicks of this important breaking news. It's like a parody of amateur it's that bad! pic.twitter.com/5AgCIKfmXV

— Phil Jones "Unofficial" (@PhilJonesy3) September 9, 2023
And it turned out Daubney wasn't the only GB News type to make the mistake. Over to GB News producer @benleo444, who has apparently flown all the way over to Oz just for this …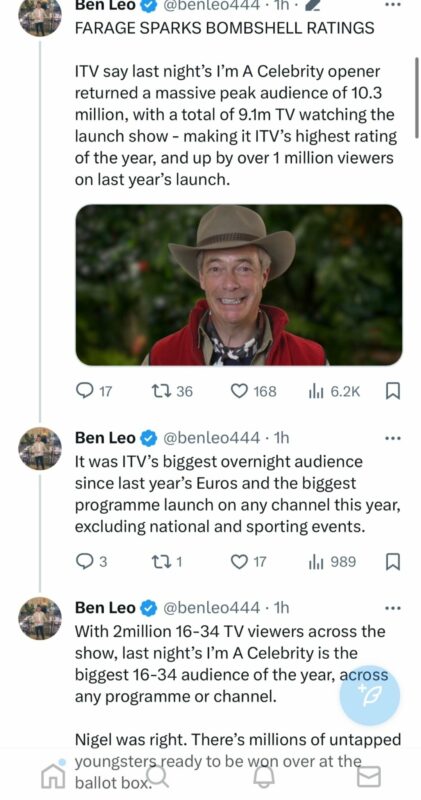 Close, but no kangaroo's testicle.
READ MORE
The outcry about Farage being on I'm a Celebrity was only slightly tempered by Ant and Dec's opening dig at GB News
Source @Otto_English