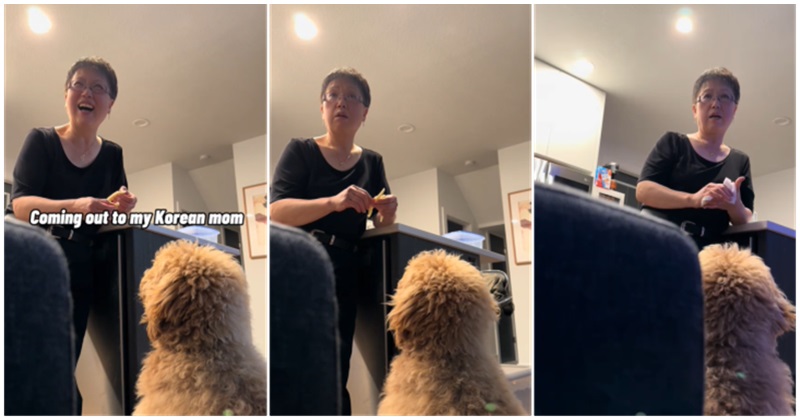 The end of this heartwarming coming out video hilariously shows where one Korean mum draws the line
Over on TikTok, Oregon man @thekoreaneddie also runs an account dedicated to his mum, The Korean Mama – @thekoreanmama – which has amassed more than half a million followers due to her upbeat and endearing attitude to life and food.
Last month, he shared this clip of her response to him suggesting he might marry a man. It went beautifully – apart from when he slipped in an extra question at the end.
@thekoreanmama I know it's a little late for national coming out day but for those struggling to come out, there's no guarantee it'll go smoothly but sometimes parents will surprise you. I came out to mom when I was in my early 20s and I really had no idea my super Korean mom felt this way. #lgbt #comingout ♬ original sound – The Korean Mama
What if I got married, but it was to a man?

So what? It's more about finding a partner to live this life with.
If that's their definition of happiness, who's anyone to interfere?

But what if I got a tattoo?

No. Unacceptable!
We have a sneaking suspicion that she'd be totally fine with him getting a tattoo …as long as it says 'Mom' in a heart.
Let's see how TikTok users reacted.
Her face when you mentioned the tattoo.
Wild
Protect this mama at all costs.
Joey Couture
This is EXACTLY how a mum should respond to this question! What an absolute beautiful, loving soul.
Jazzy J
Not me crying on the toilet…
Chef Reilly Meehan
Idk how I found you but I'm following now bc of your mom.
Swill
My 82 yr old Korean mom thought the tattoo question was hilarious!
Gloria J Hong
This is the most wholesome video I've ever seen.
Jordan
This is the Mom everybody needs.
John Lark
The tattoo part made me giggle.
Meredith
Omg this makes me love her even more. Also the accuracy of that reaction to getting a tattoo is hilarious.
7FootArtist
As a bonus, here's The Korean Mom's tip for a happier life.
READ MORE
Pete Buttigieg threw epic shade at Ron DeSantis and his campaign's anti-LGBTQ video and people loved it
Source TheKoreanMama Image Screengrab