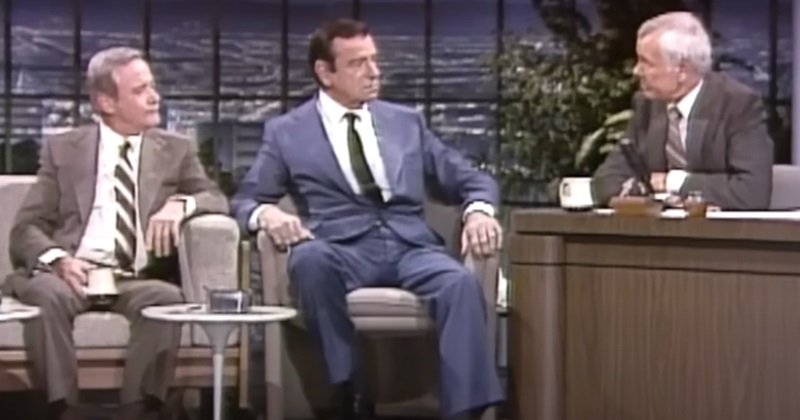 Walter Matthau's classic toilet joke had Johnny Carson a little flushed
Back in 1981, Walther Matthau, alongside his acting partner and friend Jack Lemmon, appeared on The Tonight Show with Johnny Carson to promote their film Buddy Buddy.
While they were there, Walter decided to tell a joke about going to the toilet – which was not necessarily what Johnny Carson would have chosen as a topic.
We can't lie – you can see the punchline coming, but his delivery is so good it doesn't matter – and Johnny Carson's face is a picture.
Sat next to his pal & colleague Jack Lemmon, WALTER MATTHAU scares the crap out of Johnny Carson on The Tonight Show in 1981 with a classic 'Toilet' gag. pic.twitter.com/bsNpRVxVWI

— Michael Warburton (@MichaelWarbur17) November 18, 2023
1.
❤️Walter Matthau was a class act. Miss him. https://t.co/JP8i9CKhXA

— ksegrest (@kbslp2004) November 19, 2023
2.
Johnny's "Don't do it" is perfect. https://t.co/QPbByjVxVJ

— Mark Rahner (@markrahner) November 19, 2023
3.
The set-up, the delivery, the timing, and the punch line. Comedy genius for sure. @MelanieTucker4 https://t.co/hkqD9AlJHg

— George Brown (@GeorgeBrownSTL) November 19, 2023
4.
The way Matthau tells this just never fails to slay me https://t.co/yj2Q72Hj0L

— Brian Quinn (@cowhand214) November 19, 2023
5.
Brilliant https://t.co/ruGSBSVfGC

— Jason Ewing-Jarvie (@EwingJarvie) November 19, 2023
6.
It's Saturday Night
Because It's Funny… https://t.co/L2yavIAWfH

— Paul L Thomas (@PaulLouisThoma1) November 18, 2023
7.
Matthau with a great Code Brown joke. https://t.co/bkVBjX17KF

— Wbond (@MrWBond) November 19, 2023
We second this plea.
I can handle almost anyone famous being the worst but pls lord, don't take the Odd Couple away from me. It's like all I have left. https://t.co/rx0wpyeL6F

— Cookie Holiday Podcast (@howdycookies) November 19, 2023
READ MORE
Harrison Ford's perfect comic timing makes this NSFW broccoli joke a thing of beauty
Source Michael Warburton Image Screengrab