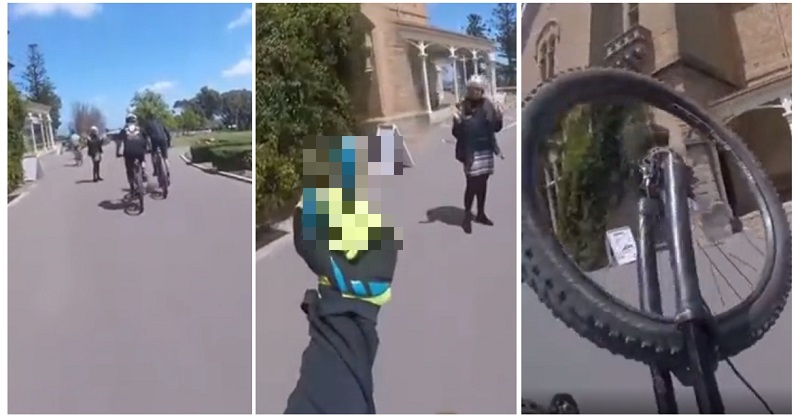 Watch this cyclist's instant karma after flipping off a pedestrian
We're grateful to u/Flapjackjohnsen who posted this slightly NSFW clip in the r/WhatCouldGoWrong forum with this title –
Flipping off a pedestrian while biking on the sidewalk
And here's what could – and did – go wrong when these cyclists rode on a pedestrian area of Scotch College in South Australia.
Flipping off a pedestrian while biking on the sidewalk
byu/Flapjackjohnsen inWhatcouldgowrong
Although the lady in question obviously started the middle-finger-fest, she had obvious provocation.
It came to the attention of a lot of people with zero sympathy for the cyclist's self-inflicted misfortune.
The flying fickle finger of FATE.
MatsuoManh
And bikers wonder why they have such a bad reputation …
Inigo93
She's like 70 years old. Wtf is your problem with grandma?
JonsNotHereMaaan
Look ma, no brains!
MaracaBalls
serves him right, dumbass.
Trillium13
Falling down the ladder of humility.
Wretchedrat
The douche is strong with this one.
Aviator1116
Vertaferk summed up for the anti-cyclist faction.
Instant karma is a beautiful thing.
In fairness, there were a small number, like DigitalUnderstanding, who spoke up on behalf of the non-idiotic cyclists. We'll give them the last word.
I have never witnessed a bicycle rider disrespect anyone in my entire life. But I went for a run today and a car driver didn't stop for me in the crosswalk, just kept going at full speed. That happened less than a half hour ago but I barely remember it because car drivers terrorize us all so often we've come to just ignore it.

READ MORE
Jeremy Vine sent this cyclist's video viral and it's very funny and totally infuriating at the same time
Source r/WhatCouldGoWrong Image Screengrab