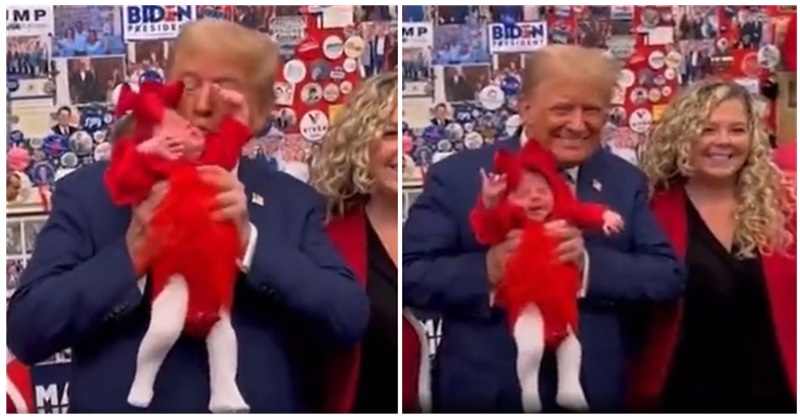 Donald Trump held a fan's baby like he'd never even seen one before – 13 favourite comments
Donald Trump gave his fans a treat by turning up in person to register for the New Hampshire GOP primary.
During his customary rambling speech, he spoke of his dream of punching Joe Biden on his 'fake nose', and compared himself to Nelson Mandela.
He also did that political campaign trail standard – he held a baby, and it was quite an awkward moment.
Poor kid. pic.twitter.com/1iqqafwKKt

— Ron Filipkowski (@RonFilipkowski) October 23, 2023
We're not sure who's worse – the man with (apparently) five children and ten grandchildren who can't hold a baby safely – or the woman who let him Lion King her baby without saying a word. Actually, no – it's him.
1.
You can really tell Trump was a hands on father by the way he's holding this baby. pic.twitter.com/tnLUA7WMvU

— Carlos Turnbull (@cturnbull1968) October 23, 2023
2.
"Ok, now take the fucking thing." pic.twitter.com/Vl3VAox0pW

— Jo (@JoJoFromJerz) October 23, 2023
3.
"I don't know why I hate them, but I just do.

My whole life, for as long I can remember, I've been deathly afraid of pumpkins."

— that baby, to their therapist, in 2057 https://t.co/iZVke219PB

— Jay Black (@jayblackisfunny) October 23, 2023
4.
Trump goes off his diet again #RepublicansEatTheirYoung https://t.co/8hPGtb2eiz

— Greta (@GretaGrace20) October 23, 2023
5.
Trump was holding that baby like it was a bottle of spring water. https://t.co/6AajAi27OI pic.twitter.com/srTlPTvd6T

— kereD (@i__m__kered) October 23, 2023
6.
She wishes she had enough coordination to wipe it off! https://t.co/U7ByMHWc6e

— Natasha (@mspaaka) October 23, 2023
7.
I'll take show me someone who has never held a baby before for $400, Alex…. https://t.co/PXEjR9K7pk

— Ethan Kytle (@EthanKytle) October 23, 2023
8.
Rumor is they informed him it was NOT A PINATA just in time… https://t.co/JJfwVcaKZM

— Jay Hart Pronouns: soo wee (@JayHart909) October 23, 2023
9.
I'm shocked he didn't toss it into the "crowd" like a paper towel roll. https://t.co/Dpniz63u5Y

— Shawn Patterson (@shawnmpatterson) October 23, 2023
10.
I've seen sandbags being piled up ahead of a hurricane handled more delicately than this. https://t.co/3r33wTF27F

— Jo (@JoJoFromJerz) October 23, 2023
11.
Support that child's head you gaping moron. https://t.co/e5W3U5znpd

— Matt Witten ️‍️‍⚧️ (@hardhittinmattw) October 23, 2023
12.
Damn, that baby's been held by him one more time than Don Jr and Eric combined! https://t.co/2S7X4xna6s

— Mike Pfirrman (@mdpfirrman1) October 23, 2023
13.
He holds a baby like he holds a bible or a flag. They are all totally foreign to him. https://t.co/0kCV3u3qNj

— Ronald Cramford (@stryder22204) October 23, 2023
At least it can be used as a 'What not to do' training video.
I shit you not, I just googled "how not to hold a baby"

Number one was "Don't lift your newborn by or under their arms"

Number three was "Don't extend the baby forward to someone else"

SOURCE: https://t.co/KTcyIMDjlc https://t.co/pOnaIZe67V

— Tucker Carlson Conservative (@carlsoncon1776) October 23, 2023
READ MORE
Trump treated the MAGA faithful to a rant about not being able to buy flypaper and got swatted by the internet
Source Ron Filipkowski Image Screengrab