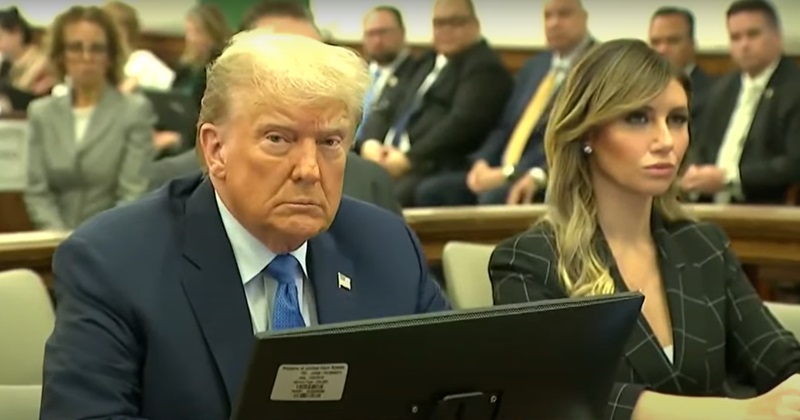 Stable genius Donald Trump told the court he was busy being President in mid-2021 – 13 favourite reactions
In scenes that surprised nobody, Donald Trump set himself firmly on the last nerve of the judge trying his civil fraud case in New York, describing the case as a disgrace and election interference.
Judge Engoron to Trump's attorney: "I beseech you to control him if you can. If you can't, I will. I will I excuse him and draw every negative inference that I can."

— Kyle Griffin (@kylegriffin1) November 6, 2023
"He rambled, he hurled insults. But we expected that." NY Attorney General Letitia James sums up Donald Trump's day in court. (Video: MSNBC) pic.twitter.com/RvJ9jetP7V

— Mike Sington (@MikeSington) November 6, 2023
Trump had a different recollection of the day.
"Legal scholars" from the now defunct Trump University. pic.twitter.com/974HJHKW1P

— Ron Filipkowski (@RonFilipkowski) November 6, 2023
Even with such a low bar, one moment really had people shaking their heads, as Trump demonstrated his stable genius once more, when asked about a financial document from mid-2021 – months after the January inauguration of Joe Biden.
BREAKING NEWS: Donald just testified he was president in 2021.

When a prosecutor asked him if he prepared the 2021 financial statement himself, Donald responded:

"I was so busy in the White House, focusing on Russia and China and keeping our country safe."

The lawyer… pic.twitter.com/UvbkduscVu

— Mary L Trump (@MaryLTrump) November 6, 2023
It must be hard for him to keep track of which years he was actually President and when he was just pretending.
1.
LMFAO, trump tried to say that he was busy, focused on "China, Russia keeping our country safe."

Had to be reminded he wasn't President in 2021.
Person. Idiot. Moron. Candidate. Shitty.

— BrooklynDad_Defiant!☮️ (@mmpadellan) November 6, 2023
2.
He's writing his own SNL skit.

— Marnie (@MarnieRapaport) November 6, 2023
3.
I can see why Donald Trump got confused and thought he was President in 2021. He was doing the same type of work he did while in the White House….#TrumpTrial Judge Engoron
So Trump All Trump Mr. Trump
Letitia James Alina Habba
President Trump Trumpers#TrumpCrimeFamily pic.twitter.com/TN03vka0b3

— ADROCK CA (@RealAdamFrancis) November 6, 2023
4.
And you can bet Trump thought he "HAD THEM" too.

What an embarrassment to us all.

— Powerbeard (@thePowerbeard) November 6, 2023
5.
Yesterday a poll suggested most Americans are okay with this man getting back into the White House. It also suggested more people think this man is mentally fit for office than Biden is. M
And yet today: https://t.co/I0USoxKWoL

— Mehdi Hasan (@mehdirhasan) November 6, 2023
6.
President Trump simply thought he was president in 2021 because he forgot to set his clock back a year. It's a mistake all of us make.

— Gary Peterson (@GaryPetersonUSA) November 6, 2023
7.
Cue the reporting about how Trump, a 77 year old conspiracist who is delusional about basic aspects of reality, is too cognitively impaired to be president. Right? Right? pic.twitter.com/3Gdp2tgOBc

— Brian Klaas (@brianklaas) November 6, 2023
8.
Donald Trump is not fit for office.
He is mentally decrepit, and morally bankrupt.
A grifter.
A con.
A clear and present danger. https://t.co/s5DKieKOi3

— Brian J. Karem (@BrianKarem) November 6, 2023
9.
So now someone needs to ask his MAGA minions at the next rally if he perjured himself when he said he was not president in 2021…. https://t.co/zTLiyvXT2j

— ProudWestCoastCanadianSkank (@1loudcanadian) November 6, 2023
10.
He probably *was* busy with Russia and China in 2021 –
Selling them our top secret defense intelligence.
They are funding his 4 year campaign. https://t.co/RvuzQqhkjv

— Tina Peterson Pirlot (@TinaPirlot) November 7, 2023
11.
The possible POTUS in 2024. Dear Lord! America have you had one too many? https://t.co/xzEGm6gO5r

— Mark (@JoaquinMarcosM) November 6, 2023
12.
I have never felt so safe in my life as when Donald Trump was president in 2021

— John Pelafigue (@PelafigueJ77116) November 7, 2023
13.
In his mind he's still president.

— StreetHistory Videos (@streethistory) November 6, 2023
Mary Trump found a quote. There's always a quote.
Donald Trump (1/26/18): "I have one of the greatest memories of all time."

— Mary L Trump (@MaryLTrump) November 6, 2023
READ MORE
Donald Trump claims he's a genius because he's just spotted that U.S. spells 'us' – 16 funniest takedowns
Source Mary L. Trump Image Screengrab