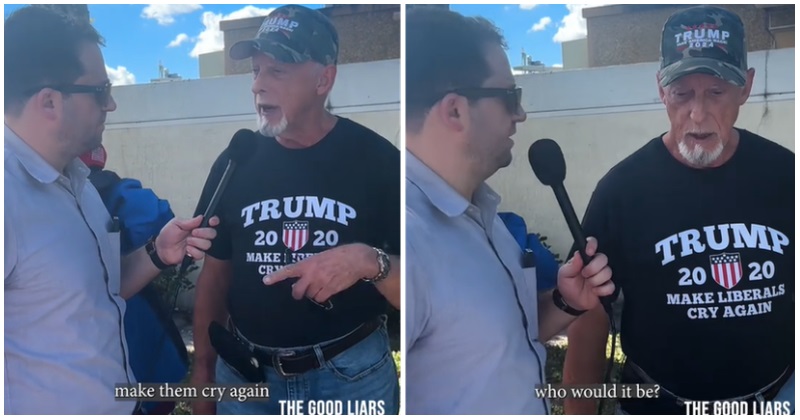 It took one simple question to break this Trump fan's brain
There has just been a Donald Trump rally in Miami, in which the former president described the current administration as a "banana republic", presumably as opposed to the mango dictatorship he's planning if he gets elected next year.
The Good Liars – individually known as Davram Stiefler and Jason Selvig – went along to chat with the crowds.
Watch the effect of one of Davram's questions on this MAGA cultist.
"But if you had to say who's been crying about the 2020 election, who would it be?"
I think we all know the very easy answer to that question.
It was yet another Good Liars hit with TikTok users.
You made his brain time out
cylynG2020
Buffering ………………………………………………………………………………….…
My name is Karen
Think we actually saw the moment he realized that he's an ass hat!
Gabeh2.0
Thanks a lot reporter.
.
.
You broke him.
GO SPURS GO
Exactly! These people are just beyond stupid
Sunlover17
*windows shutdown theme*
user154227643
You can see the hamster running overtime in his head trying to figure out how to answer at the end.
King/Yuie/Percy/Zelda
conservative.exe stopped working.
Decliner
Bruh, you made his mind actually jump start itself.
A
At the same rally, Davram's fellow Good Liar, Jason, was also stumping Trump fans with questions. One of them was just too tricky for this guy – but his tangent was comedy gold.
READ MORE
This gun advocate's comeback was not the slam dunk he thought it was and it's a proper jaw-dropper
Source The Good Liars Image Screengrab