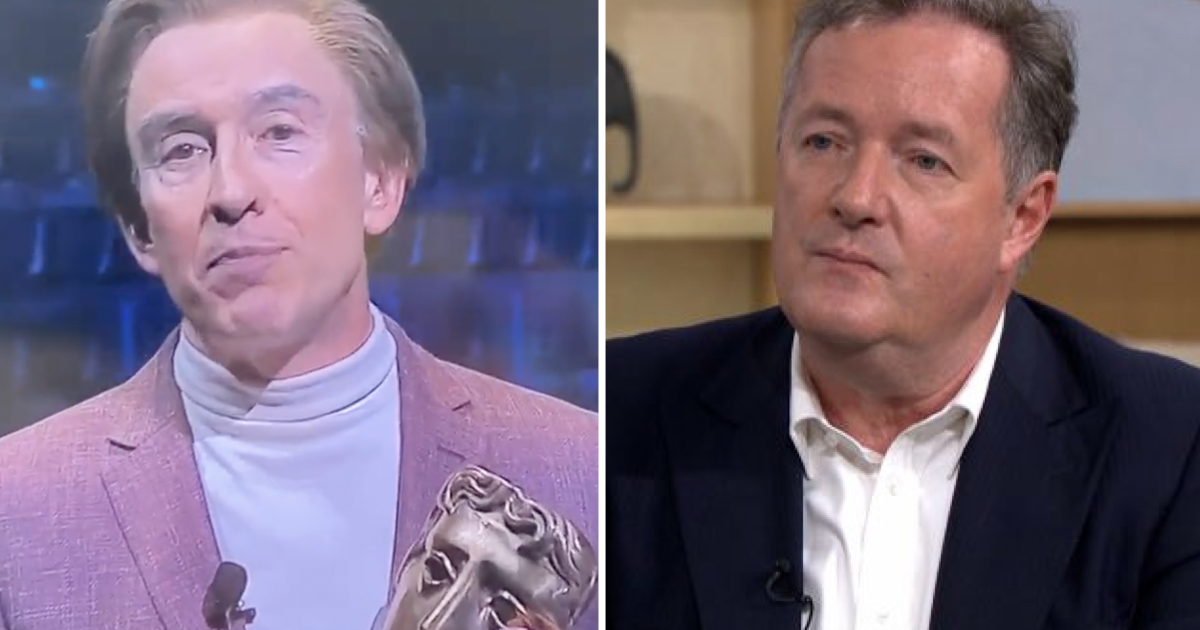 Simply 17 hilarious times Piers Morgan was brutally owned into next year
We feature no end of comebacks and takedowns on these pages, but it's rarely more satisfying than when it's Piers Morgan on the end of it.
Most recently it was Louis Theroux giving him a pummelling over on Twitter, so we thought it about time to round up 17 of our favourite times Morgan was schooled into next year. Beginning with … who else?
1. When he said he could beat Louis Theroux in the boxing ring
"Piers Morgan? I think I could take him." @anthonyjoshua thinks he's got the perfect match up for @louistheroux pic.twitter.com/vOonm2aR09

— BBC Sport (@BBCSport) November 7, 2023
Have you lost your marbles, @louistheroux ?
I'd destroy you in 30 seconds, you puny wastrel. https://t.co/9v0Sahxt27

— Piers Morgan (@piersmorgan) November 8, 2023
I don't think you've got the cardio fitness, Piers, TBF. You'd gas out and after that I'd just be playing music on your chin like a boxing Beethoven.

— Louis Theroux (@louistheroux) November 9, 2023
2. When he asked an OnlyFans 'influencer' what her kids would make of what she does and was crushed by her comeback
Piers Morgan asks OnlyFans influencer Elle Brooke whether she worries her future children might see her racy content online one day.

Elle: "They can cry in a Ferrari."@ellebrookeuk | @piersmorgan | @TalkTV | #PMU pic.twitter.com/jqhLDRYFNB

— Piers Morgan Uncensored (@PiersUncensored) June 6, 2023
3. When he said he was glad he wasn't Canadian
So glad I'm not Canadian. https://t.co/ZN5yUPyVf1

— Piers Morgan (@piersmorgan) August 6, 2023
Oh Piers, we're happier.

Trust me.

— MaggieMay (@CailinasEirinn) August 6, 2023
4. When he got on the Tube for the first time in 30 years and James Blunt did this
On my way to the ⁦@OfficialNTAs⁩ – my first time on the tube for 30+ years. Hasn't got any cooler has it… pic.twitter.com/hWjl5RIo5Z

— Piers Morgan (@piersmorgan) September 5, 2023
My first time on the tube in 20+ years. Dude behind me is worried that I think he's beautiful. https://t.co/3kxkJX2H8k pic.twitter.com/mkUaHHDKIF

— James Blunt (@JamesBlunt) September 7, 2023
5. When he trolled Dan Walker after he made fun of him at an awards speech – and Walker replied like this
If I were Dan Walker, and I'd been kicked off Match of the Day & BBC Breakfast, then washed up on Channel 5 daytime, and only got press these days by falling off a bike, getting a few grazes, and milking it like I'd survived a terror attack, I'd be this bitter too. https://t.co/Be5kPPSOCq

— Piers Morgan (@piersmorgan) March 2, 2023
What a laugh

Interesting idea of taking a lesson on bitterness from a fella who has written article after article attacking a woman who had one drink with him & thought he was a numptie

We missed you last night.
You should have come ❤️ https://t.co/A63DRJEErJ

— Dan Walker (@mrdanwalker) March 2, 2023
6. When he took aim at Tim Burgess and the Charlatans
Can somebody not just take the batteries out of @piersmorgan?

— Tim Burgess (@Tim_Burgess) December 15, 2022
Like they have out of your record sales? https://t.co/xjW5x4KoLU

— Piers Morgan (@piersmorgan) December 15, 2022
We've been here before, haven't we Piers? The last couple of Charlatans albums were both in the top 10. We headline festivals, we're doing fine thanks very much. We're about to go on tour in America, how did it work out for you there our kid? https://t.co/ZJqunG5AHy

— Tim Burgess (@Tim_Burgess) December 15, 2022
7. When he was called out on his own TV show over Meghan and Harry
Piers Morgan don't like being told about himself. pic.twitter.com/ekCwJ0An1f

— Mukhtar (@I_amMukhtar) December 15, 2022
8. When he said Mick Lynch loved the oxygen of TV
Mick 'The Grinch' Lynch is beginning to believe his own over-hyped bullish*t. Loves being a media star, so has zero incentive to resolve the strikes as that would deprive him of the TV oxygen he craves.

— Piers Morgan (@piersmorgan) December 13, 2022
Alexa, what's the definition of hypocrisy? https://t.co/RG6wpectyh

— RMT (@RMTunion) December 13, 2022
Tell Media Mick to come on my show tonight, and stop bottling it. https://t.co/8cp9oMEOte

— Piers Morgan (@piersmorgan) December 13, 2022
Why, have you got some more hard-hitting revelations about his Facebook profile pic? https://t.co/xT8j7TqWsx

— RMT (@RMTunion) December 13, 2022
"Do you think I look like the most evil person in the world, Piers?"

Piers Morgan challenges RMT General Secretary Mick Lynch over his Facebook profile picture showing Thunderbirds baddie The Hood.@piersmorgan | @TalkTV | #piersmorganuncensored pic.twitter.com/hXd2sSEkps

— Piers Morgan Uncensored (@PiersUncensored) June 16, 2022
9. When Steve Coogan said this about him at the Baftas
'… but the good thing about Piers is that it doesn't bother him'#bafta #VirginMediaBAFTAs pic.twitter.com/hpBBulnKqI

— Toby Earle (@TobyonTV) May 8, 2022