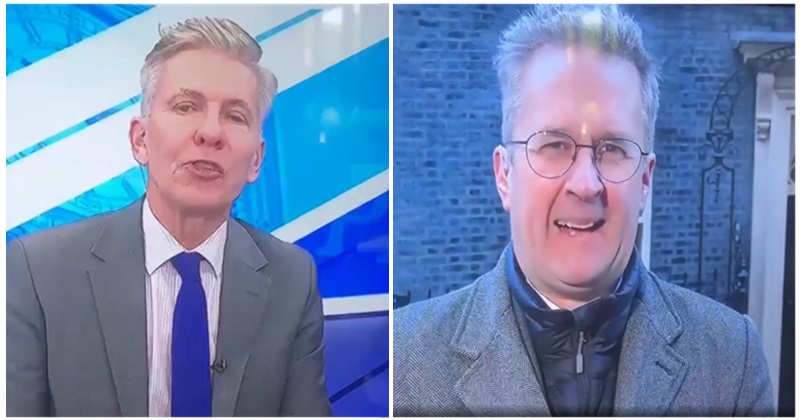 GB News absolutely nailed this breaking news sequence – if the goal was chaos
The presenting power team that is Andrew Pierce and Bev Turner went full GB News during this breaking news sequence, as they tried to hand over to Christopher Hope in Downing St.
This is how GBeebies does breaking news. pic.twitter.com/mqTFctPN3f

— Withnail Jones (@withnailjones) November 15, 2023
Move over, Acorn Antiques. There's a new level of comedic incompetence in town.
The cock-up got the mockery you'd expect.
1.
£30m a year buys you this!

GB News. At the very forefront of broadcasting.

H/t @withnailjones pic.twitter.com/lCP0x7bUw2

— GB News Spin Room (@GBNewsSpin) November 15, 2023
2.
The level of professionalism is off the charts. This is what happens when you bring in untalented nonentities, not only in front of the camera, but clearly behind the camera as well. https://t.co/3QCj5FbYDL

— John O'Connell (@jdpoc) November 15, 2023
3.
Car crash TV on a daily basis

— SportBilly (@PEteacher1971) November 15, 2023
4.
GBeebies, the entertainment channel for outraged child-like low-information adults failing to "News".

Nothing to see here, totes normal. https://t.co/II99kvlLXe

— Clara Ross (@ClaraRo55) November 15, 2023
5.
the very definition of hopeless

— Kris Burill (@KBurill99168) November 15, 2023
6.
Breaking… er something. https://t.co/bzRSTiKRO9

— LozzatheAngel 535 (@Angelsfeartogo) November 15, 2023
7.
TBF That was MUCH more informative than their usual coverage ‍♂️ https://t.co/uHTFD1G8f2

— Irritated llama (@Irritatedllama) November 15, 2023
8.
Lol. It's like a group of Year 8s were given access to a TV studio. https://t.co/0mQ5tntdXm

— Brian Harris (@harrisimo) November 15, 2023
9.
Literally burning hedge fund money with dead hot air. Something we can all enjoy. https://t.co/iU8P35RW6i

— The Artist formerly known as Y Griffiny (@GrouchoMarx79) November 15, 2023
10.
in the canon of GBNews outside broadcasts, incredibly that ranks as one of their more successful.

Rank Amateurs.

— SoccerMomma (@SoccerMomma12) November 15, 2023
This summed it up rather well.
Amateurs at production , professionals at disinformation dissemination!

— Tony Hardwick ︎ ️‍ (@fusr2018) November 15, 2023
It's far from the first time GB News has folded under the weight of breaking news.
Daniel Khalife had been found in Chiswick and apprehended by police. Martin Daubney here on GB News #GBNews making an absolute horlicks of this important breaking news. It's like a parody of amateur it's that bad! pic.twitter.com/5AgCIKfmXV

— Phil Jones "Unofficial" (@PhilJonesy3) September 9, 2023
It won't be the last.
READ MORE
Andrew Pierce took fellow GB News presenter Bev Turner to task for calling Russell Brand her hero and it's an extraordinary watch
Source @withnailjones Image Screengrab